The Allianz Australia research revealed 2.3 million young Aussies are dedicating at least one hour per day to their hobbies, with 57% exercising, 48% turning the pages on books, 42% gaming and 31% spending time on makeup.
While some hobbies may be more costly than others, the research revealed 59% of young Australians wouldn't consider giving up their favourite pastimes even with the costs involved.
This comes despite 45% of young Aussies unsure just how much money they've spent on their hobbies over the last year or how much the items that make up their hobbies are collectively worth.
Speaking to Savings.com.au, Clinical Psychologist Jaimie Bloch said despite rising living expenses young Aussies are not cutting back on their hobbies.
"Living expenses are rising and because of this, it's only natural for people to want to make lifestyle cutbacks and sacrifices," Ms Bloch said.
"Instead [young Australians] are looking to cut down on takeaway food and coffee (75%), going out for dinners (63%) and buying new clothes and shoes (57%)."
Major banks are also seeing these trends, with NAB's February Consumer Sentiment Survey revealing outside of the home, Australians remain committed to meeting the costs of school fees, kids' activities like sport, dance and hobbies, looking after their pets and looking after themselves with gym, sports or club memberships.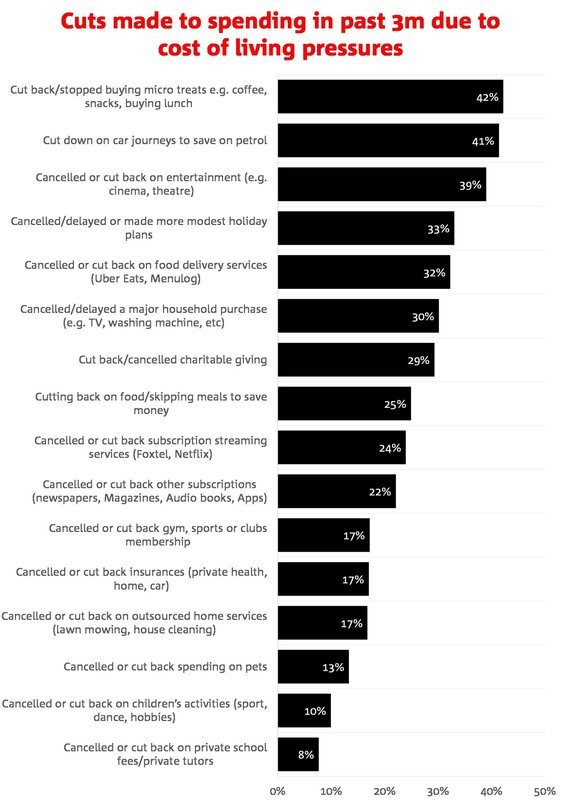 Source: NAB
Ms Bloch highlighted the importance of hobbies, noting their role in how we define ourselves, our sense of joy and for many people it is an important part of what drives us.
"This is because when we dedicate specific time to hobbies it becomes an instant connection to who we are and how we explore and express our identity," she said.
"It is important that young Australians assess their current investments of time and money and priorities the things that bring them out of isolation and into community.
"When times are stressful it's important to feel a sense of belonging to something bigger than yourself and to also feel like you are getting to enjoy life, socialise with people who matter and also express and gain lots of skills and confidence in the hobbies that seem important to you.
"This is a really great way to manage emotional and physical stress but also build connections and community that we rely on when times are hard."
---
Advertisement
Need somewhere to store cash and earn interest? The table below features savings accounts with some of the highest interest rates on the market.
Provider

---

0

1000

0

$product[$field["value"]]

$product[$field["value"]]

$product[$field["value"]]

More details

FEATURED

Savings Maximiser (<$100k)

Deposit at least $1,000 + each month from an external source
Make 5 or more eligible transactions
Grow your savings balance each month

Savings Maximiser (<$100k)

Deposit at least $1,000 + each month from an external source
Make 5 or more eligible transactions
Grow your savings balance each month

0

200

0

$product[$field["value"]]

$product[$field["value"]]

$product[$field["value"]]

More details

No monthly fees

Save Account

Download the App to open your account
Get better visibility of your spending within App!
Deposit $200 per month to activate bonus interest

Save Account

Download the App to open your account
Get better visibility of your spending within App!
Deposit $200 per month to activate bonus interest

0

1000

0

$product[$field["value"]]

$product[$field["value"]]

$product[$field["value"]]

More details
Important Information and Comparison Rate Warning
Image by Elena Mozhvil via Unsplash