The 2019 Australia Retail Banking Satisfaction Study by JD Power measured customer satisfaction from nearly 5,000 banking customers, and found ING and Commbank returned satisfaction scores of 852 and 749 out of 1,000 respectively.
ING leads the industry in banking satisfaction; it is well above the average of 778 and is 114 points above the big four's average score of 738.
ING is also comfortably ahead of joint second-placed Heritage Bank and People's Choice Credit Union (825/1,000), third-placed Bendigo Bank (804) and fourth-placed ME Bank (798/1,000).
NAB Placed second among the big four with a satisfaction score of 743.
Westpac came third with 739, one point above average, while ANZ was well below the average score at 720/1,000.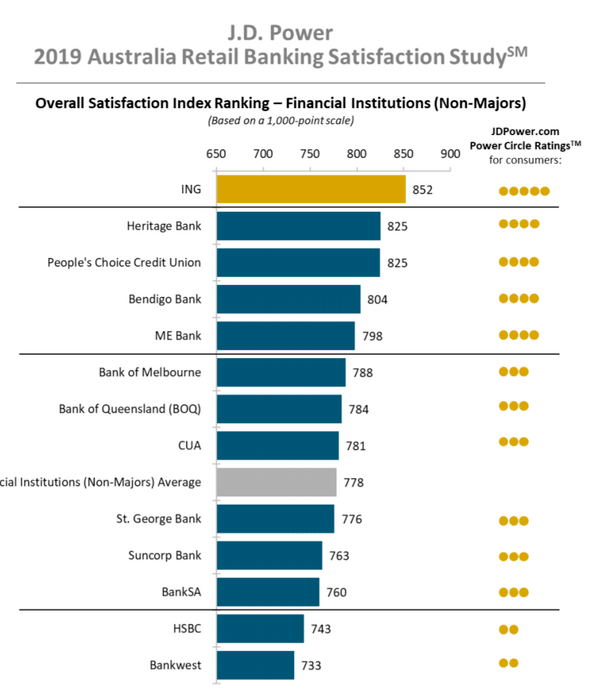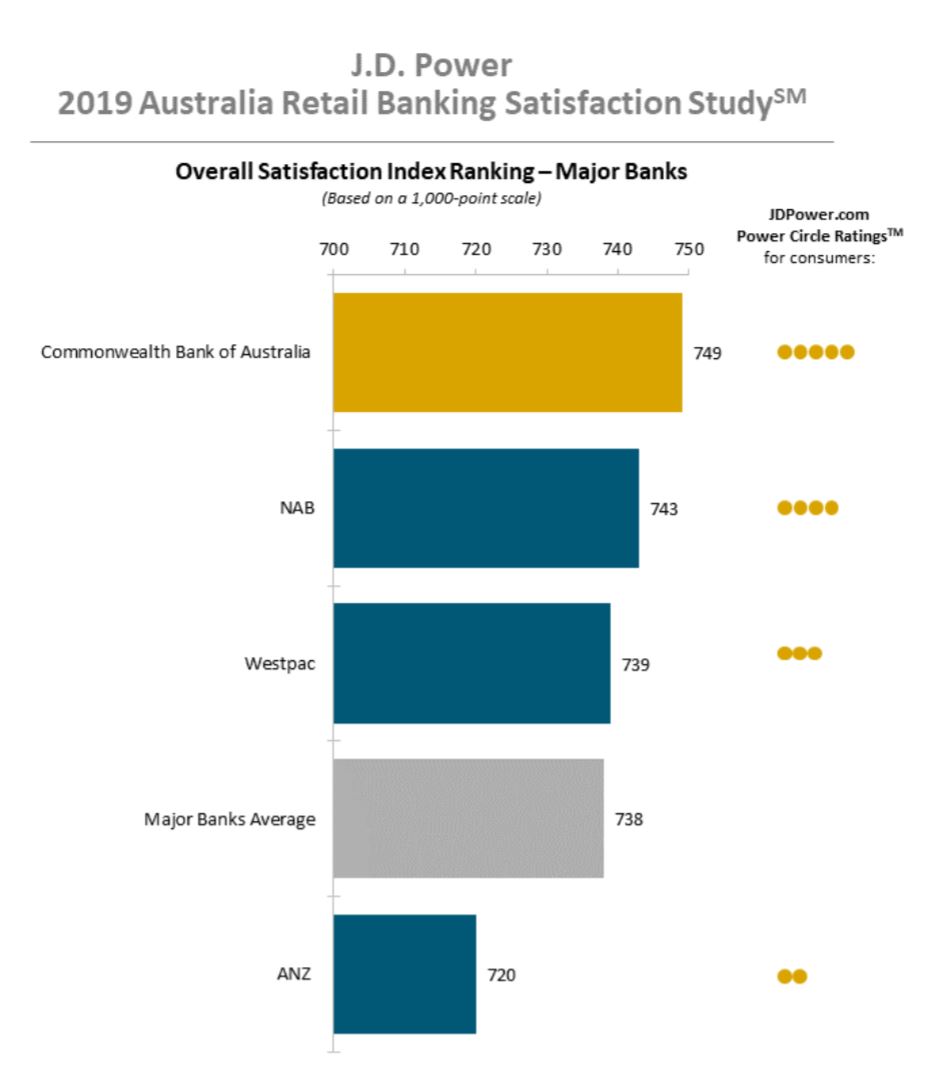 Source: JD Power
Banks slowing improving their image following Royal Commission
According to JD Power, these results are distinctly unimpressive despite modest eight-point increase to 757 year-on-year.
The very minor gain in customer satisfaction is mainly due to the aftermath of the Royal Commission into the banking industry, the report says.
Trust of the big four banks has also seen only a minor increase – the proportion of Big four customers who say they completely trust their bank has improved from 58% to 62%.
One bright spot for the banks, according to JD Power, is a 35 point increase in fee satisfaction and a major improvement to problem resolution, increasing a whopping 134 points from 575 in 2018 to 709 in 2019.
This indicates the banks have been putting work in to improve their image since the royal commission wrapped up.
For example, NAB removed over 100 customer fees in September, in order to "reduce complexity and complaints".
Customers unimpressed with mobile banking choices
There are significant problems for the industry, with JD Power highlighting that banks are struggling to keep pace with increased customer demand for more digital banking capabilities.
Satisfaction with mobile apps has dropped 27 points since 2018 and online banking has declined by 25 points.
"A key advantage for the Big four banks is the ability to leverage their scale to provide a superior digital experience, but the big four trail their smaller rivals not constrained by legacy platforms," the report highlights.
Indeed, big four mobile banking satisfaction dropped 21 points to 782 over the last 12 months, well behind the Direct Banks' average mobile satisfaction of 822.
This is despite Commonwealth Bank – which has the #1 most downloaded banking app in Australia with over five million users – completely redesigning its banking app back in May.
Open banking could lead to mass defections
More than 70% of customers say a bank's overall customer satisfaction is very important to them when choosing one, but switching banks remains a major roadblock.
The study found that only 8% of customers in Australia have switched banks in the past 12 months, something Bronwyn Gill, Head of Global Business Intelligence at J.D. Power says benefits the big banks.
"Fortunately for the banks, it is a hassle to switch banks. Nearly one-in-four (24%) Big four customers remain with their bank because they feel it is too troublesome to switch," Ms Gill said.
"The upcoming introduction of open banking and direct debit transfer changes, along with declining digital satisfaction, could open the door to new competitors and lead to massive defections."
Such new competitors include the likes of Up, Judo Bank and 86 400 – neobanks that have entered the banking market in 2019 offering highly competitive rates.
According to JD Power's data, Australians are increasingly receptive to opening an account with such a bank: 37% say they would definitely/probably open an account with one, up from 32% in 2018.
"The challenge for the industry creates an opportunity for some banks to pick up market share," Ms Gill said.
"Customers will flock to those banks which offer a superior digital experience, underpinned by trust and a deeper customer relationship."
Reassurance that data is secure is a critical concern among customers ahead of open banking going mainstream.
The study finds that less than half (49%) of big four customers perceive that their personal data/information is very secure with their bank, and only 12% of bank customers in Australia have authorised a third party to have access to their financial data in the past 12 months.
The table below displays some of the highest bank account interest rates on the market at the time of writing, featuring a couple of these neo-banks.
Provider

---

0

200

0

$product[$field["value"]]

$product[$field["value"]]

$product[$field["value"]]

More details

No monthly fees

Save Account

Download the App to open your account
Get better visibility of your spending within App!
Deposit $200 per month to activate bonus interest

Save Account

Download the App to open your account
Get better visibility of your spending within App!
Deposit $200 per month to activate bonus interest

0

1000

0

$product[$field["value"]]

$product[$field["value"]]

$product[$field["value"]]

More details

FEATURED

Savings Maximiser (<$100k)

Deposit at least $1,000 + each month from an external source
Make 5 or more eligible transactions
Grow your savings balance each month

Savings Maximiser (<$100k)

Deposit at least $1,000 + each month from an external source
Make 5 or more eligible transactions
Grow your savings balance each month

0

1000

0

$product[$field["value"]]

$product[$field["value"]]

$product[$field["value"]]

More details
Important Information and Comparison Rate Warning