Neobank 86 400 has launched new "smart" shared bank accounts, aiming to eliminate one of the most laborious parts of banking.
According to 86 400, the smart shared accounts allow customers to set up shared bank accounts in as little as 30 seconds, without having to visit a branch or show numerous forms of ID.
Need somewhere to store cash and earn interest? The table below features savings accounts with some of the highest interest rates on the market.
Lender

---

4

0

0

0

$product[$field["value"]]

$product[$field["value"]]

$product[$field["value"]]

More details

FEATURED

Online Saver (Amounts < $499999)

4

0

0

0

$product[$field["value"]]

$product[$field["value"]]

$product[$field["value"]]

More details

High Interest Savings Account (< $250k)

4

0

0

1

$product[$field["value"]]

$product[$field["value"]]

$product[$field["value"]]

More details

0

50

0

$product[$field["value"]]

$product[$field["value"]]

$product[$field["value"]]

More details

0

0

0

$product[$field["value"]]

$product[$field["value"]]

$product[$field["value"]]

More details
Rates based on a savings balance of $10,000. Sorted by total interest rates. Refer to providers' websites for bonus rate conditions and for any applicable fees and charges. Rates correct as of June 28, 2022. View disclaimer.
Travis Tyler, Chief Product & Marketing Officer at 86 400, said shared finances are one of the trickiest parts of taking control of your money, but the neobank is aiming to make it easier and less painful.
"Typically to open a shared account, you either need to travel to your branch multiple times or to the post office, provide duplicates of the already-provided identification and spend more time than you want to speaking to your bank," Mr Tyler said.
"We've completely changed the process and enabled customers to do it from wherever they are, within 30 seconds."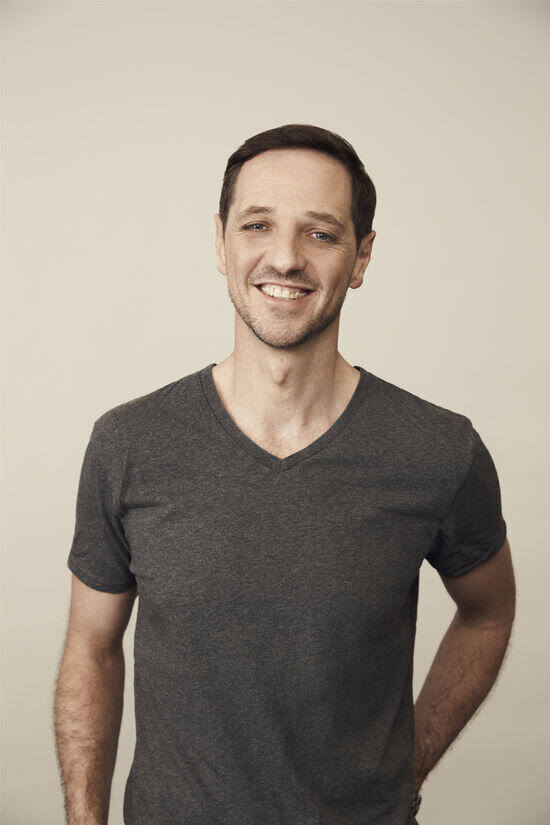 86 400's Travis Tyler.
86 400's shared accounts can be set up simply by sending a friend or partner an invite in the app, and once they accept, nothing more needs to be done.
This then gives both parties access to the same features offered by 86 400's Pay and Save accounts, like:
Access to all digital wallet payment options (Apple Pay, Google Pay, Samsung Pay etc.)
Access to 86 400's budgeting insights and spend tracking
Bill predictions and software reminders
Direct debits and recurring payments straight to and from the shared accounts
"Shared finances are an essential part of many of our lives, making shared accounts an important feature for any bank," Mr Tyler said.
"Our customers also told us it's important to keep some money separate – whether it's for your daily coffee, or making sure you don't spoil your Christmas surprise.
"We've built a product that makes it easy to sign up and get accounts for yourself first, and then add a shared account, without repeating your information, and in just a few seconds."
Customers can also have a blue card for individual accounts and a purple card for shared accounts.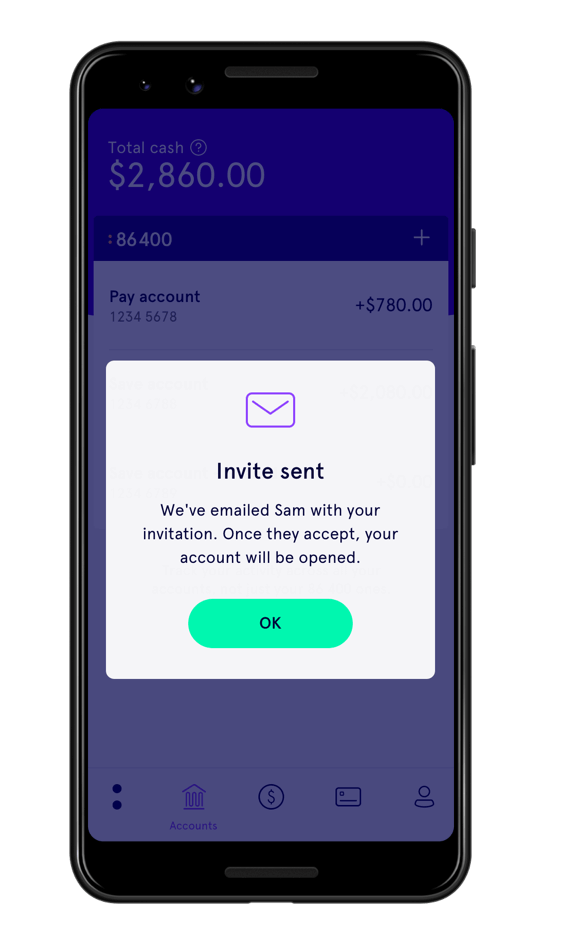 Source: 86 400
Features a priority over interest rates for now
Interest rates are at record lows at the moment, near zero for some banks, after a succession of cash rate cuts made by the Reserve Bank over the last two years.
With the cash rate now sitting at just 0.10%, most savings accounts, including 86 400's, have seen rates plummet.
Boasting a rate closer to 3.00% p.a when it launched, 86 400 now holds a maximum interest rate of just 1.20% p.a, following another two cuts in November and October.
[See also: 86 400 also halves maximum deposit limit]
However 86 400, like fellow neobank Up appears to now be focused on implementing convenient features and smart tools into banking products.
"People are looking for better ways to save due to a combination of factors: low interest rates, losing track of money due to multi-banking or sharing finances, and the rise in the convenience economy eating at our account balances when we aren't looking," Mr Tyler told Savings.com.au.
"Providing great savings rates continues to be a factor, however finding new ways to save and taking control of your money is becoming increasingly important and you'll see a greater expectation of banks from customers to deliver more of these experiences.
"Our shared accounts product is our way of helping customers get the best out of their money."
To help maximise their savings in a low-rate environment, Mr Tyler and 86 400 offered the following four tips:
Structure your money in a way that suits you and make sure that if you do have multiple savings accounts, all of them are earning the maximum interest rates;
Pay directly from your savings accounts, as 86 400 is one of the first banks to allow customers to do this and means they're getting the maximum bonus interest as money isn't being left in the transaction account at 0% interest. This might not be viable if your bank restricts withdrawals from a savings account.
Proactively cancel unused subscriptions or review recurring expenses that creep up over the years, as these are a major drainer of savings.
Make sure you are on the best possible deal for large items such as energy or telco bills. There are a number of comparison tools out there, including 86 400's Energy Switch, which can help save thousands on household bills.
[See also: How regular reminders could save you thousands on your household bills]
---
Image source: 86 400