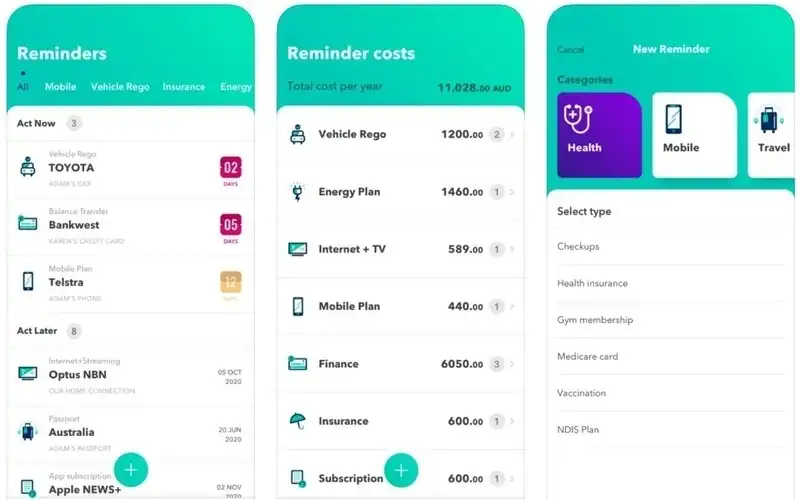 Image source: GetReminded
Mobile app GetReminded claims it can save Australians thousands on their household bills, simply by sending them regular reminders.
GetReminded is a new free-to-use mobile app, available on iOS and Android, that says it can save families $3,000 per year on their household bills and contracts, simply by sending them early reminders and encouraging them to switch.
The app allows users to enter the renewal dates - or simply 'review dates for bills with no fixed end dares - for numerous policies, be it:
Mobile phone plans and internet
Gym memberships;
And of course, mortgages
Need somewhere to store cash and earn interest? The table below features savings accounts with some of the highest non-introductory and introductory interest rates currently on the market.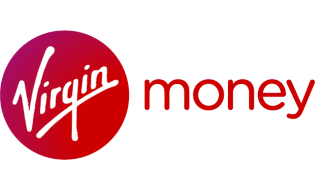 Advertisement
Boost Saver - Savings Account
Product Features
Zero monthly fees. Maximum rewards. Red hot savings rate.
5,000 bonus points points when you take out a new Virgin Money Go Account
Bundled with the Virgin Money Go transaction account
Highest
variable rate
1.20%†
Base
variable rate p.a.
0.10%
Enjoy up to 1.20% p.a. with your bundled Virgin Money Boost Saver
Product Features
Zero monthly fees. Maximum rewards. Red hot savings rate.
5,000 bonus points points when you take out a new Virgin Money Go Account
Bundled with the Virgin Money Go transaction account
One GetReminded user, Sydney Woman Rachel James, said she refuses to pay more on unwarranted bills after using the app.
"I've been able to make some great deals on insurance and phone bills," she told Savings.com.au.
"It's been an eye-opener to see what else is out there, everything adds up and my family now are saving a couple of thousand dollars each year.
"It was relatively simple, changing providers. Even if it's a few dollars here and there, It's better in my pocket."
How it works
As well as telling users when certain contracts are set to expire, GetReminded also informs them of how much they could be saving with a cheaper deal.
It does this ahead of the warning the provider might give, according to one of GetReminded's co-founders, David Wareing.
"If you tell me what your expiry date is, I know what you need and when you need it," Mr Wareing told Savings.com.au.
"As most organisations would only send you one reminder like an insurance company sends you a letter 28 days before your policy expires, we send you a series of reminders that commence, in general, around 60 days prior to the expiry of your document."

GetReminded founders Tim Nicholas, David Wareing and Silje Dreyer (left to right). Image source: Get Reminded.
That $3,000 figure is based on the average customer having around five to six different reminders set, the most popular categories being car registration, mobile contracts and general insurances, with the most expensive household bill - mortgage repayments - not actually included.
Mr Wareing said that these savings can be made by reviewing your policies and establishing whether or not you're getting the best value from it.
"I think there's a general feeling in the marketplace that people are starting to question whether or not their insurance companies are charging them a loyalty tax. Or thinking is there a better deal out there?" Mr Wareing said.
"When you receive your comprehensive insurance renewal every year, it's provided to you around about 30 days prior by your existing provider in the form of an invoice. So their form of marketing to you to get your business for the next year is to send you a bill.
"Which frankly speaking I think is the most presumptuous marketing that you can probably engage in. I'm still perplexed as to why my depreciating asset, which is my car, costs more every year on its insurance policy."
Switching policies without prompts or reminders can be challenging at times, and is often deliberately so.
Mr Wareing said the legislation is set up to make sure businesses don't need to tell existing customers how much more they're paying compared to switching to a new policy.
"There is unequivocally the case, and we hear this from hundreds of our subscribers that if you just pick up the phone and ring your existing provider and literally threaten to leave, they'll immediately give you somewhere between a 10% and 17% discount anyway."
"I think changes need to occur, but at GetReminded we're obviously approaching it in a slightly different way."
GetReminded can recommend cheaper policies
As a part of its goal to help customers save money, GetReminded sends customers suggestions for cheaper policies based on partners it has, which is one way it makes money as well as advertising (GetReminded doesn't sell any personal data).
However, Mr Wareing insists that GetReminded is different from the traditional comparison site model.
"They're [the suggestions] obligation-free, but they're really just there to help consumers too, commence the shopping around process and not leave everything into the last minute," he said.
"We're what's called an impression provider. We allow three partners in each specific category to be able to partner with us to put their best offer forward to our subscribers in a reminder when the consumer goes into what we call the active stage, so within 60 days of expiry.
"Our option providers do provide a link that goes from GetReminded through to their environment, but we're not out there saying that we are providing the best deals or the recommended deals."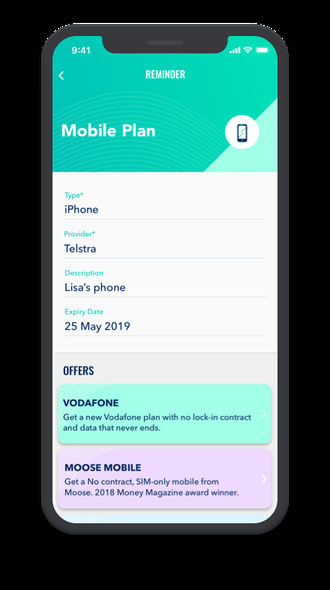 An example of GetReminded's interface, with one of its recommended offers. Image via GetReminded.
GetReminded's top tips for saving money on bills
One of the app's other founders, Tim Nicholas, shared the following tips for shopping around and saving money.
On your mobile plan:
Data - How much data do you need? Allow for at least a 25% increased usage per year as we stream more and consume more content.
Bundled Deals - This may include home broadband, Pay TV subscription and streaming data, again making sure your bundle only contains things you will use.
Contract - Weigh up a contract versus pay-as-you-go, especially if you already own your handset as a no lock-in contract usually provides better value.
Mobile Handset - If you're looking to upgrade your handset, check out the price of buying one outright as it may be way cheaper than in a contract.
On your home and car insurance:
Value of Home and Car - Ensure your cover accurately reflects the value of your home or car – don't let your insurer artificially lower the value to just to bring down your premium, but also don't get caught out by not increasing the cost of rebuilding or replacement.
Optional Extras - Look at the extras you think you might actually need rather than just want, such as windscreen cover, a loan car and no-fault claims.
Renewal Time - Don't just accept an increased renewal premium from your current insurer. By shopping around check you're getting the best value. Evaluate if a higher excess can reduce your premium.
On your energy bills:
Pricing Tariffs - There are generally three pricing tariffs to be aware of – peak, off-peak and shoulder time – and each household will have different usage patterns each season – look at your entire last 12 months then compare your actual usage across different providers.
Green Energy - Environmentally friendly energy can be more expensive, so you need to decide how important it is for you to be green.
How to pay – There will often be a substantial discount for paying by direct debit so this is a no-brainer, but make sure you set a reminder to top up your account before the direct debit date to avoid bank charges.
Contract renewal - Remember all energy contracts will revert to a default market offer unless you shop around and agree to a new contract.
---
Latest Articles