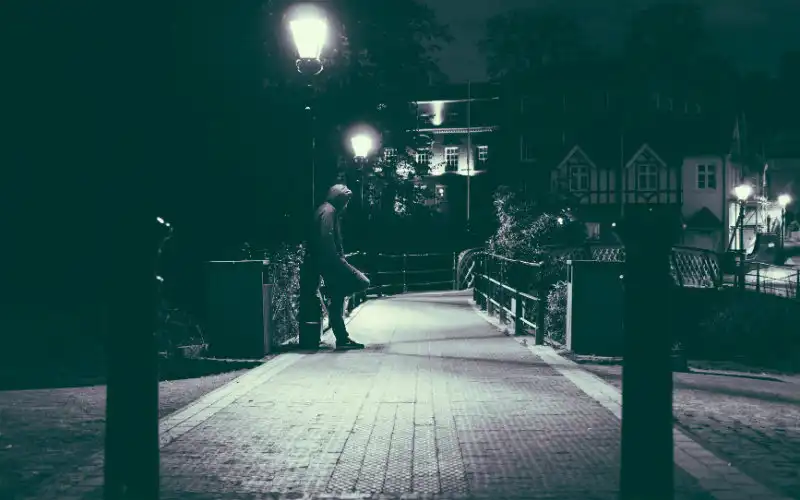 Photo by Jamie Street on Unsplash
A poll of bank customers has found AMP, Bank of China and Westpac are among Australia's least-trusted banks while Bendigo Bank, ING and RACQ Bank are some of the most trusted.
The inaugural Australian Banking Brand and Trust Index by research house Glow surveyed more than 1,200 Australian banking customers on their brand awareness, trust of banks, satisfaction and a likelihood to recommend.
Recent media scrutiny following the Royal Commission saw AMP place last in the survey on customer trust, with a negative net trust score of -14.
Westpac, which has also copped a lashing from the media lately following its recent AUSTRAC scandal, placed third last with -2, while Bank of China came in a close second last at -12.
NAB and ANZ both had net trust scores of +3, cementing themselves firmly in the bottom six, while the highest rating big bank in terms of trust was Commonwealth Bank, with a score of +6 (19th out of 28).
The table below displays a snapshot of some of the highest non-introductory interest rates on the market.
Second-tier banks performed much better on the trust scale, with the top three spots occupied by Bendigo and Adelaide Bank (+23), RACQ Bank (+20) and ING (+20) respectively.
Some of Australia's most prominent customer-owned banks filled out the top 10, such as:
4. Greater Bank (+20)
5. Beyond Bank (+18)
6. P&N Bank (+17)
7. Heritage Bank (+16)
8. CUA (+14)
Glow Founder and CEO Tim Clover has urged the boards of larger banks to take customer trust into account, given their poor scores in this survey.
"As the relationship between major banks and Australian consumers continues to be under the spotlight, it's valuable to both parties to have a publicly available, quantifiable measure that reduces speculation and delivers data-driven evidence on the state of the industry across most known brands," Mr Clover said.
"Unbiased benchmarks that both competitors and consumers can access inherently rewards banks who acknowledge and address their perceived level of trust or satisfaction in the public forum.
"From an idealistic perspective, we hope that gaining transparency between all groups can lead to greater trust across the industry, and further exploration into public expectations of the behaviours, ethics and standards that drive it."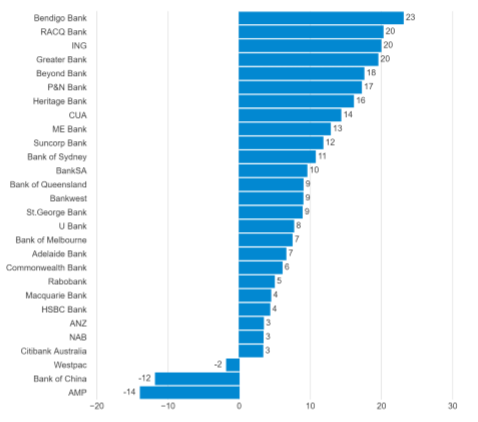 Source: Glow
UBank, ING top customer satisfaction
ING and Bendigo Bank feature in the top three again for customer satisfaction, but it's UBank that lays claim to the most satisfied customers, with 92% of them indicating them are either satisfied or very satisfied with its performance.
ING and Bendgio followed closely behind with 89% and 88% satisfaction respectively.
Customer satisfaction in general is highest among smaller banks, while Westpac again features at the bottom with a 64% satisfaction rating.
The other scores among the big banks are:
Commbank (75%)
NAB (74%)
ANZ (69%)
Westpac-owned St. George also featured in the bottom four at 71% satisfaction.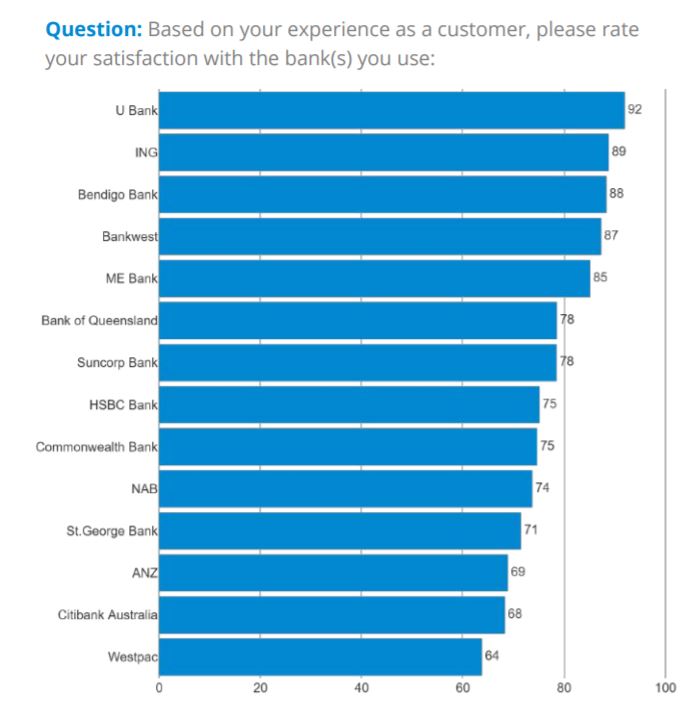 Source: Glow
Bendigo most likely to be recommended
Bendigo and Adelaide Bank features at the top in two of the four key metrics reported, scoring the highest in likelihood to be recommended to other people by their customers.
ING came second, with 26% and 23% of these banks' customers being willing to recommend them to others respectively.
Westpac, once again, came last, with a net promoter score (NPS) of -29.
The big four did, however, reign supreme on brand awareness, which isn't surprising given their sheer size.
CBA leads Australia in terms of prompted brand recognition (92%), followed closely by ANZ (89%), NAB (87%) and Westpac (87%), while they also dominated unprompted brand awareness - only St. George (78%) came close.
New age banks still have work to do
The latest wave of banks to enter the market - Up, Xinja and 86 400 - have failed to register on the brand awareness chart, despite their recent meteoric rise and claims of disrupting the market.
Up Bank recently announced a 414% surge in deposit growth to $172 million, while Xinja also announced it had hit $200 million in deposits in less than a month.
But the survey results suggest these banks have a long way to go before they work their way into the mainstream Australian consumer's subconscious.
---
Latest Articles