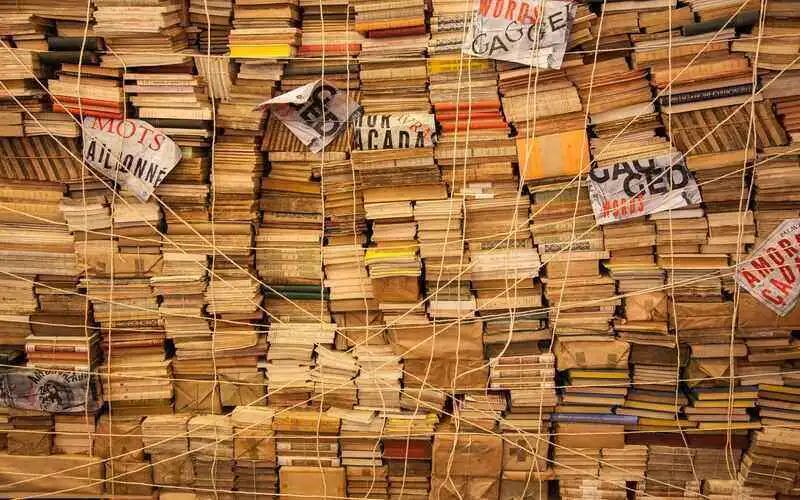 Photo by Dimitri Houtteman on Unsplash
Australians are still saving heaps of cash, albeit it a lower rate, as we begin to emerge from the COVID-ravaged economy.
According to Australian Bureau of Statistics (ABS) data for the September quarter (which also confirmed a massive 3.3% increase in GDP), the household savings to income ratio remained elevated at 18.9%.
This is a slight fall from 22.1% in the June quarter (the ABS initially cited a 19.8% savings ratio in that time).
Need somewhere to store cash and earn interest? The table below features introductory and ongoing savings accounts with some of the highest interest rates on the market.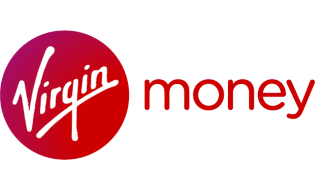 Advertisement
Boost Saver - Savings Account
Highest
variable rate
1.50%†
Base
variable rate p.a.
0.10%
BOOST YOUR SAVINGS with up to 1.5% for the first 3 months
Product Features
Red Hot Intro Rate of up to 1.5% for the first 3 months
Enjoy up to 1.2% thereafter
Bundled with the Virgin Money Go transaction account
For context, the household savings ratio in the September 2019 quarter was just 4.8%, already much higher than the 2.5% recorded in the previous March quarter.
These consistent rises in saving were caused by a collapse in spending, as well as a surge in stimulus payments and social assistance benefits like JobSeeker and JobKeeper.
According to ABS Head of National Accounts Michael Smedes, this slight fall in household savings was driven by a rise in household spending, which increased by 7.9% on both goods and services.
That followed a 12.5% fall in the June quarter.
"Despite record quarterly growth in household spending, the level in )the) September quarter was 6.8% lower than that recorded in December Quarter 2019," Mr Smedes said.
Household consumption also increased in every state bar Victoria, with lockdowns restricting spending in the state.
"More stringent restrictions associated with the second lockdown resulted in a 9.8% fall through the year," the report said.
"Household spending declined 1.2% in (the) September quarter, driven by clothing and footwear, furnishings and recreation and culture.
"Spending on food rose 6.6%, partly offsetting the fall, as households prepared for the second lockdown."
With Victoria now out of lockdown after recording a month of zero cases, this should look a bit different in next quarter's data (October-December).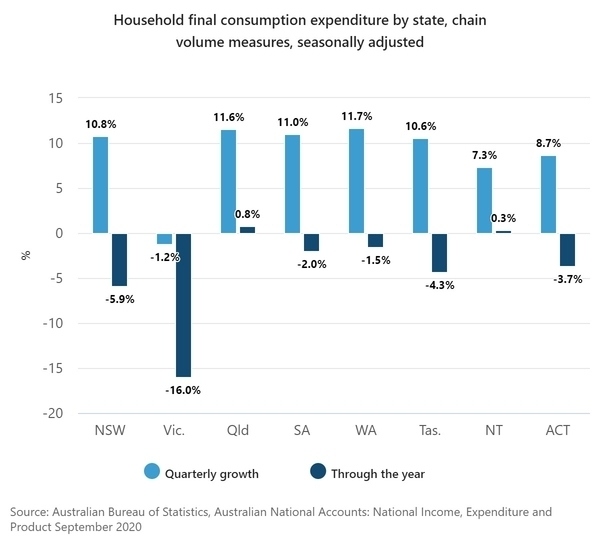 Australians stashed almost $10 billion extra into banks in October
Despite the September quarter data showing a slight decrease in savings, the Australian Prudential Regulation Authority's (APRA) monthly deposit data shows Australians are still keen on flocking to the safety of bank accounts.
Over the past year, APRA's data shows Australians have stashed $119 billion into savings accounts and term deposits, and in October, household savings for all banks by $9.6 billion to $1.1 trillion.
The big four banks, which hold around 80% of these deposits, recorded a 10.7% increase over the past 12 months to hit $813 billion in October.
According to APRA, this likely is due to "continued support from government stimulus and tax cuts".
This is supported by recent data showing 57% of the 11 million Australians receiving their 'Stage two' personal income tax cuts planned to save it.
---
Latest Articles