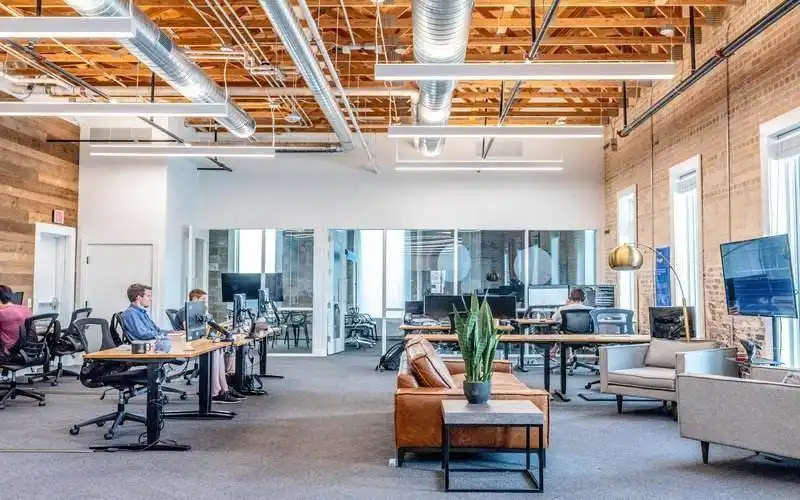 Photo by Austin Distel on Unsplash
New data has revealed total payroll jobs fell by 7.3% over the seven weeks from mid-March to early May.
The figures released by the Australian Bureau of Statistics (ABS) today showed residents in New South Wales (NSW) and Victoria were the hardest hit by COVID-19 lockdowns.
ABS Head of Labour Statistics Bjorn Jarvis said young people also bore the brunt of job losses.
"The latest data shows a further slowing in the fall in COVID-19 job losses between mid-April and early May," Mr Jarvis said.
"The largest net job losses over the seven weeks of the COVID-19 period, in percentage terms, were in Victoria and New South Wales, where the falls in payroll jobs were around 8.4% and 7.7%.
"Payroll jobs worked by people under 20 continued to show the largest falls (-14.6%), and were particularly high in some states and territories, such as the Australian Capital Territory (-19.2%)."
Need somewhere to store cash and earn interest? The table below features introductory savings accounts with some of the highest interest rates on the market.
However, Mr Jarvis said there was cause for optimism, with hard-hit industries now showing a reduced impact in the most recent weeks.
"The Accommodation and food services industry had lost around a third of payroll jobs (33.3%) by the week ending 11 April, and a subsequent increase in jobs saw this reduce to around 27.1% by the week ending 2 May," he said.
"The week-to-week changes are much smaller than they were early in the COVID-19 period.
"The decrease in the number of jobs in the week ending 2 May was 1.1%, which was only slightly larger than the 0.9% increase in the week ending 25 April."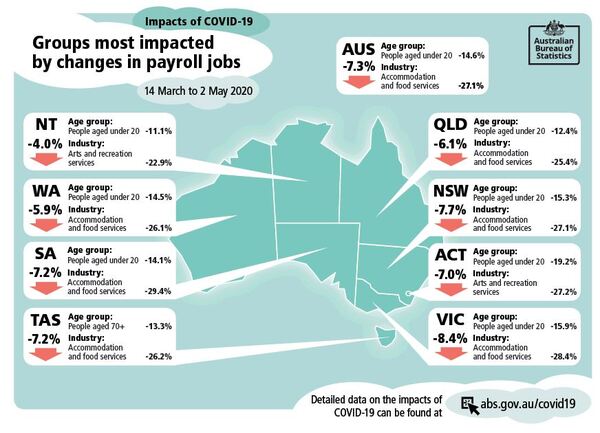 Source: ABS
In the week ending 14 March, when Australia recorded its 100th confirmed COVID-19 case, payroll jobs for females decreased by 7.1% and 6.9% for males.
However, between the week ending 25 April and the week ending 2 May, payroll jobs for males decreased by 1.6% and only 0.6% for females.
For the same period, industries which saw the largest falls in jobs were professional, scientific and technical services, decreasing by 8.0%, and information media and telecommunications which decreased by 5.3%
Consumer confidence continues to rise
The ANZ-Roy Morgan weekly consumer confidence index lifted for the seventh straight week, up 2.2%.
The financial conditions indices gained were 'current finances', up 8.8% and 'future finances', up 0.2%.
In contrast, economic conditions were mixed.
'Current economic conditions' fell 3.6% after six straight weekly gains, while 'future economic conditions' gained 1.5%.
'Time to buy a major household item' strengthened again, up 3.6%, while the four week moving average for 'inflation expectations' was stable at 3.4%, though the weekly reading slipped to 3.3%.
ANZ-Roy Morgan Aus Consumer Confidence: 'future financial conditions' is now only ~5% below the long run average, but overall sentiment is closer to 20% below average. It seems reasonable to expect further gains in sentiment. #ausecon @DavidPlank12 @roymorganonline #ausretail pic.twitter.com/B4Z7nqppN1

— ANZ_Research (@ANZ_Research) May 18, 2020
ANZ Head of Australian Economics David Plank said Australians were positive about their finances despite the grim unemployment figures released last week.
"Massive fiscal stimulus and continued easing of pandemic induced restrictions are providing an important offset to all the COVID-19 related gloom," Mr Plank said.
"As a result, 'future financial conditions' is now only around 5% below the long run average, though overall sentiment is closer to 20% below average.
"With more good news about the easing of restrictions likely, it seems reasonable to expect further gains in sentiment.
"Consistent with this, ANZ-observed card spending data shows household spending is holding up."
---
Latest Articles