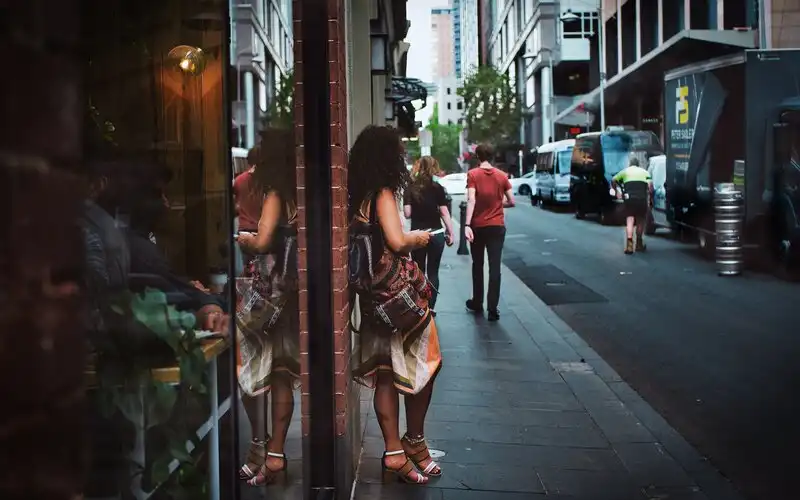 Australia's unemployment rate fell to 5.8% in February from 6.3% in January, seasonally adjusted.
The data from the Australian Bureau of Statistics (ABS) found employment increased by 89,000, taking employment to 13 million people and surpassing pre-COVID levels.
The data is significantly more encouraging than economists forecast, with the consensus there would be only a 0.1% drop in the unemployment rate with 30,000 jobs added.
Need somewhere to store cash and earn interest? The table below features savings accounts with some of the highest interest rates on the market.
Lender

---

4

0

0

0

$product[$field["value"]]

$product[$field["value"]]

$product[$field["value"]]

More details

FEATURED

Savings Account (Amounts < $24k)

4

0

0

0

$product[$field["value"]]

$product[$field["value"]]

$product[$field["value"]]

More details

High Interest Savings Account (< $250k)

4

0

0

1

$product[$field["value"]]

$product[$field["value"]]

$product[$field["value"]]

More details

0

50

0

$product[$field["value"]]

$product[$field["value"]]

$product[$field["value"]]

More details

0

0

0

$product[$field["value"]]

$product[$field["value"]]

$product[$field["value"]]

More details
Rates based on a savings balance of $10,000. Sorted by total interest rates. Refer to providers' websites for bonus rate conditions and for any applicable fees and charges. Rates correct as of May 25, 2022. View disclaimer.
Bjorn Jarvis, head of labour statistics at the ABS, said the February figures showed continued recovery in the labour market, particularly for women.
"The strong employment growth this month saw employment rise above 13 million people, and was 4,000 people higher than March 2020," Mr Jarvis said.
"Full-time employment increased by 89,000 people, of which 69,000 were women. Female full-time employment was 1.8% higher than March 2020, while male full-time employment was 0.8% below."
Seasonally adjusted hours worked bounced back in February, increasing by 6.1% following the 4.9% fall in January when more Australians than usual took leave.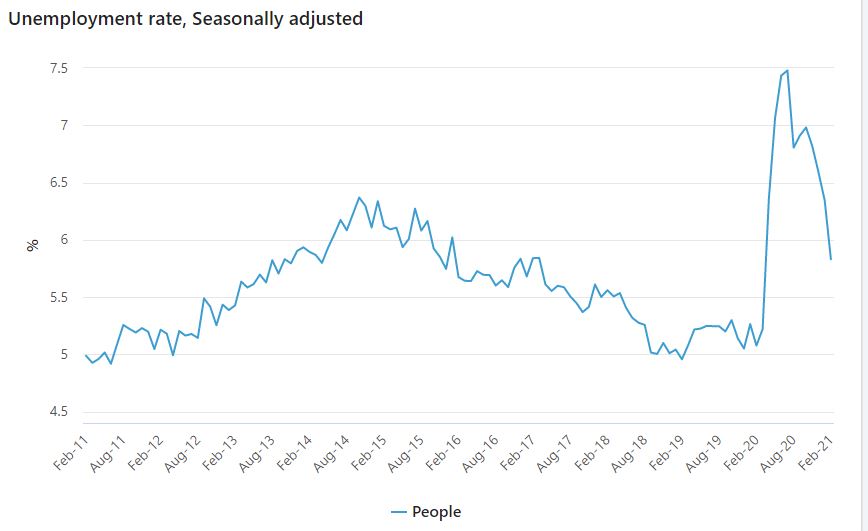 Source: ABS
Hours worked were 0.7% below the level seen in March 2020, reflecting a 94% recovery in the fall in hours between March and May.
Hours worked by women were 0.6% above March 2020, while hours worked by men were 1.6% below.
"Hours worked increased across all of the states and territories, except for in Western Australia, where hours were affected by the lockdown in the first week of February," Mr Jarvis said.
The participation rate held steady at 66.1%, while underemployment dropped by 0.4 percentage points to 8.5% after a steep fall in January, to remain around pre-COVID level.
The youth unemployment rate remained 0.6 percentage points above March 2020, with around 89,000 more unemployed people.
Remarkable recovery but still a way to go
Prime Minister Scott Morrison the labour market recovery was one of the most remarkable recoveries the economy had ever seen but noted more progress was needed.
"But we aren't there yet. There are more hours still needed. There is still a lot more to do, particularly for young people and even though the youth unemployment rate has pleasingly fallen, there is still a distance to travel," Mr Morrison said.
The Prime Minister also rejected the premise the unemployment rate would rise when the Jobkeeper scheme expired at the end of March.
"If these programs [like JobKeeper] go beyond what have been their effective period, they can start to hold the economy back. It can create problems in the mobility of the labour force.
"We have got tens of thousands of jobs in the latest job vacancy data coming through. They are continuing to rise."
Household financial comfort hits record high
As the labour market recovery continues, ME Bank has found household financial comfort has increased to be 5% higher than before COVID and sits at the highest level since the lender began the survey nine years ago.
The ME Bank Household Financial Comfort Index found for all measures reached new records in December, notably comfort with cash savings (up 5%).
This was despite over a quarter of households stating they felt worse off about their financial situation over the past 12 months.
However ME Bank's Consulting Economist Jeff Oughton said groups affected by dwindling government support saw declines in their financial comfort, including the unemployed, students, and casual employees.
More than a quarter of part-time and casual workers said they were seeking additional hours at work, and according to Mr Oughton the peak in household financial comfort may be short-lived.
"Unless the economy gains further momentum from a rundown of these large saving buffers and a faster pace of household spending, prematurely ending government support could have negative consequences on the financial comfort of many households," he said.
"Wide gaps in financial comfort across households could reemerge."
---
Photo by Terry Tran on Unsplash