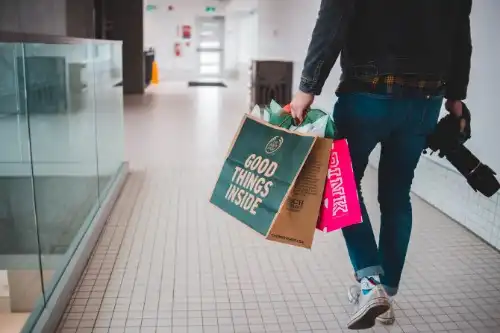 Photo by Erik Mclean on Unsplash
Australian retail turnover fell 0.3% in January, according to the latest retail trade figures.
The figures from the Australia Bureau of Statistics (ABS) paint an ugly start to the year for Australian retail, off the back of 0.7% fall in turnover in December of last year.
Prior to the release, most economists were expecting a flat result.
Economist Shane Wright said it was the worst December to January retail performance on record.
ABS Director of Quarterly Economy Wide Surveys Ben James said that retail was feeling the effects of the horrific bushfire season.
"Bushfires in January negatively impacted a range of retail businesses across a variety of industries," he said.
"Retailers reported a range of impacts that reduced customer numbers, including interruptions to trading hours and tourism."

There were falls across a significant amount of categories including:
department stores (-2.2%),

household goods retailing (-1.1%),

clothing, footwear and personal accessory retailing (-1.1%),

cafes, restaurants and takeaway food services (-0.3%) and

retailing (-0.1%).
These falls were partially offset by a rise in food retailing (0.4%).
The Australian Capital Territory recorded the worst result, seasonally adjusted, with a 2.3% fall in turnover, followed by Western Australia (-1.1), Tasmania and the Northern Territory (-0.5%), and Victoria (-0.2%).
Only South Australia recorded a rise in turnover, albeit marginal, with a 0.1% rise.
Online retail turnover contributed 6.3% to total retail turnover, up from 5.6% in January of last year.
The table below displays a snapshot of savings accounts with some of the highest non-introductory interest rates on the market.
The worst may be yet to come
Prior to the release of the data, Westpac economists said the effects of the global coronavirus outbreak would not yet be seen
"Bushfires and smoke pollution present a risk to trading volumes; however, the effects from COVID-19 shouldn't appear until February."
The ABS agreed with this and said there had been coronavirus impact on the January numbers, but will no doubt appear in the future.
"Whilst some individual retail businesses reported reduced customer numbers attributed to COVID-19 there was no apparent impact on any of the aggregate level data included in this release.
"It is expected that COVID-19 will impact aggregate retail trade estimates in coming months."
Meanwhile the strong Black Friday figures that pushed the yearly growth in positive territory has been completely offset by the last two months.
The annual rate growth is now the slowest it's been since October 2017.
Economist Callam Pickering said it was small retailers who are feeling the pinch the most.
It continues to be smaller retailers that are struggling the most throughout this difficult retail environment #ausbiz pic.twitter.com/EggNBGFpGa

— Callam Pickering (@CallamPickering) March 6, 2020
---
Latest Articles