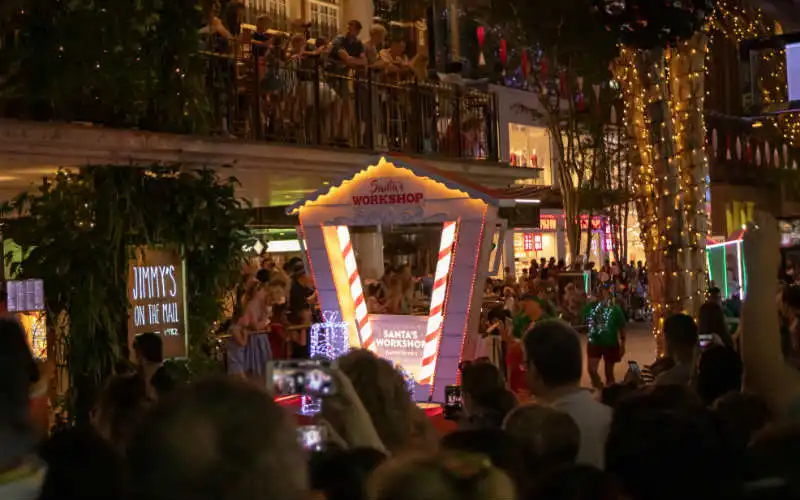 Photo by Brisbane Local Marketing on Unsplash
Aussies are expected to spend less on Christmas presents this year as job losses and income cuts impact spending.
It will be a frugal Christmas for many households this year as the impacts of COVID-19 continue to bite.
According to new retail figures compiled by Monash University researchers, two-thirds of Aussies surveyed say they will wait for sales or special deals before purchasing gifts, while many will buy less for their immediate family (24%), other relatives (23%) and friends (24%).
This is partly being driven by the fact that Australians are unsure if they'll even get to see their loved ones at Christmas this year with travel restrictions in place in many parts of the country.
Need somewhere to store cash and earn interest? The table below features savings accounts with some of the highest non-introductory and introductory interest rates on the market.
Lender

---

4

0

0

0

$product[$field["value"]]

$product[$field["value"]]

$product[$field["value"]]

More details

FEATURED

Online Saver (Amounts < $499999)

4

0

0

0

$product[$field["value"]]

$product[$field["value"]]

$product[$field["value"]]

More details

High Interest Savings Account (< $250k)

4

0

0

1

$product[$field["value"]]

$product[$field["value"]]

$product[$field["value"]]

More details

0

50

0

$product[$field["value"]]

$product[$field["value"]]

$product[$field["value"]]

More details

0

0

0

$product[$field["value"]]

$product[$field["value"]]

$product[$field["value"]]

More details
Rates based on a savings balance of $10,000. Sorted by total interest rates. Refer to providers' websites for bonus rate conditions and for any applicable fees and charges. Rates correct as of June 26, 2022. View disclaimer.
However, job losses and income cuts are largely to blame for the impact in shopper spend, with 58% of Aussies expected to be more prudent in their spending, while 66% say they will hold off on buying gifts until they're on sale.
It comes as research from Experian found that four in 10 (43%) of Aussies are still struggling to pay their bills for credit cards, utilities, mobile or internet as a result of COVID.
A third of Aussies have reduced their discretionary spend so they can pay their bills, while 11% have cancelled memberships or subscriptions.
With the Christmas spending season right around the corner, Experian General Manager Decision Analytics Mathew Demetriou said businesses need to take this into account.
"With this knowledge, Australian businesses need to understand their customers more than ever to avoid putting additional pressure on those already feeling the financial burden of COVID-19."
Surge in online shopping expected as Aussies avoid Christmas crowds
Despite many Australians reducing their discretionary spend, the same report found that online shopping is set to surge.
A third of Australians surveyed expect their online spending habits will increase in the coming months with a similar proportion (32%) believing they will continue shopping online over the next six to 12-month period.
The findings are consistent with the retail figures from Monash University, which found that 20% of Australians - and 27% of Victorians - expect to shop online more to purchase their Christmas presents this year.
Australians are also turning to online marketplaces in droves, with reports suggesting 17% will use this channel more than in previous years.
The survey of more than 1,500 shoppers found that one in five Aussies will be starting their Christmas shop earlier this year.
Principal Research Consultant at the ACRS Stephanie Atto said a growing number of shoppers were starting their Christmas shopping earlier than usual due to anticipated longer delivery times and belief that stock levels will be lower than usual.
"As the busiest time in the retail calendar, it's not uncommon to see retailers preparing for Christmas early in a typical year, with decorations often hitting stores as early as September and behind-the-scenes preparations no doubt starting months earlier," Ms Atto said.

"In a typical year, most shoppers usually start their Christmas shopping within three months of Christmas (85%), with the majority doing their shopping in the final four weeks (47%).

"But this year has been anything but typical, and retailers have not only had to plan their Christmas product releases, but also think about how they're even going to offer customers a safe in-store shopping experience."
But despite COVID social distancing restrictions in-store, physical stores still remain the most popular channel for Christmas purchases.
"While Australia has nearly passed the pandemic's second wave and things are returning to a 'new retail normal' in time for Christmas – with physical stores open and various safety measures put in place – our research suggests most Aussies will use a mix of channels to make their Christmas purchases this year," Ms Atto said.
Unsurprisingly, travel and tourism goods are expected to be the hardest hit, with many shoppers reporting they will not buy such goods or that they expect to buy less compared to last year.
On the other hand, clothing, footwear and accessories; personal care (e.g. cosmetics, baby care); and household (e.g. homeware, hardware) goods are most frequently purchased for Christmas shopping and are expected to be least impacted by COVID.
"It's not all bad news for travel and tourism goods though," Ms Atto said.

"When it comes to the value of Christmas shopping, our research also shows that Aussie shoppers who expect to buy such goods will spend the most on average on travel and tourism goods, along with consumer electronics.

---
Latest Articles