What is sharing economy?
If you're not familiar with the term 'sharing economy' you probably are familiar with some of its platforms. You've probably already used them. Uber, Airtasker, Airbnb. Sounding familiar, right?
The sharing economy has to have two key ingredients to make it so. Firstly, it has to be an online platform connecting buyers with sellers or a service. Secondly, the seller or service isn't an employee of the platform – just someone who uses it to connect with people who need that service.
Rani Cohen and Jessica Lai are the founders of WeekDay Space, a share-economy platform that connects people with a Monday to Friday home away from home near their work. Landlords who have a spare room in a high-demand area (usually within 5 kms of a city) can rent their spare room to a weekday lodger who wants to escape their long daily commute.
Rani told Savings.com.au the idea for WeekDay Space was born after listening to an audio book on a long commute.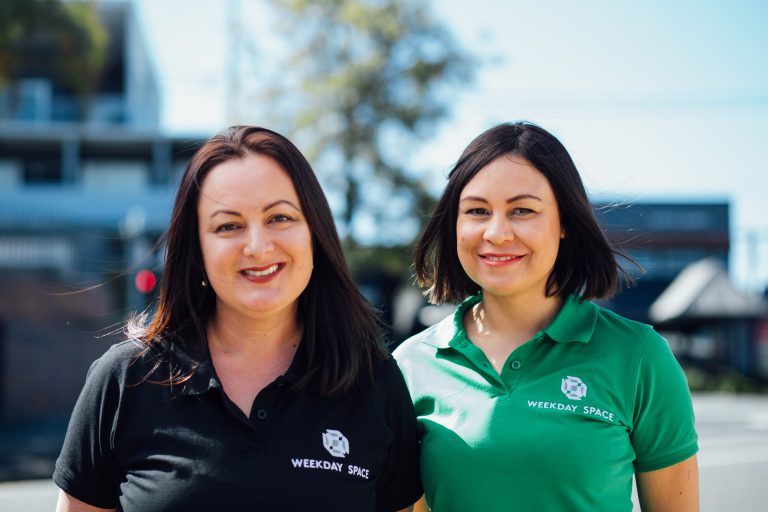 Pictured: Jessica Lai and Rani Cohen. Image supplied.
"It told the story of a young woman in London who took in a Monday to Friday lodger for some company and to pay her mortgage," she said.
Captured by the idea, Rani recalled her own long commutes for work from the Sunshine Coast to Brisbane. She wished there had been a Monday to Friday room she could have booked on a regular basis rather than exxy night-by-night rooms.
By using the platform, homeowners can bring in extra income from tenants and still have their homes to themselves on weekends.
"Similarly, commuters benefit from the flexibility of having somewhere to stay without having to permanently move. Weekday lodgers have a home elsewhere, so they only come with items they need for a nightly stay. They don't come with the usual bug bears of full-time sharing. Plus, as the lodger is likely to be in full-time employment, the rent should not be an issue. Midweek room lets often attract reliable professionals, especially if you have a well presented and comfortable home near the city."
As it's generally an ongoing arrangement, you would vet the person just like you would with a regular flatmate, and have an agreement in place as to weekly rent and facilities offered.
With more than nine million spare bedrooms in Australia (according to the last census) and with the rising cost of home ownership in Australia, it makes sense to use your home to offset your mortgage and build up your savings.
The sharing economy is quickly becoming one of the most popular ways to supplement your income. One in ten Australians are turning to the sharing economy, according to estimates by the Sharing Hub.
Many of these people are pocketing an extra $1,100 a month on average from these side jobs by only working an extra five hours a week. That's extra cash to help pay off all the important stuff like your bills, debts – maybe even your mortgage.
Share-economy websites and platforms
You've heard of Uber, Airbnb and Airtasker, so we won't bore you with the details of those. But we bet you haven't heard of these little known platforms.
1. Camplify
You can rent out your RV, caravan, motor home or camper trailer and pocket anywhere from $15,000 up to $40,000 extra per year. Not bad.
If you're a road trip regular, exxy Airbnb's could well be a thing of the past.
2. Mad Paws
Mad Paws is basically a pet sitting service where you can look after people's dogs or cats while they're away.
Pet sitters can earn up to $300 a week, and up to $600 a week in peak holiday seasons.
View this post on Instagram
3. The Volte
Connecting savvy Cinderellas to a community of Fairy Godmothers, The Volte lets you hire and borrow designer clothing and accessories.
The creators of The Volte used the sharing economy model to allow everyday people who ordinarily wouldn't have access to high-end fashion to experience it on a budget while utilising their existing wardrobe to generate an income.
Most people who use the app rent out their clothes on top of their full-time jobs and pocket an extra $200 a week.
Savvy fashion lovers can expand their wardrobe and spin a profit from clothes gathering dust in their wardrobe. Who said you can't be ethical and fashion forward?
4. Spacer
Parking is at a premium, especially in the inner-city suburbs, so why not take advantage and rent out your driveway while you're at work?
Spacer lets you do just that if you've got a garage, driveway or storage shed you're not using. With over 30,000 units available for rent, Spacer represents the biggest marketplace for space in Australia at the moment, so you'll always have a spot to park your car.
A double garage in a metro area can fetch you an extra $700 a month.
5. Airly
Airly connects travellers with owners of luxury private jets in what can only be described as Uber for the air.
It's possibly one for the wealthiest among us, as the joining fee is $1,000 and monthly membership starts at a hefty $2,550.
But if you've just casually got a private jet lying around, you could stand to earn quite a bit.
6. Shebah
It's like Uber but with one fundamental difference. Shebah is a female-only ride-sharing service, helping to overcome the vulnerability and fear some women feel when using other ride-sharing apps.
The cars are kid-friendly, with most equipped with baby seats and a focus on providing safe transport to and from school for girls and boys.
7. Kindershare
Founded by two parents, the idea for Kindershare was born while contemplating a house overloaded with near-new baby equipment.
Kindershare's premise is simple – to create a community of parents willing to lend out baby equipment they weren't using to other parents, allowing them to free up the clutter in their homes and pocket a bit of extra cash on the side.
8. BorrowMyPooch
This one is a win-win for both dog lovers and owners alike.
BorrowMyPooch connects local dog lovers with local dog owners for dog-sitting, walks and play dates when you just need some doggy cuddles in your life.
You can make sure your doggo is looked after when you're at work, or just play with someone else's dog and get paid for the pleasure of doing so. Sign us up!
9. Swimply
Fancy a dip but don't have a pool? Got a pool and want to cash in on sweaty people looking for a reprieve from the summer heat?
This news will sit swimmingly with you. Swimply is the AirBnb of pools, where pool owners can put their pools up for hire and gives those without a pool the chance to have a dip for an hourly fee.
Combine platforms
You could even make more money by combining multiple platforms, for example pet sitting, doing some jobs on Airtasker and renting out your room. Of course, you'll need to declare the extra income on your tax return.
According to the Sharing Hub, if someone were to use Mad Paws, The Volte, Spacer and Camplify, they could potentially make up to $1,400 a week.
The tax man wants a cut
It's important to remember that any money made through the sharing economy is classed as taxable income. So if you're offering your services through sharing platforms, whether it be driving for Uber or hiring out your garage – you're required to pay tax on that income.
The Australian Tax Office recommends you keep records of all the income you earn and any expenses you have – in some cases you may be able to claim deductions, like cleaning supplies if you offer to clean for someone on Airtasker.
If your earnings from the sharing economy count as part of your overall annual income if you have another job (or work multiple share economy gigs), it could influence your marginal tax rate.
You'll need insurance
If you've already got insurance on your car or property, renting out your spare room or ride-sharing can affect your insurance policy. You'll have to double check with your insurance provider to ensure you've got the right protection and adjust your policy if need be.
If you haven't got insurance, you'll have to investigate your options with various insurance providers to ensure you're protected in the event of an accident while you're doing your job, or damage to your property if you're renting out a room.
Some third party providers like Uber do offer limited insurance coverage when you register with them, but it's highly recommended that you review their policy and its restrictions before relying on it as your primary insurance cover.
And you'll probably have to register as a business and pay GST too
If you do decide to work in the sharing economy to earn a bit of extra coin, you might have to consider registering as a business or a sole trader to receive an Australian Business Number (ABN).
You might also have to register for GST if your annual income from the sharing economy is $75,000 or more, or if you are working as a driver for a ride-share company.
Savings.com.au's two cents
If you're in need of a bit of extra cash or just want to boost your savings, utilising the share economy can be a great way to do that.
With one in ten Aussies turning to the share economy and pocketing an extra $1,100 a month on average, it's an easy way to pocket more money to pay your bills, or put towards your next holiday.
But before you dive in headfirst, make sure you do your research. Make sure you've got the right insurance policy, don't forget about the tax man, and always read the fine print on a sharing website so you clearly understand your rights and responsibilities – whether you're a consumer or a provider.