On this page:
Buy now, pay later (BNPL) platforms such as Afterpay have seen meteoric rises in recent years. Since being founded in 2014, Australia's premiere BNPL service Afterpay has grown to 3.3 million active customers in Australia and New Zealand alone, and 9.9 million worldwide after expanding to the US and the UK. During the COVID-19 months, Afterpay added as many as 20,500 customers per day as more people shifted to online spending.
The second biggest BNPL platform Zip has over 2 million customers in Australia, up 62% over just one year, while humm isn't far behind. It's a huge market - expected to double its current market share by the year 2023 - and seems to be expanding into different sectors. BNPL platforms are partnering up with share trading apps, travel booking sites like Webjet, mobile wallets Apple Pay and Google Pay as well as Qantas Frequent Flyer points, just to name a few.
But with increased popularity comes increased chances for misuse, and there remains the possibility of missing scheduled repayments, being charged late fees and defaulting on amounts owed. In this article, we'll examine whether BNPL platforms like Afterpay and Zip can affect your credit score and how they can impact your ability to be approved for loans in the future.
How does your credit score work?
Your credit score is essentially a numerical representation of your trustworthiness as a borrower, seen by lenders when they consider whether to give you a loan or not. Lenders may look at this score to determine:
Whether you could afford to meet loan repayments
How much they're willing to lend you
What interest rate to charge you
What your credit limit should be on a credit card
Whether you should be approved or rejected for a loan or a credit card
[Read: What is a credit score?]
Depending on the credit agency, this score will generally be between 0 to 1,000-1,200, with a higher score indicating better credit trustworthiness. This information is often contained with a credit report, which contains a host of information about your credit history as well as personal information, like:
Your personal details, such as your name, date of birth, address, employment, etc
Any credit or loans you've applied for
Any missed payments
Defaults within the last 60 days
Other credit infringements, such as leaving your last known address without paying a debt
Bankruptcies, court judgements and insolvency agreements, which can stay on your record for as long as seven years
Using a credit card is often directly linked to your credit score. But what about the credit card's newest competitor, Afterpay?
Does Afterpay affect your credit score?
Generally speaking, Afterpay does not perform what is usually considered a typical credit check when you sign up or when you make a purchase. There is no credit check when you apply for Afterpay, and as such, it won't impact your credit score straight away, but there is this interesting tidbit in Afterpay's terms and conditions:
You authorise us to make, directly or through third parties, any enquiries we consider necessary to verify your identity and assess your capability to make payments according to the Payment Schedule in relation to all Afterpay Orders. This may include ordering a credit report, performing other repayment capability checks and verifying information you provide against third party databases.

Source: Afterpay
This section also says "you acknowledge that Afterpay reserves the right to report any negative activity on your Afterpay Account (including late payments, missed payments, defaults or chargebacks) to credit reporting agencies".
So while Afterpay doesn't perform a credit check when you apply, it could still use its own discretion to report any negative behaviours - like missed repayments, defaults or late fees - to credit reporting bureaus, which can, in turn, negatively impact your credit score. This also means that you can't build up a good credit history with Afterpay either, as it won't report 'positive' behaviours like continually meeting your scheduled repayments.
The key takeaway from this should be: Afterpay is credit neutral as long as you continue to meet your repayments. But clearly not everyone does - around one-seventh (14%) of Afterpay's total income comes from late fees, although this number has declined from 24% in 2018.
Does Zip affect your credit score?
Zip, the second-largest BNPL platform in Australia, does perform a credit check when you sign up, to ensure that you'll be able to meet your repayments. According to its website:
As a responsible provider of credit, we consider a number of factors as part of our assessment process. When you apply for a Zip account, we may need to perform identity and/or credit checks to verify your details and confirm you can make repayments. These checks are performed in accordance with our Privacy Acknowledgement, which you'll have to agree to at the start of your application.

Our third party credit checks are performed by Equifax or illion. If you have any questions regarding your credit score or the information provided as part of a credit check we recommend you get in touch with any of those 2 providers directly.

Source: Zip
According to Zip, it does not re-check customers each time they make a purchase and does not list defaults on a customer's credit file.
Learn more about how Zip works here.
What about other buy now, pay later platforms?
As we've mentioned already, Afterpay isn't the only BNPL platform out there. There are other big ones such as Zip and humm, as well as a number of smaller and more recent BNPL competitors, such as Bundll, Klarna, Laybuy, Openpay and others.
Does humm affect your credit score?
The third-largest BNPL platform humm also performs credit checks when you sign up, but according to humm, "this won't affect your credit score or leave a record on your credit file". Like Zip, any bad debts and defaults could leave a black mark on your credit report, but this won't happen if you continue to meet repayments on time.
Learn more about how humm works here.
Do Bundll, Klarna, Laybuy etc. affect your credit score?
The last couple of years has seen a plethora of new buy now, pay later services launch in a bid to beat Afterpay at their own game. Some of these key competitors have their own credit check requirements.
According to Bundll's website, "setting up bundll does not require a 'credit check' and no enquiry footprint left on your credit file. Accessing superbundll does require a 'credit check' and the enquiry will appear on your credit file". Super Bundll is a different payment mode designed for larger purchases up to $3,000.
Klarna, which launched in Australia in early 2020, has a slightly more specific credit check system. According to its website:
When you choose to pay through in-app shopping, we will perform a semi-hard credit check for the first attempt to create a One-time card. We will be able to use this credit check for 90 days. If you would attempt another purchase after 90 days or if you change your address in our app, we will perform another credit check.

As a responsible lender, we don't want to grant credit to customers who may have difficulties paying it. For that reason, we do a credit check if we need more information on our customers, to make sure that the customer can afford the debt.

Source: Klarna
Klarna says this semi-hard credit check will be visible on your credit report but won't affect your score. Missed payments however will impact your credit.
Laybuy, the only privately-owned BNPL platform, also performs credit checks upon registration, meaning missed payments could result in your credit score being lowered.
"Laybuy performs a credit check to obtain a credit score on all new users upon registration. Once your credit score has been confirmed and your account has been verified, Laybuy assigns your Laybuy limit and you can begin shopping immediately," it says on its website.
Meanwhile, co-founder Gary Rohloff told Savings.com.au back in September 2019 that the credit check is an important part of its business.
"One of the foundations of our company is we want to be responsible; we run a credit and affordability check with Experian, and we do that because we don't want to be putting young people into a place where they have an unsustainable debt position," he said.
Openpay says it may check your credit report when you apply or make a purchase. According to Openpay:
Depending on the purchase amount you are making, you may be asked to consent to a credit check. In those instances, your consent will be clearly requested before a credit check is performed and your Openpay plan is created.

A credit reporting body (CRB) may include information about you in credit reports to credit providers (such as us) to assist them in assessing your creditworthiness
Meanwhile, Chief Risk Officer at Openpay Theresa Abela told Savings.com.au that Openpay only conducts a credit check once every 12 months.
"At Openpay, we only conduct an external credit check if a new customer requests an increase to the initial spending limit provided upon opening an account, and if they provide us consent to do so," she said.
"Should a customer request to further increase a spending limit, we can use our internal credit decisioning engine to look at various data points, such as the customer's purchasing history and spending patterns, on our platform in real time to provide an informed credit decision.
"This is a robust process, while ensuring we limit the number of requests on a customer's credit report."
---
Other BNPL providers - Latitude Pay and Limepay - also require credit checks upon registration and purchases respectively. As you can see, the different BNPL platforms each have slightly different processes for performing credit checks.
"The BNPL spectrum of the market is fairly opaque around credit checks at the time of setting up the accounts and with some providers," Founder of AJ Financial Planning Alex Jamieson told Savings.com.au.
"A large number of them don't do this as part of the initial set up process. The other issue is more around what happens if you default on the payment, it is unclear if this will be referred to credit agencies if the debt does go bad.
"In reality, there is not enough transparency around this aspect of their operation for users and what their risks are with using such a product."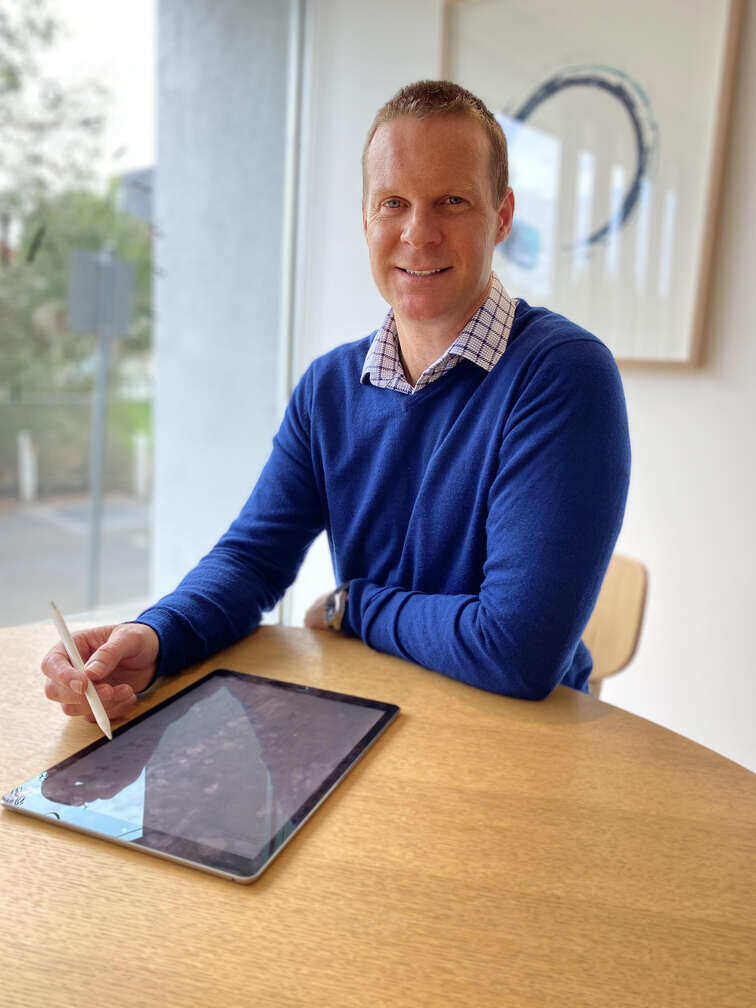 Image: Alex Jamieson, Founder of AJ Financial Planning.
Do you need to close your Afterpay account to get a home loan?
Just because you have a BNPL account that you use doesn't mean you can't get a home loan. As we've mentioned already, these services don't instantly have a negative impact on your credit score, and might even be better than a credit card in the sense that the lower credit limits of BNPL platforms compared to credit cards could be viewed by a lender as a lower potential debt ceiling.
Generally speaking, you don't need to close your Afterpay account when applying for a home loan. But depending on how you use it, having an active BNPL account could lower your chances of being approved for the loan. If you often miss BNPL repayments and have to pay late fees, or have previously defaulted on a repayment, then a lender could look at this and see you as an untrustworthy borrower, just as they would if they saw:
Too much reckless spending (i.e gambling)
Too much debt (like car loans, credit cards etc.)
Too low an income or a poor history of savings
But the inverse also applies if you're a responsible BNPL user. The responsible lending conduct credit licensing guide from ASIC says that a lender can look beyond your immediate credit history to see if you can repay a loan based on your spending habits. If you regularly meet your Afterpay commitments and don't use it too much, then it shouldn't stop you from getting a home loan approval.
"Speaking with clients that have been recently applying for loans, it appears that the credit assessment process with some of the banks are definitely taking a closer look at people that are using the BNPL options, particularly when the lenders are reviewing the bank statements and asking further questions around these types of products," Mr Jamieson said.
Tip: Never lie that you don't use BNPL platforms when applying for a home loan - they'll find out eventually. Since it might not hurt your application if used properly, just be upfront about using them, as lying in your application could lead to rejection.
You still need to keep your BNPL spending under control
They aren't called buy now, pay never platforms. They're called buy now, pay later for a reason, and that later part always comes due unless you want to attract late fees or have your account suspended. According to an ASIC review, more than half of BNPL users admitted to spending more than they otherwise would, and one in six have become overdrawn, delayed other bill payments, or borrowed money as a result of over-commitment through BNPL platforms.
"Typically if an individual is using a BNPL product for micro-purchases say under $200 this would likely be an early warning sign that an individual may be suffering from potential cash flow pressure strains," Mr Jamieson said.
"The other aspect is with the BNPL products initially it does provide an artificial boost short term with your cash flow.
"However, as these micro-purchases build on top of each other, mid to longer-term we find that the cash flow position is likely to start to deteriorate and suffer over the burden of these payments as time goes on if they are not managed properly."
Savings.com.au's two cents
Some BNPL providers may perform a credit check when you sign up, while others don't, and some will perform a quick credit check at the point of purchase instead. Some won't at all, but the common theme running through BNPL providers is that if you miss any repayments or default on a purchase, then they have the right (and maybe even the responsibility) to report this to a credit reporting agency. That could impact your credit score.
So while BNPL platforms like Afterpay are fine to use, use them in moderation. If you don't, your credit score could be impacted, as could your future ability to apply for any loans.