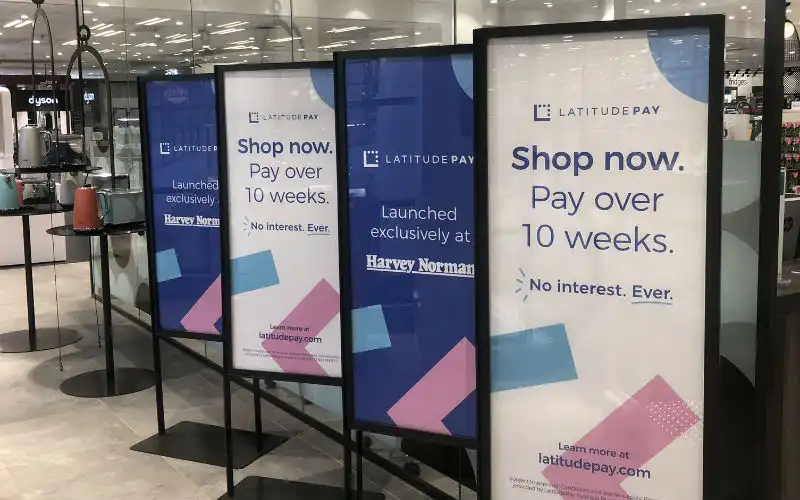 Photo source: Latitude
The newest buy-now, pay-later platform called LatitudePay has launched, the latest in a crowded field of AfterPay competitors.
Created by Latitude Financial and partner Harvey Norman, the digital platform is touting no interest payments and zero merchant fees for purchases under $250 until January 2021.
Customers will be able to equally split purchases into 10 weekly instalments at no cost to them.
Latitude's Managing Director and CEO Ahmed Fahour said LatitudePay's low merchant fees will benefit everyone.
"The low merchant service fees – zero on the most popular pricing segment – means our retail partners get to keep more of the money they make with each transaction," Mr Ahmed said.
"Consumers also benefit when merchants are able to keep their costs lower."
So how does LatitudePay work?
LatitudePay boasts it'll only take 90 seconds to sign up to the platform.
After plugging in your details online you'll be subject to a credit and ID check.
A Latitude Financial Services spokesperson told Savings.com.au that these checks are vitally important.
"We want to ensure that our customers are not over-committed.
"While we are inclusive, we are committed to acting responsibly, so we will only provide credit to those who have a sufficient credit score."
Once approved you'll be able to purchase Harvey Norman items online or in-store at approved retailers up to $1,000.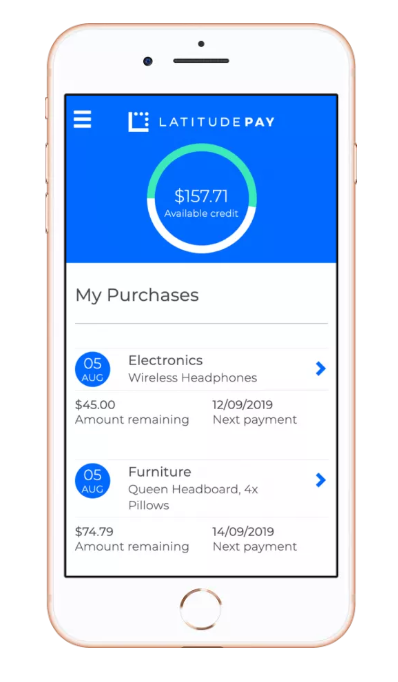 You'll be required to pay 10% of your purchase upfront, while the rest will be paid in nine weekly automatic payments.
If you miss a payment, you'll cop a $10 late fee for purchases less than $50 and a $50 fee for transactions up to $1,000.
If you make a purchase greater than $250, fees for retailers will be 1-3%, depending on the price of the purchase made, with no merchant fees for smaller purchases.
By comparison, Afterpay charges up to 6% on all goods sold on its platform as well as higher late fees.
Currently, LatitudePay is only partnered with Harvey Norman so it can only be used there for the time being.
However, Mr Fahour said in the coming weeks they'll be making a series of announcements about other retailers and eCommerce partners joining the platform.
Latitudepay faces stiff competition
Data from Roy Morgan released in March found in the 12 months to January 2019, 1.59 million Australians used a buy-now, pay-later scheme.
The newest of these schemes is Bundll, which was announced only last week.
Launching later in the year, the platform has been likened to "a debit card on steroids", allowing customers to bundle all of their purchases together into a single bill.
Meanwhile, at the start of August, Commonwealth Bank invested $149 million in one of Afterpay's biggest US and UK rivals, Klara.
The company claims to already be servicing 60 million consumers globally and is on track to generate $1 billion US in revenue for the current financial year.
Currently, Afterpay has a stranglehold on the Australian market, boasting 4.6 million users and hovering around the $8 billion valuation mark, a 100% increase in market share in the last year.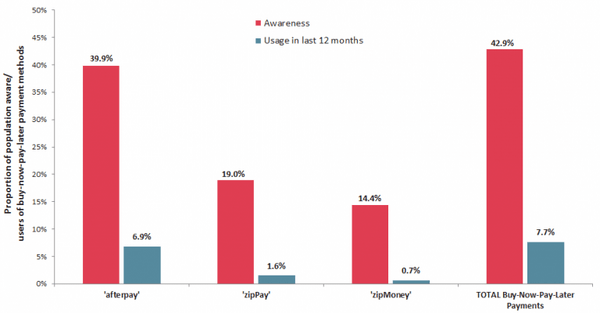 Source: Roy Morgan
Main rival Zip Co is also experiencing rapid growth with a 214% market share gain and more than 1.3 million customers and has also recently acquired Auckland-based platform PartPay.
Latitude Financial said they're going to draw on their experience in the payments instalment business to compete in this crowded field.
"Latitude already has 2.6 million customer accounts," the non-bank lender said.
"We will be reaching out to as many of our customers as possible about signing up instantly to LatitudePay.
"We also see a great opportunity to attract a whole new customer base, including millennials, who are embracing new ways of shopping and paying for their purchases."
---
Latest Articles