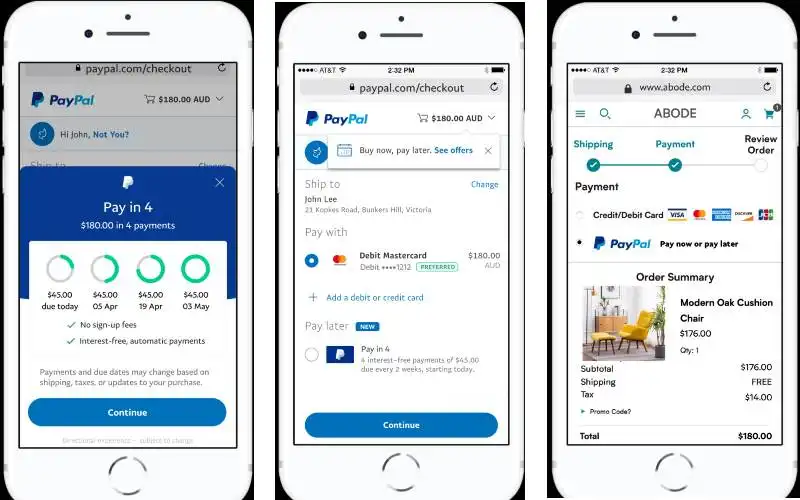 From today, PayPal's highly anticipated buy now, pay later (BNPL) offering will be available to Australians.
Much like rivals Afterpay and similar BNPL offerings, PayPal's Pay in 4 will allow consumers to split eligible purchases over four equal, interest free fortnightly instalments.
A key point of difference is that Pay in 4 won't charge consumers any late payment fees.
PayPal Australia General Manager of Payments Andrew Toon said it was the "right thing" to do by their customers.
"We are launching with no late fees in Australia because we believe it's the right thing to do for our customers and will deliver a better consumer experience," Mr Toon said.
"Our business model does not rely on late fee revenues and we believe that many people who miss a payment do so by mistake, not design.
"By removing late fees, we are providing our Australian customers with a secure buy now, pay later service without the risk of being penalised for late payments."
When PayPal announced its plans to launch a BNPL offering in March, it planned to charge late fees for missed payments.
PayPal changed its approach after conducting consumer research, which found that late fees were a key factor behind people not using BNPL, with more than half of those surveyed saying they would not use a BNPL service with high late fees.
PayPal has also lowered the minimum value for Pay in 4 purchases to $30 from $50. Consumers can split the cost of eligible purchases between $30 and $1,500 into four 'interest free' repayments.
Where can I use PayPal Pay in 4?
PayPal Pay in 4 will be available in two ways: when an eligible consumer pays using the standard PayPal button, the Pay in 4 option will appear at checkout in the PayPal wallet as a payment option.
Businesses can also display Pay in 4 as a payment option on their website.
"Our primary driver is to make the PayPal wallet the most versatile and useful digital wallet available by giving more payment choice and flexibility to our customers while maintaining the highly secure processes they know and trust," Mr Toon said.
PayPal will also conduct suitability checks on consumers by using its own data and analytics engines, and when required run credit checks with an external credit bureau to assess whether Pay in 4 is a suitable option for the customer.
PayPal Pay in 4 will only appear as an option at checkout for consumers who have a PayPal account in "good standing".
---
Latest Articles