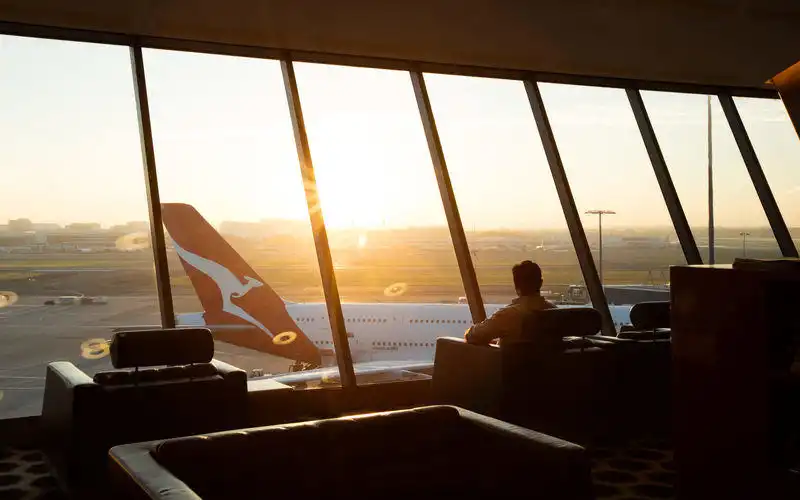 Image source: Qantas
Afterpay customers will now be allowed to earn Qantas Frequent Flyer points, thanks to a new partnership between the two.
Although more of a trial agreement at the moment, or a 'pilot', Qantas Frequent Flyer (QFF) is offering up to 5,000 Qantas Points to Afterpay users who link the two accounts.
Qantas is offering the following:
Up to 500 points for new Afterpay customers who join and add their QFF membership number to their account. Can earn one Qantas Point per $1 spent, up to a total of 5,000 Qantas Points; and
For existing Afterpay members, the first 50,000 who link their QFF membership number to their account can earn one Qantas Point per $1 spent, up to a total of 5,000 points once they've spent $1,000.
This partnership follows news last week of Afterpay partnering with online travel booking website Webjet, allowing jet setters booking flights to use Afterpay as a payment option up to the value of $2,000, enabling them to pay elements of their trip in instalments.
Need somewhere to store cash and earn interest? The table below features introductory savings accounts with some of the highest interest rates on the market.
Both of these programs are used by a large number of Australians.
Afterpay accounts for around 15% of all online retail in Australia and has over 3.1 million customers in Australia and New Zealand, while the Qantas Frequent Flyer program has over 13 million members.
[Read: Qantas offers refunds for cancelled flights due to COVID-19]
Qantas Loyalty CEO Olivia Wirth said earning points with Afterpay would be a "huge advantage" to program's 'frequent buyers' who like to maximise their points earn on everyday spend.
"Financial services is one of the most popular ways to earn points in the program, it's the quickest and easiest way to build your points balance," Ms Wirth said.
"With our 13 million members all having different spending habits and financial preferences, it's great to be able to offer more options and more rewards."
Afterpay Co-founder and CEO Anthony Eisen meanwhile said this partnership would provide a "significant upside" for Afterpay customers.
"We are always looking for ways to add value for our customers and this partnership between two iconic Australian brands is a great way to reward them for shopping with Afterpay.
"Now our customers can earn Qantas Points on their purchases at no additional cost, just by using Afterpay as they normally would," Mr Eisen said.
It should be noted that 5,000 Qantas Points is not enough for any kind of flight, or to buy much at all.
2019 research by Point Hacks shows even something as minor as a $50 Westfield Gift Card costs 11,010 Qantas Points, while a Qantas Melbourne-Sydney economy return flight costs a minimum of 16,000 (flights generally provide better value than products).
For this scheme to be worth much, it's likely the points cap will need to be vastly increased.
But some experts say this might not be a good thing.
Such partnerships could be harmful
Partnerships like this one, as well as buy now, pay later (BNPL) platforms launching rewards and loyalty schemes, are becoming more common.
In June, another BNPL platform Klarna launched its own loyalty scheme called Vibe.
Consumer Action Law Centre Director of Policy & Campaigns Katherine Temple told Savings.com.au that schemes like this can trap people in debt, just like other types of credit.
"Just because buy now pay later providers lend money on an app, or have savvy social media campaigns, does not make their product innovative or less risky. Loyalty schemes and 'reward' programs are simply another marketing tool," Ms Temple said.
Comparing BNPL schemes to rewards credit cards, which have come under fire lately, Ms Temple said frequent flyer reward credit cards have historically offered low value to consumers, with high annual fees and huge interest rates.
"However, the answer is not to simply substitute one bad product for another. Buy now pay later presents some serious risks to consumers, and adds significant costs for merchants," she said.
"Buy now pay later companies do not perform proper affordability checks, which can lead to people struggling to make repayments, sometimes with multiple providers."
Consumer Action policy officer Patrick Sloyan expressed a similar opinion when asked about Afterpay's partnership with Webjet last week.
"The cost of flights are expensive and it's concerning that companies like Afterpay and Webjet can load people with up to $2,000 of debt and have no obligations to assess whether someone can actually pay it back," he told Savings.com.au.
"Afterpay charged their customers $46 million in late fees in the 2019 FY. This is a serious red flag."
Financial Counselling Australia's chief Fiona Guthrie said more oversight is needed in the buy now, pay later (BNPL) industry.
"Big-ticket items like travel may be very tempting but if you can't afford the repayments or don't pay on time you will incur fees and end up in debt," Ms Guthrie said.
---
Latest Articles