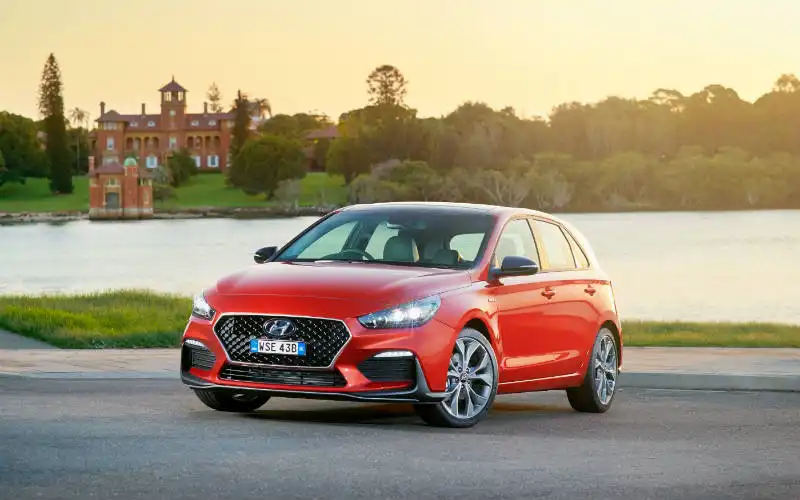 Photo: Hyundai i30. Image supplied.
Netflix-style car subscription service Carly has this week signed an industry-first deal with blockbuster car-maker Hyundai.
The partnership will allow motorists to subscribe to new and used Hyundai vehicles on a flexible basis Australia-wide via Hyundai dealerships.
Carly CEO Chris Noone said the partnership with Hyundai comes at a time when new car sales are declining.
"Car finance is getting harder to obtain and banks are cracking down on lending, especially after the banking Royal Commission," Mr Noone said.
"This is a new age for car ownership in Australia. The goalposts have definitely shifted from outright purchase and debt financing to more flexible arrangements to suit lifestyle and personal circumstances."
Mr Noone said his car subscription platform is an alternative to saving for, leasing or borrowing money to buy a car and offers access to a range of new and used vehicles including insurance, registration and maintenance packaged into a single monthly payment with no long term commitments.
"Subscribers can start, pause and stop their subscription and 'switch' cars as their needs change. This could be a short term switch to a vehicle more suitable for a holiday, a longer-term switch to cater for increasing family size, or pausing a subscription due to an extended holiday," Mr Noone said.
Hyundai CEO JW Lee said the partnership was an industry-first.
"The future of personal mobility will not be based solely around vehicle ownership, and Hyundai will adapt to changing consumer demands," Mr Lee said.
"Through this partnership, we will provide consumers with more choice, an alternative to purchasing a vehicle, which for some drivers may better suit their ever-evolving lifestyles."
Are car subscription services the future alternative to car ownership?
Earlier this year, Melbourne-based car subscription service Carbar launched in Sydney as part of a broader plan to roll out across the rest of the country.
Last month, Jaguar Australia announced it would be partnering up with Carbar, so there's no doubt the car subscription model is emerging as an alternative to traditional car ownership, as the costs of running a vehicle rise and new car sales fall.
If the rate of Carbar's growth is anything to go by, car subscriptions are definitely becoming more popular.
According to Carbar CEO Des Hang, Carbar has experienced 150% month-on-month growth and has had over 100 signups in less than six months.
"By all indications, we think subscriptions will become a sizable chunk of the vehicle market," Mr Hang said.

"Car ownership is ingrained in the Australian culture, so it won't entirely replace owning a car. Not overnight at least. But the market is shifting in line with global car ownership trends."
One-third of Aussies want an electric car in the next five years
An Origin Energy survey found that one-third of Aussies believe they will own an electric car within the next five years.
Currently, electric vehicles make up only 0.2% of the new-car market.
Hyundai recently launched the electric Kona SUV and an electric and plug-in hybrid version of the Ioniq small car.
Hyundai recently partnered up with Origin Energy to boost sales of its electric vehicles.
A spokesperson for Carly told Savings.com.au some of Hyundai's electric vehicles will be available for subscription.
"We expect a full range of Hyundai cars to be represented on the Carly platform. We expect dealers to include some of the Hyundai EV range along with the popular i range of small and medium passenger vehicles and the SUV range," the spokesperson said.
Approval in 24 hours
Balloon options to reduce repayments
No ongoing fees, no discharge fee
Base criteria: fixed and secured car loans for 'low emission' cars. Data accurate as at 01 September 2020. Rates based on a loan of $30,000 for a five-year loan term. Products sorted by advertised rate. Repayments are calculated based on advertised rates. *The Comparison rate is based on a $30,000 loan over 5 years. Warning: this comparison rate is true only for this example and may not include all fees and charges. Different terms, fees or other loan amounts might result in a different comparison rate. Rates correct as of January 21, 2022. View disclaimer.
---
Latest Articles