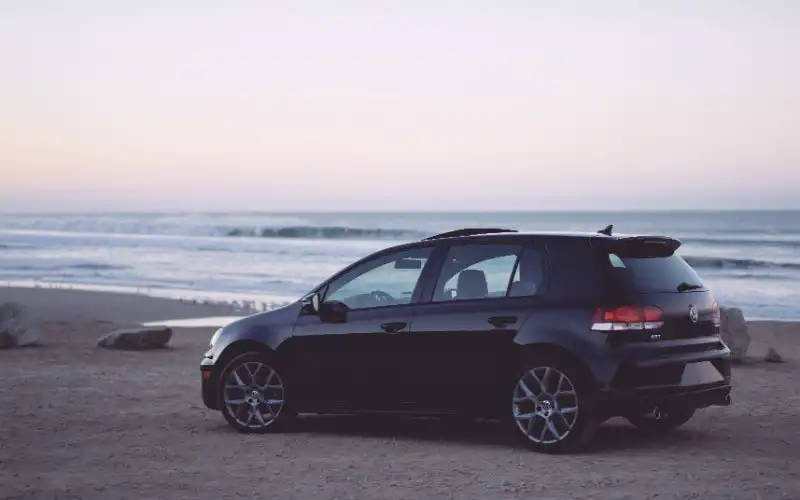 Photo by Robert Haverly on Unsplash
Ferrari v Lamborghini, Ford v Holden, BMW v Mercedes. Much is made of the type and brand of cars we buy, but what about the types and brands of car insurance?
What's in this article:
Cars cost tens of thousands of dollars (hundreds of thousands if you're overcompensating) so the last thing you want is that money to go down the drain should you have an accident.
Car insurance is vital but it can be hard to choose which type is best for you – especially considering those who sell it overlap two professions who have a reputation for being a bit untrustworthy at times (car salesman and insurance providers).
Read on so you may have a better idea of which type of car insurance may be right for you.
In the market for a new car? The table below features car loans with some of the lowest fixed and variable interest rates on the market.
Approval in 24 hours
Balloon options to reduce repayments
No ongoing fees, no discharge fee
Rates based on a loan of $30,000 for a five-year loan term. Products sorted by advertised rate. Rates correct as of October 20, 2021. View disclaimer.
Do I need car insurance?
By law, every registered motor vehicle in Australia must be insured with compulsory third party car insurance (CTP), also known as a 'green slip' in NSW. You cannot register a vehicle without having CTP insurance. Legally that's all the insurance you're required to have, but it may be wise to get additional insurance or at least consider doing so, as CTP doesn't actually insure your's or other driver's cars against damage (which we'll get into later).
There are a plethora of reasons for having car insurance:
It could cover medical bills in the event of an accident – yours or other people's
It could cover the cost of repairs for your vehicle in the event of an accident, as well as other people's
It could cover damage you may cause to property
It could cover you from theft and fire
Lenders might require you to have it in order to qualify for a car loan
A single adverse event involving your car can be incredibly costly, physically as well as financially. Protecting yourself not only gives you a safety net but also peace of mind.
What types of car insurance are there?
There are four main types of car insurance in Australia:
CTP Insurance
As mentioned previously, CTP (also referred to as green slip insurance) is the legal minimum level of car insurance required in Australia – hence why the 'C' stands for compulsory. CTP covers the driver of a vehicle for any legal liability for injury or death as a result of an accident for which the insured is responsible – whether that to be to drivers, passengers, pedestrians or cyclists.
In most states, your CTP comes with the rego of your car, but in New South Wales, ACT and Queensland you have to organise it yourself. As a result, what CTP actually covers differs slightly between states, so double check what it covers based on where you live.
In short, CTP pays for other people's medical bills when you're at fault. And in some cases, it can cover your own.
Third-party property insurance
Third-party property insurance (TPP) is essentially the bare minimum of insurance that isn't compulsory, covering the damage caused by your vehicle to other vehicles and/or property, but not your own vehicle.
Some insurers will also cover potential legal costs that arise from disputes after an accident.
TPP is the cheapest form of optional insurance, ranging from $200 to $500 a year depending on the insurer.
Third-party fire and theft
Third-party fire and theft (sometimes called third-party property, fire and theft) covers the exact same incidents as third-party property insurance does plus damage to your vehicle caused by fire or theft.
It doesn't cover you from other weather events like floods or landslides and especially doesn't cover you if the damage to your car is from a fire you started (that's fraud).
Costs are marginally more expensive than third party property insurance and range from $300 to $700 in most cases.
Comprehensive
Comprehensive insurance covers everything third-party, fire and theft covers, as well as the replacement or repair of your vehicle in the event it gets damaged by pretty much anything. Whether damaged by another car, fire, weather (hail), natural disasters, uninsured drivers, or it's stolen, you're likely covered, even if you're deemed liable for an accident.
Depending on your policy you can also have optional extras like roadside assistance, hire cars and no excess windscreen replacement added, which can present extra value.
It really earns the name comprehensive and as a result, can be quite expensive. The Australian Automobile Association's AAA March 2019 Transport Affordability Index found the capital average cost of comprehensive car insurance was $24.63, or $1,280.76 a year.
Check out the table below for the average car insurance costs in each capital city.
Rank
City
Average weekly cost
Average annual cost
1
Melbourne
$33.52
$1,743.04
2
Darwin
$29.80
$1,549.60
3
Adelaide
$28.15
$1,463.80
4
Sydney
$25.70
$1,336.40
5
Brisbane
$23.51
$1,222.52
6
Hobart
$20.62
$1,072.24
7
Canberra
$19.67
$1,022.84
8
Perth
$16.04
$834.08
Capital Average
$24.63
$1,280.76
Source: Australian Automobile Association (2019)
What's covered by each type of car insurance?
If you're a visual learner, here's an easy breakdown of what each insurance covers:
| Type | Damage to your car | Damage to other people's car/property | Damage or loss caused by theft/fire | Injuries or death to other people in an accident |
| --- | --- | --- | --- | --- |
| CTP | NO | NO | NO | YES |
| Third-party property | NO | YES | NO | NO |
| Third-party property, fire and theft | NO | YES | YES | NO |
| Comprehensive | YES | YES | YES | NO |
Other things to consider when choosing car insurance
Obviously, the two most important things to consider prior to making a decision on car insurance is what it covers in an adverse event and price, but there are still other features you should consider prior to making a decision.
The excess
The excess is what you'll have to pay in the event you make a claim on your insurance, and either you were at fault, or no-one was. If another person was at fault for damages, you won't have to pay anything.
Effectively, you agree to pay the excess in the event of an accident, while the insurance company will cover the rest. So if you're at fault for a crash with damages of $5,000, and your excess $500, the insurer could pay $4,500.
Typically, choosing to pay a higher excess will mean a lower premium and vice versa, so if you're concerned about regular car insurance payments, you could contact your insurer and have them lowered in exchange for paying a higher excess in the event of an accident.
Drivers on the policy
How many drivers you choose to insure, as well as their age and gender has a huge bearing on what premium you end up paying. It's common sense really; the more drivers you choose to insure, the higher your premium.
And if those drivers are male and/or below the age of 25, you'll also pay more. That's not sexist or ageist – well-documented statistics show that people with these characteristics are more likely to drive recklessly and are more prone to accidents.
Market value and agreed value
When insuring your car you may have an option of insuring for car for either 'market value' or 'agreed value'. Market value is the value your vehicle would fetch on the open market. Agreed value is a reasonable, fixed sum that you have agreed with your policy provider at the time of your policy renewal.
Having an agreed value could see you subject to a higher premium but gives you greater control over your payout should you lose your car. Market value might have a lower premium but you won't have a concrete idea of how much of a payout you will receive should you lose your car.
How are my premiums calculated?
A premium is the amount you pay an insurer for insurance cover and reflects the insurer's estimation of how risky you are to them. How premiums are calculated differs between each insurer, but some of the things commonly taken into account are:
The type of insurance you've taken out, its excess and optional extras
The age and gender of the driver/s
Your suburb
The driver record and insurance history of the driver/s
How many drivers are on the cover
The make, model and year of the vehicle being insured
Where the vehicle is stored overnight and in the day
Whether the vehicle is used for private or commercial use
Modifications to the vehicle
Whether you have nominated a market or agreed value for your vehicle
How can I reduce my premiums?
Premiums, especially if you have comprehensive insurance, can be expensive, so any way you can reduce them is financially beneficial.
There are plenty of ways to reduce premiums, some of which include:
Driving less often
Installing dashcams or other security devices to prevent theft
Only having one driver insured to drive the vehicle
Parking your car in a garage or off-street parking
Maintaining a clean driving record
Choosing a higher excess
Insuring for market value instead of agreed value
Which car insurance should I get?
What insurance is right for you is completely dependent on your car and financial situation. Obviously comprehensive is the most complete insurance package, but it's not always necessary even if it is recommended.
If you have an older car that isn't worth much to you or is easily replaceable, third party property or third party property with fire and theft can be valid options to prevent you from paying more on insurance than the car is worth.
If you've bought a new car or a valuable used one, on the other hand, comprehensive is more than likely the insurance you should have.
What's arguably most important is you have one of the three; CTP is simply not a wide enough safety net for financial protection in the event of an accident.
Savings.com.au's two cents
Everyone thinks that an accident won't happen to them, but the simple fact is cars get crashed, stolen and damaged every day in Australia. Insurance may protect you and your loved ones from physical and financial hardship.
It's easy to complain about the cost but for the peace of mind it provides, insurance can be priceless.
Savings.com.au recommends that consumers seek advice from a licensed and independent financial adviser when considering types of car insurance.
---
Latest Articles