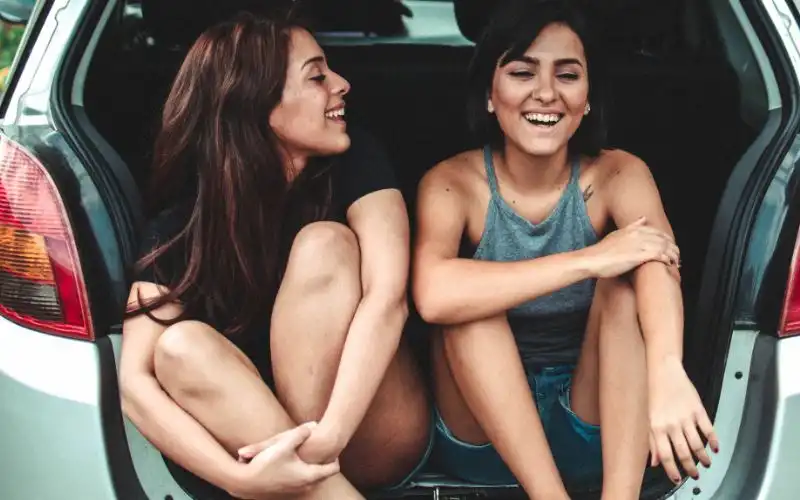 Being a young driver can be tough, especially if you're a sensible motorist, and it's tempting to get a car loan to get a fancier or newer car, but should you?
If you're a young sensible driver - student or P-Plater - life can be tough. Your insurance premium is likely high, because you're young, and because you're also lumped in with your bogan Year 12 neighbour Kyle who does burnouts in his fully sick VP Commodore.
There's also that one Instagram influencer who thinks she's hot stuff by posting photos of her manicured nails on the steering wheel of her BMW. Hey, it's a 20 year old base model, but who cares right?
You look at your mum's minivan you're driving and think 'There's gotta be a better way than this!' This is where a car loan can seem like a tempting proposition, but there's a few things you should know first.
In the market for a new car? The table below features some of the car loans with the lowest fixed and variable interest rates on the market.
Approval in 24 hours
Balloon options to reduce repayments
No ongoing fees, no discharge fee
Rates based on a loan of $30,000 for a five-year loan term. Products sorted by advertised rate. *The Comparison rate is based on a $30,000 loan over 5 years. Warning: this comparison rate is true only for this example and may not include all fees and charges. Different terms, fees or other loan amounts might result in a different comparison rate. Rates correct as of January 18, 2022. View disclaimer.
Should I get a car loan if I'm a young driver or student?
If you're a student or young person looking to get something a bit more than a $3,000 20 year old deathtrap, car financing could be a tempting option. However, a car loan on a new car can be a big burden to carry, especially when you're young and not earning much. There's a few considerations to make before diving in head-first.
Your income
Chances are your income is rather limited if you're in high school or at uni. Unfortunately, the 20 hours a week stacking shelves at Woolies might not cut it when a lender looks at your application. Of course, this depends on the amount you're asking to borrow, but most lenders look for several key things:
A steady, full-time or full-time equivalent wage: Lenders will often look for steady employment for over a year, as well as assess your income.

A track record of paying off debt and other expenses: Lenders will look into your credit report, which if you're a student, is probably a pretty short one. Paying off your postpaid phone plan, electricity and internet on time can go a long way in building your credit score. Don't let housemates cause you to miss your bills.

How a car loan would play into your expenses: Lenders will assess if you're in 'rent stress' i.e. paying more than 30% of your income towards rent, which if you're a student is a distinct possibility. They'll also look at 'frivolous' purchases such as Uber Eats, alcohol, how much you spend on going out and so on.
So, if you've weighed up the costs and a car loan is looking increasingly appealing and affordable, cleaning up your bank statement can go a long way in making yourself more attractive to a lender.
Related: 7 steps to getting your first car loan
Beware expensive loans
If you've been knocked back for a secured, low-interest loan, it's tempting to go for other types of loans. The next major auto loan type is an unsecured loan, which doesn't use the car as security if you fail to make payments. As a consequence, these types of loans can attract significantly higher interest rates. Another type of expensive loan can include bad/no credit car loans, which often attract a higher interest rate still. Do your due diligence here, and make sure you can afford the loan!
Costs of running a car
The total expenses don't stop at the car loan. If you're having to subsist on a diet of noodles, and share a house with five others, a car can be a big blow to the budget.
The loan is just part of the equation. You may have seen the above monthly repayments around $500-$600 above for a $30,000 loan across a five year term and thought, 'Oh yeah no worries', but there's plenty more to consider.
1. Insurance cost
One of the biggest expenses of car ownership when you're young is insurance, often above the $1,000 per year mark just for any old banger for comprehensive insurance. You can save some money by putting your parents on the insurance, too, but read the policy product disclosure statement (PDS) to make sure this doesn't void the insurance. You can also save money by just getting Third Party insurance, but if you've got a shiny new car, your own car isn't going to be covered if you ram it into a lightpole, for example.
2. Registration cost
Second is the registration (CTP and registration itself), and this varies by state, but is mostly going to be above $600 per year for a small, 4-cylinder car. Many states also make you do a yearly inspection and pass a roadworthy to be registered, which is an additional cost as well.
3. Maintenance cost
Third is the maintenance. While servicing every six months for around $300 seems cheap, that's just the start of it. You might want to build a rainy day fund for any repairs that need doing. especially if it's an older car. For example, a few years ago this writer's automatic transmission died and cost more than $3,000 to get a new one in. Tyres can also be a major expense, and the newer your car, the bigger the wheels likely are, and the more expensive the tyres will be.
4. Cost of fuel
And of course, another major expense is the fuel. While this is largely usage-based, and you can look into the best times to fill up, it's still going to be a couple grand a year if you're travelling the Australian average 13,400km a year.
Beware, also, the silent killer: Depreciation can be the silent killer among us, and while you don't experience this directly, you can take a hit when it comes time to sell the car. Even the least-depreciating new vehicles can lose a quarter of their value in three years - a list can be found here.
Average student car running costs per year
Queensland insurance and motoring body RACQ regularly publishes approximate running costs of vehicle makes and models (also accounting for depreciation and a car loan), and several popular cars among young people and students are below (keep in mind these are for new cars):
| Segment, Make and Model | Approximate Cost Per Week (Depreciation, Loan Interest, Fuel, Maintenance Items) |
| --- | --- |
| Light Car | |
| Mazda 2 Neo 1.5L | $130.12 |
| Suzuki Swift 1.2L | $117.67 |
| Toyota Yaris Ascent 1.3L | $135.03 |
| Small Car | |
| Hyundai i30 Active 1.6L | $154.73 |
| Mazda 3 G20 Pure | $166.79 |
| Toyota Corolla Ascent 1.8L | $160.43 |
| Medium Car | |
| Mazda 6 Sport 2.5L | $196.35 |
| Subaru Liberty 2.5L | $201.47 |
| Toyota Camry Ascent Sport 2.5L | $192.90 |
| Small SUV | |
| Mazda CX-3 Maxx Sport 2.0L Petrol | $168.37 |
| Mitsubishi ASX LS 2WD 2.0L | $181.97 |
| Subaru XV 2.0L | $184.08 |
| Medium SUV | |
| Honda CR-V VTI-S 1.5L | $204.94 |
| Kia Sportage SI 2.0L Turbo DIesel | $200.75 |
| Mazda CX-5 Maxx Sport 2.5L | $211.04 |
Source: RACQ 2019 Private Vehicle Expenses report
When you add up all the expenses, on top of the car loan, the dollar figure can be dizzying, especially if you're earning $23 an hour at Woolies for 20 hours a week.
In fact, the cheapest car to run that RACQ looked at was the Mitsubishi Mirage 1.2L manual, and it still costs nearly $115 a week to run.
And we're not even looking at luxury makes, larger cars, or popular sports cars such as the Subaru BRZ. This list also assumes you're driving 15,000km a year - higher than the national average. Your fuel costs could come down a bit if you live an urban area and only use your car on occasion.
Fun fact: the most expensive car to run that RACQ looked at was the Tesla Model X 100D, which costs $490.46 a week to run, but we don't envision many students are purchasing a $150,000+ vehicle.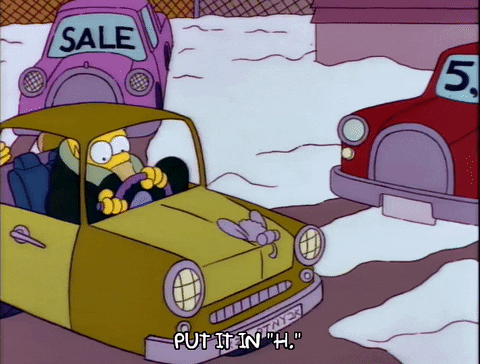 Source: Giphy
Savings.com.au's two cents
It's easy to look at the expense of running a vehicle and chuck in the towel. However, there's several methods to reduce the cost of car ownership, but you may need to sacrifice that new car smell or compromise in other areas.
Look at used cars: Many new cars take their biggest depreciation hit in the first 3-5 years, but many lenders can still offer a competitive rate on used cars up to 12 years old.

Consider a car subscription: The price of a car subscription may look expensive, but if you're only subscribed when you need the car - such as for trips with friends - it could work out to be much cheaper. Be aware that you may need an open license to be able to sign up.

Use a parent's or grandparent's car: It may not be cool to borrow the minivan but if you still live with them or live close by, putting up with it while you're studying could leave you a lot better off financially in the long term.
Alternatively, if you're limited on cash and want to go your own way, the general mantra is 'buy the safest car you can afford'. The car may not be fast, fun or look good in the KFC carpark on a Friday night, but you'll be thankful for the extra safety if you come off the road in the rain.
Article first published 14 May 2020, last updated 16 February 2021.
---
Photo by Jorge Saavedra on Unsplash