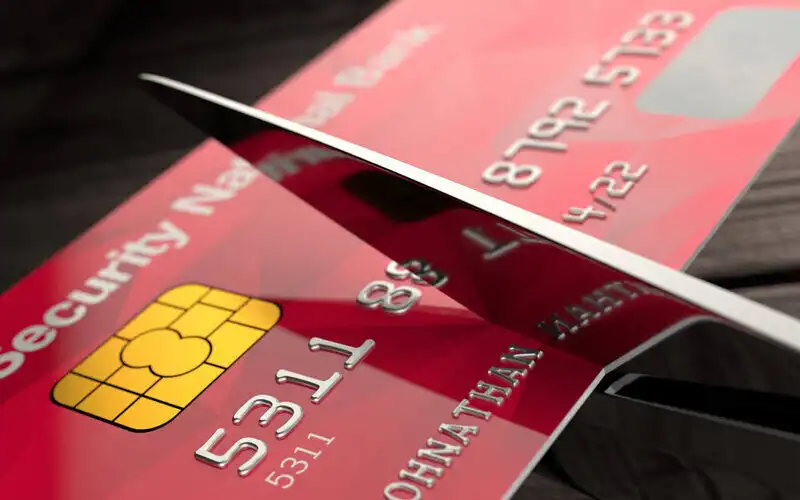 Image via QuoteInspector.com
Many Australians have changed their credit behaviours for the better over the COVID period, but those affected the most are still showing some concerning signs.
That's according to CreditSmart's Covid-19 Credit Check Up report, which found there has been deliberate, planned changes in financial behaviour among many Australians due to the financial implications of the pandemic.
With roughly half the population losing some income, CreditSmart found 72% of people are making positive changes to their spending, and 61% are planning to do so long-term, by doing things like avoiding big purchases and paying off debt more frequently.
"No matter the circumstances, the effects of COVID-19 have led to general increased discussion with family and friends around personal finances and budgeting, as well as a raised awareness around, and enthusiasm for managing debt better," the report said.
But while CreditSmart's report shows the majority of Australians plan to improve their behaviours regarding credit, those who most need to do so are not.
The deterioration of Australia's love affair with credit throughout the COVID months has been well established.
Credit card debt accruing interest fell by almost 24% from March to September 2020, while credit demand for everything bar home loans plummeted as well.
See also: Should you cut up your credit card?
CreditSmart's research separates Australian credit users into three categories:
'Avoiders': Who only use credit when necessary;
'Managers': Who use credit to meet some lifestyle need but are in control of it; and
'Dependants': Who use credit frequently, rely on it and often struggle to control it;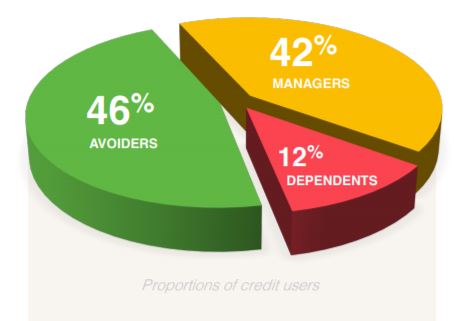 Source: CreditSmart
Although the minority overall, the credit users hardest hit by COVID-19 are dependants.
More than half of all credit dependants say they are struggling with current credit health, or are concerned for their future credit health.
They were also both simultaneously more likely to receive credit assistance from their lender or bank, but also to not ask for help when they needed it.
Credit dependants were also roughly twice as likely to turn to riskier, short-term credit options like payday loans or buy now, pay later options.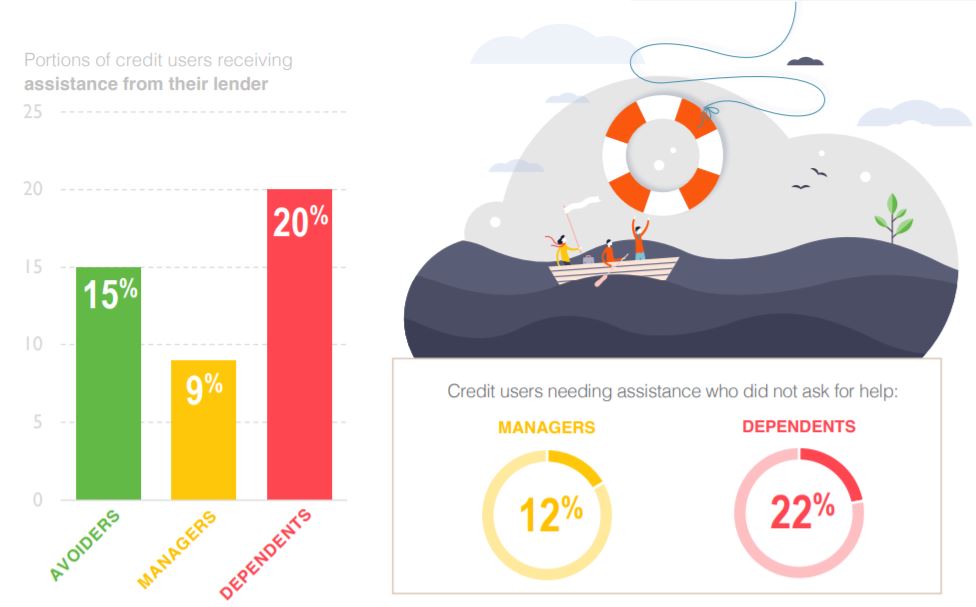 Source: CreditSmart
Credit users were much harder hit by the pandemic - 61% of them reported losing income, compared to 40% of credit managers.
This has led to a paradox where 71% of dependants say they plan to change their spending habits for the better (compared to 46% of managers), yet 21% said they are currently using more credit than before.
"Those with the greatest risk factors may be overlooking or ignoring the need to be more careful with credit, and are setting themselves up for even more difficulties in years to come – despite being in the cohort that is most concerned about access to credit in the future," CreditSmart's report said.
"A significant number of recipients have not adjusted their lifestyle expectations and are still planning to make a major non-investment purchase in the near future.
"Those who are most at risk clearly need more than just financial assistance: They need guidance towards better financial management, and support adjusting to more realistic lifestyle expectations through the pandemic and beyond."
How to improve your credit behaviour
Credit Reporting Expert at CreditSmart Geri Cremin said the pandemic has had a greater impact on the financial wellbeing of those who need credit to get by.
"It is important for all consumers to understand how adopting good financial habits now can help manage the impact of the pandemic and can help prepare for big-ticket purchases in the future," Ms Cremin told Savings.com.au.
To help Australians get on top of their credit health during the pandemic, Ms Cremin shared CreditSmart's top four tips:
Make a budget and stick to it
"In the current environment, responsible spending and positive credit behaviour will ensure that your credit health is in its best possible condition after COVID-19."
Be conscious of other repayment obligations
"Make sure you are not paying some repayments at the expense of others. This is particularly important for credit-dependent consumers, who are more likely to rely on short-term finance options.
"Buy Now Pay Later services, which often rely on direct debits for repayments, are an example of where your repayment may be at the expense of other debts, such as your car loan or lease, your mortgage or credit card."
Talk to your lender if you're having trouble
"They will advise on how they can assist you and are doing their best to help customers through this difficult time."
And know what's on your credit report
"You have a right to a free copy of your credit report each year. Getting to know what's on your credit report is one of the first step in taking control of it."
New and improved fintech offering free credit checks
CreditSmart also reported a "lack of understanding around credit health in Australia", with around 40% of respondents thinking that seeking credit assistance during the pandemic would impact their credit history.
This was not the case as said by banks and lenders.
As reported by newly launched fintech Tippla, 73% of Australians don't even know what their credit score is or why it matters.
This is why the startup, which launched its beta version earlier this year, has updated to a new version with an expanded offering - including free credit checks - to help bridge this gap in knowledge.
"Most Australians don't know what their credit score is or that they actually have multiple credit scores. This is what we wanted to change," Tippla spokesperson Celeste Skinner said.
"Since launching earlier this year, we've seen that Australians are eager to improve their credit scores and to become more financially savvy.
"This is why Tippla has decided to bolster its offering, so that we can provide Aussies with even more resources to get on top and stay on top of their credit scores."
See also: NAB offers free credit checks
Tippla has removed its subscription fee, and allows users to see their credit scores from both Experian and Equifax, which have different credit score bands.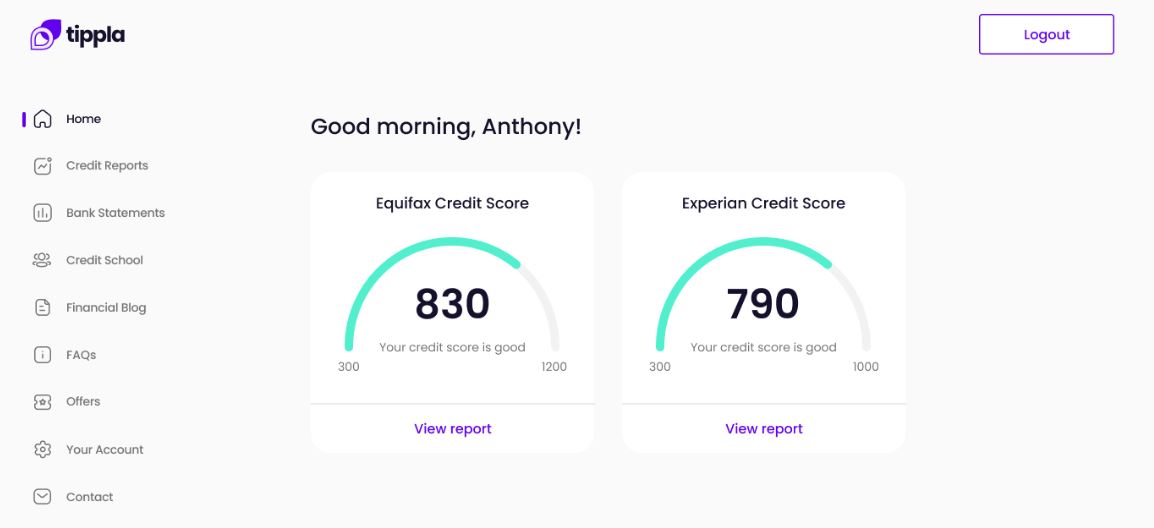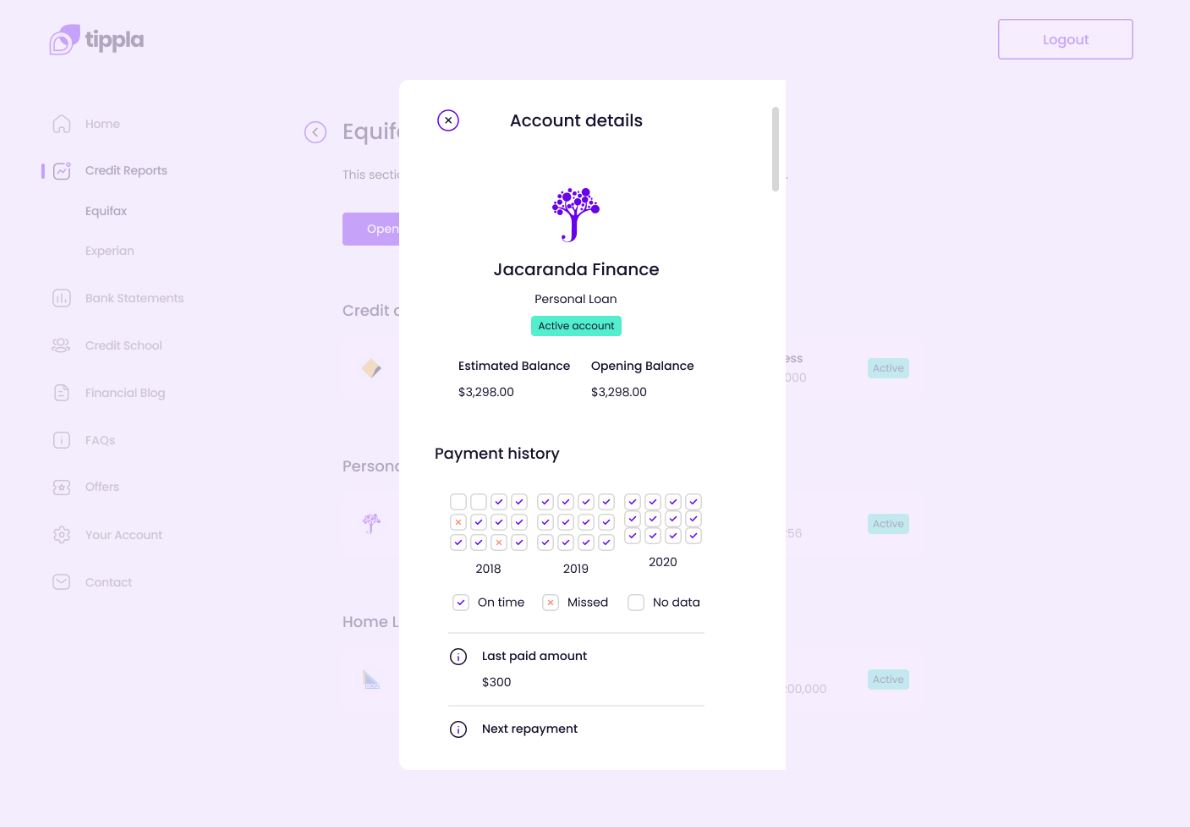 Images supplied by Tippla.
According to Tippla, it launched in beta mode in the beginning of March, right at the beginning of the pandemic, and initially added around 300 new users per day.
Now, Ms Skinner told Savings.com.au it expects to keep growing, adding another 1,000 customers per day going forward.
"We'll be collaborating with other financial wellness parties and services to drive users to the platform as well as partnerships around products and services that will be tailored to the user's financial situation," she said.
"Credit report data coupled with bank statement data will allow us to help consumers get better deals on financial products as well as educate them as to how they can improve their current spending habits to get better deals in the near future."
"Tippla's number one goal is to promote financial independence and we believe the best way to do that is by offering a service which is free, easy to use and gives our customers the power to improve their financial situation."
---
Latest Articles