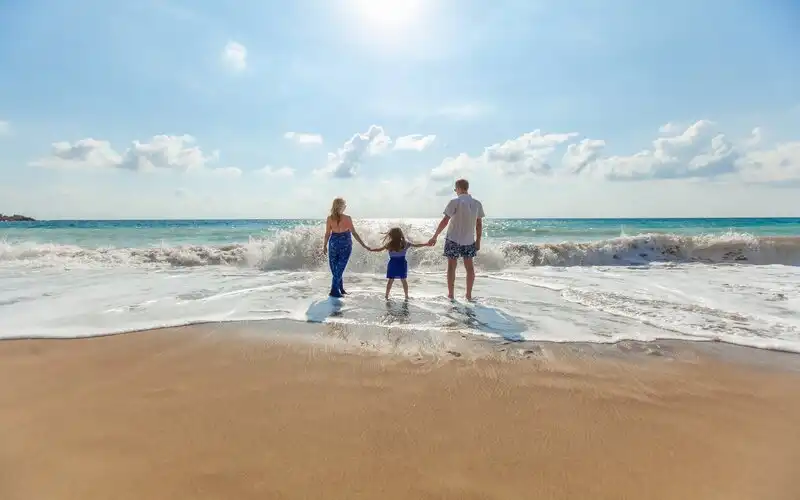 In the midst of the summer holidays - and after two years of borders being closed - a holiday may be on the cards for you.
But unfortunately, going on a trip can be expensive. Recent research from Westpac revealed that the average three-week overseas holiday from Australia costs around $4,679. Domestic travel can still end up being thousands of dollars depending on where you go, how you get there, where you stay, and so on.
With the pandemic restrictions expected to ease off this year, many Aussies are itching for a holiday (myself included). But making sure you can have a financially comfortable (while still fun) holiday can be like a well-rehearsed balancing act.
In this article, we'll discuss some simple holiday saving tips:
Set yourself an overall savings goal
Depending on your situation, you will likely need at least a few grand ready to spend on a good holiday. Whether you decide you need $2,000 or $20,000 - based on where you plan on going and who you will bring with you - set yourself a realistic savings goal. You may need to do a bit of research before deciding what your savings goal is such as where you want to go, how you want to get there, how long you're going for, what you want to do, and so on (which we will touch on in a moment). To set the scene, give yourself a generous estimate and work towards hitting your goal.
By setting this overarching goal, you may decide that while you're saving your cents, you need to cut down on some non-essential expenses. You may want to read our article on 60 ways to save money with tips on budgeting, cutting down on everyday expenses, and much more.
Use a high interest savings account
Here's one easy way to save that we'll touch on quickly - open a high interest savings account to deposit your holiday savings into. Depending on your age, you could access an interest rate of up to 2.5% p.a. from Westpac or BOQ. In this current low interest environment, this is the highest savings account interest rate on our radar.
Having a high interest savings account is a low effort and low risk way to make your money work for you. While there may be conditions you need to meet - like depositing or spending a certain amount - it's a simple method of earning some extra pocket money that can go towards your trip.
The most competitive savings account interest rates are currently for Aussies under 30 years old. But if you're over 30, there are still some good options for you to look into.
The table below features savings accounts with some of the highest interest rates on the market.
Lender

---

4

0

0

0

$product[$field["value"]]

$product[$field["value"]]

$product[$field["value"]]

More details

FEATURED

Online Saver (Amounts < $499999)

4

0

0

0

$product[$field["value"]]

$product[$field["value"]]

$product[$field["value"]]

More details

High Interest Savings Account (< $250k)

4

0

0

1

$product[$field["value"]]

$product[$field["value"]]

$product[$field["value"]]

More details

0

50

0

$product[$field["value"]]

$product[$field["value"]]

$product[$field["value"]]

More details

0

0

0

$product[$field["value"]]

$product[$field["value"]]

$product[$field["value"]]

More details
Rates based on a savings balance of $10,000. Sorted by total interest rates. Refer to providers' websites for bonus rate conditions and for any applicable fees and charges. Rates correct as of June 25, 2022. View disclaimer.
Compare flights
Now we're getting down to the fun part: booking stuff. The holiday truly becomes real once you start locking in your travel plans. If you're looking to get the most bang for your buck, consider shopping around for flights. Sites like Skyscanner and Webjet are good starting points to get an idea of what's out there for the dates you plan on travelling.
You may also need to be flexible with your dates if you want to grab the best deal. For example, when using Skyscanner you can look at flights over a whole month and pick the cheapest flights on certain days. While the cheaper flights may have a long layover or leave at the crack of dawn, jumping on these flights are easy ways to save money on your holiday.
Another thing that may be helpful as the travel industry kicks back into gear is looking out for deals - not just for flights but for everything travel related. For example, Qantas and Virgin have recently launched extremely cheap flights both domestically and internationally. Keep an eye out for deals and book in quickly when they come up - usually these sales only last for a few days if not 24 hours.
Shop around for accommodation
Another way to save money for your holiday is to shop around for accommodation. We're no longer just limited to hotel bookings with the rise of platforms like Airbnb. Scout the internet to find the best accommodation for you across an array of websites - from hotel booking platforms to people renting out their homes on Airbnb.
Again, look out for deals. Many online platforms may have deals for your desired location. You could consider signing up to their emailing list (if you're able to deal with the inevitable spam that will come with it) to keep an eye on deals as they arise.
You should also note that travelling on the weekend may result in more expensive airfares and accommodation prices. Consider travelling during the week (or at least leaving and coming back on a weekday) to secure the best price.
Plan, plan, plan
You will either find this part really fun or really boring. Plan out your trip - even the small details. Look into where you want to go and figure out what you want to do while you're there. This way, you can get a better idea of how much you need to save and can try to find deals beforehand to potentially save some buckaroos.
Let's say you plan on taking a trip to the Whitsunday Islands in Queensland. Do you want to take a day trip through the islands? Do you want to scuba dive or jetski? Will you be taking the ferry to the mainland? Where will you be staying? Will you fly or drive? Figure out all the logistical stuff beforehand to not only help with the budgeting side of things but to book things in advance. In doing so, you will know all your options for quality and pricing, and you won't end up stuck booking something expensive at the last minute.
Set yourself a daily spending limit
While you're on holiday, it's easy to loosen your purse strings and go wild. But you may look back later and realise you were spending way too much on ugly tourist shirts you'll never wear again - I mean, who needs four shirts that say Holiday calories don't count? The answer is no one.
Set yourself a daily spending limit for money to be spent recreationally. Being on holiday is meant to be fun, not spent stressing about money. Don't just budget for the big things like accommodation and flights - account for the everyday stuff like food and drinks and perhaps one ugly tourist shirt. That way, you won't look back and realise you wasted money on weird stuff but you were still able to have a few cocktails by the ocean.
Look into getting a travel credit card
You might like to consider getting a travel credit card if you are going on a holiday overseas. Using your regular debit or credit card will likely come with currency conversion fees and international transaction fees. To simplify this, a travel credit card can come in handy. They also come with a few perks, such as:
Being accepted globally, so you can use it whenever you travel abroad

Collecting rewards programs or frequent flyer points when used

Access to special perks like airport lounges, complimentary travel insurance, and more
If a travel credit card isn't for you, you could even look into a travel money card. Though it won't come with the same perks as a credit card, you can only spend the money you put on there which may be helpful if you're known to overspend.
Other tips for when you're away
While a lot of holiday savings come from careful planning before your trip, you should still be on your guard while you're on the holiday.
Be careful where you book
Don't immediately book through a kiosk or tourist hub for tickets to things like events or tours. First, check online to see whether the same thing is available cheaper. You may find that you save yourself some money as typically kiosks will take a cut of your booking fee.
Protect your cash
Keep your cash and important documents close to your chest, and I mean that literally. Consider getting a bum bag or a satchel to go under your clothes, so if you end up getting robbed, you at least still have all your cash and your passport (trust me - it's not a fun item to lose abroad). While this might sound dramatic, pick pocketing is actually very common in places like Europe. So, it's always a good idea to be cautious.
Keep an eye on your bags
Along the same lines as the prior tip, keep an eye on all your stuff. Make sure your bags are zipped up, you have a close eye on your belongings at all times and no one is standing too close to you. You usually won't realise you're being robbed until it's too late.
Look out for tourist traps
You may think you're getting a good deal on something, but if you're clearly a tourist, you might find that people aren't being generous out of the kindness of their hearts. Be sure that when you're thinking about buying something, you're doing it with your head and not your heart. Don't let the people selling their bracelets around the Eiffel Tour fool you into thinking you're getting a good deal; you're probably not.
Housekeeping tips
We also have a few general tips to keep your home in check while you're gone:
Turn off all your lights and non-essential appliances when you leave, especially if you'll be gone for a few weeks. This doesn't mean turning off the fridge, but you may think about unplugging the TV

Lock up your home and its entrance points, not just your doors but any windows too

Turn off your fans, make sure your taps aren't dripping if you live in an older home, turn off your aircon - basically just turn off all your stuff before you leave
---
Image by Natalya Zaritskaya on Unsplash