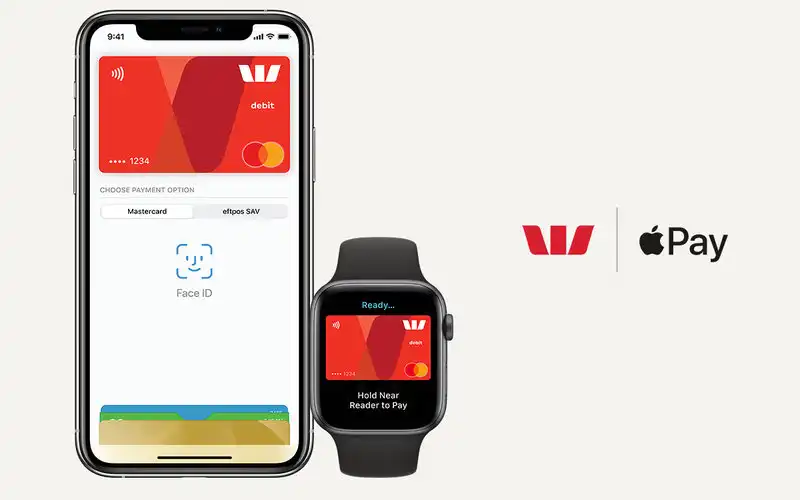 Photo via Westpac, Twitter (@Westpac)
Westpac has finally joined the Apple Pay party, becoming the last of the major banks to do so.
Westpac announced today that Apple Pay is now available for all customers with an eligible Mastercard debit or credit card, enabling customers to make fast, easy and secure purchases with their phone or smartwatch.
It is the last of the big four banks to do so. For reference:
ANZ was the first in April 2016

CBA was the second in January 2019

NAB was the third in May 2019
While ANZ quickly adopted Apple Pay after it was made available, the other three big banks formed a coalition to ask the ACCC (Australian Competition and Consumer Commission) to force Apple to give them access instead of making them pay for it, as its since been revealed that the banks pay between 0.04% – 0.06% of the value of purchases on Apple products.
But the ACCC denied their request, and one by one the big banks adopted Apple Pay.
Westpac held firm the longest, although it had recently announced it would make Apple Pay available by mid-2020, so today's announcement is sooner than anticipated.
Westpac Group Chief Executive, Consumer, David Lindberg, said the introduction of Apple Pay comes at an important time for customers who're looking for alternatives to cash.
"We are pleased to announce that Westpac customers can now use Apple Pay to make fast and secure payments," he said.
"We have seen a significant increase in customers using digital banking in recent weeks as more Australians stay at home.
"With the introduction of Apple Pay, it will now be even easier for customers to pay for goods and services in stores, via apps or online without the need for a card or wallet."
Readers can head to Westpac's new Apple Pay homepage for more information how on to set it up.
Need somewhere to store cash and earn interest? The table below features introductory savings accounts with some of the highest interest rates on the market.
Lender

---

4

0

0

0

$product[$field["value"]]

$product[$field["value"]]

$product[$field["value"]]

More details

FEATURED

Savings Account (Amounts < $24k)

0

200

0

$product[$field["value"]]

$product[$field["value"]]

$product[$field["value"]]

More details

PremiumSaver (Amounts < $250k)

3

0

0

0

$product[$field["value"]]

$product[$field["value"]]

$product[$field["value"]]

More details

0

10

0

$product[$field["value"]]

$product[$field["value"]]

$product[$field["value"]]

More details

4

0

0

1

$product[$field["value"]]

$product[$field["value"]]

$product[$field["value"]]

More details

WebSavings Account (New Customer) ($2,000+)
Rates based on a savings balance of $10,000. Sorted by total interest rate. Refer to providers' websites for bonus rate conditions. Note that the base rate will apply once the introductory term has passed. Rates correct as of May 24, 2022. View disclaimer.
How does Apple Pay work?
Apple Pay is fairly simple in its premise - your phone or smartwatch essentially stores (securely) your debit or credit card's information, and utilises the device's Near-Field Communication (NFC) chip to connect to EFTPOS machines and merchant terminals.
This enables you to swipe your device and pay for something the same way you normally would with a physical card, and it is exclusively for tap and pay purchases or online purchases, the limit for which has been recently increased to $200 from $100 to help stop the spread of the coronavirus (COVID-19).
Apple Pay is available on any Apple iPhones past the 6th generation, or on any version of its Apple Watch series. It costs nothing extra to use.
Does Westpac offer any other digital payment options?
Yes it does. In fact, each of the big four banks now offer all of the key digital wallet payment options available, such as Samsung Pay, Google Pay, FitBit Pay and Garmin Pay.
COVID-19 driving digital wallet growth
A record number of digital wallet transactions were made in March 2020 across such platforms, according to recent Commonwealth Bank analysis.
March 2020 digital wallet spend surged 17% from February 2020, vastly outpacing the average monthly growth rate of 6.7% from the past six months, with the average spend being $28.
There were 36 million digital wallet transactions made overall - the previous record stood at 34 million in December 2019.
Much of this growth has been driven by coronavirus, as customers seek an alternative to cash.
"The growth in the number of contactless purchases has been increasing since the introduction of Apple Pay last year, however it's now evident that even more people regard it as a safe and secure way to pay in this environment," CBA's Executive General Manager of Everyday Banking Kate Crous said.
---
Latest Articles