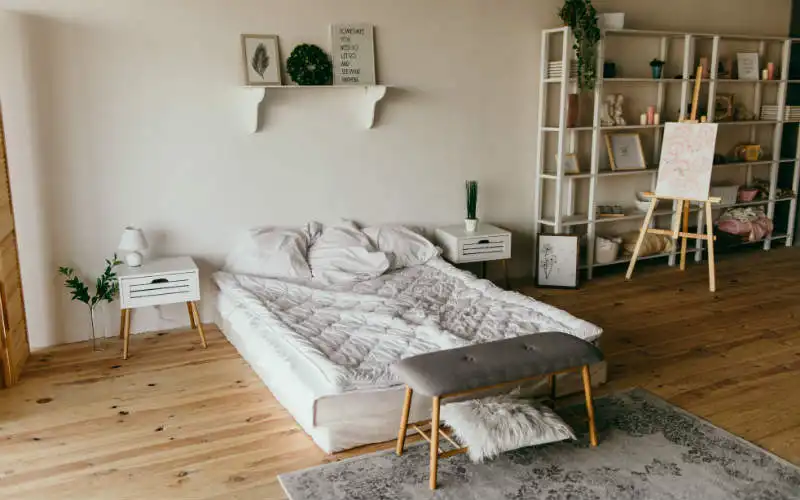 Updated by Alex Brewster on Unsplash.
Most people dream of buying their own home one day on a big block of land. But as property prices and the demand for inner-city housing rise, more people are choosing the apartment life, which raises the question: is it harder to get a mortgage for an apartment than a house?
The short answer is no.
---
Apartment mortgage lending
Lenders aren't typically picky when it comes to the type of building you're buying – whether it's a house, townhouse, duplex, or an apartment. You can get a residential home loan for any of these types of properties, as well as for vacant land, investment properties and for the construction of a home (construction loans).
It's true that standalone houses tend to be more valuable than units and apartments because the land a house sits on could appreciate over time. But a small, new apartment in a good location that's close to the city could still be considered equally worthy as security for the loan as a big home in the 'burbs – as long as they have the same resale value.
But there are some unique risk factors that apply to apartments that could affect the lender's decision to give you a loan.
Mortgage Choice Chief Executive Officer, Susan Mitchell told Savings.com.au that a lender's decision to lend is a judgement based on risk.
"The lender will consider if there is anything about the property that raises concerns for the lender that it would not be able to readily recoup their debt in the event that the loan is not repaid and the lender has to sell the property," she said.
---
Buying a home or looking to refinance? The table below features home loans with some of the lowest interest rates on the market for owner occupiers.
Lender

Advertised rate
Comparison rate
Monthly repayment
Rate Type
Offset
Redraw
Ongoing Fee
Upfront Fees
LVR
Lump Sum Repayment
Additional Repayments
Pre-approval

---

Variable

More details

FEATURED

LIMITED TIME OFFER

Smart Booster Home Loan Discounted Variable - 2yr (LVR < 80%)

Fast turnaround times, can meet 30-day settlement
For purchase and refinance, min 20% deposit
No ongoing or monthly fees, add offset for 0.10%

Fixed

More details

NO UPFRONT OR ONGOING FEES

Basic Home Loan Fixed (Principal and Interest) (LVR < 70%) 3 Years

Fixed

More details

Variable

More details

FEATURED

100% FULL OFFSET ACCOUNT

NO APPLICATION FEE OR ONGOING FEES

Low Rate Home Loan - Prime (Principal and Interest) (Owner Occupied) (LVR < 60%)

No upfront or ongoing fees
100% full offset account
Extra repayments + redraw services

Variable

More details

FEATURED

REFINANCE IN MINUTES, NOT WEEKS

Nano Home Loans Variable Owner Occupied, Principal and Interest (Refinance Only)

Refinance only. Fast online application
No Nano fees. Free 100% offset sub account
Mobile app, Visa debit card & instant payments
Fast turnaround times, can meet 30-day settlement
For purchase and refinance, min 20% deposit
No ongoing or monthly fees, add offset for 0.10%
Base criteria of: a $400,000 loan amount, variable, fixed, principal and interest (P&I) home loans with an LVR (loan-to-value) ratio of at least 80%. However, the 'Compare Home Loans' table allows for calculations to made on variables as selected and input by the user. All products will list the LVR with the product and rate which are clearly published on the Product Provider's web site. Monthly repayments, once the base criteria are altered by the user, will be based on the selected products' advertised rates and determined by the loan amount, repayment type, loan term and LVR as input by the user/you. *The Comparison rate is based on a $150,000 loan over 25 years. Warning: this comparison rate is true only for this example and may not include all fees and charges. Different terms, fees or other loan amounts might result in a different comparison rate. Rates correct as of December 7, 2021. View disclaimer.
---
Getting a loan for an apartment: what to consider
1. The size of the apartment
When it comes to size, bigger is better.
Ms Mitchell told Savings.com.au that many lenders are reluctant to provide a loan to a borrower when the apartment is under 40 square metres in size (excluding balcony and car space) and often require the apartment to have a separate bedroom and bathroom (i.e. not a studio apartment).
"In the event that the loan is not repaid and the lender has to recoup the debt, they need to be reasonably confident that they will be able to sell the property," Ms Mitchell said.
To offset the risk, Ms Mitchell said small apartment home loan borrowers may need to save for a bigger deposit.
"Borrowers who may be looking to buy a smaller apartment would need to save a larger deposit in order to offset the lender's risk. Lenders may want borrowers who are seeking a loan to purchase a smaller apartment (under 40 square metres) to have a maximum loan to value ratio of 80% (and possibly lower, depending on location) in order to offset their risk.
"Borrowers will be unlikely to secure Lenders' Mortgage Insurance (LMI) to purchase apartments under a certain size – usually 40 square metres and under," she said.
---
2. Concentration risk
Ms Mitchell said lenders' appetites to lend ultimately comes down to their exposure to risk.
"Lenders will look to limit their concentration risk. If they feel that lending you funds to purchase a property of any kind presents a high enough risk to them, they will be less inclined to approve the loan," she said.
Most high-density areas rely on high-rise apartments to fulfill the area's housing needs, but lenders also often consider such areas as riskier because of the potential lower return on the investment. There's less scarcity in cookie-cutter apartments, so they may be harder to resell. If an oversupply occurs, the lender could have a hard time offloading the property.
"In some cities, we have seen areas/suburbs with high-density apartment developments. Some lenders may feel they are overexposed in these developments or areas and will have a decreased appetite to lend to purchase apartments in those areas," Ms Mitchell said.
This was the case in Brisbane recently after the unit glut saw prices slump to their lowest level in three years. Banks and lenders imposed restrictions on properties in many high-density, "high-risk" postcodes, refusing to lend more than 80% of the value of the unit – citing the influx of new apartments as the reason.
---
3. Title of the property
The title of the property (the legal status of the ownership of the property) is another factor lenders will take into consideration. Although the most common title type is strata title (particularly with apartments), there are still a few other options out there, such as community or company titles.
Ms Mitchell said lenders may not be willing to lend for these types of properties where the ownership is under one of these titles.
Properties with a company title are owned by a company and the purchaser owns shares. These properties are generally considered riskier for lenders because they may take longer to sell as the company involved may have the right of first refusal on the property before it hits the market.
Lenders can also consider stratum and tenants in common titles riskier because of the risks of delay in resale.
---
4. Student or serviced apartments
Serviced apartments can be an attractive investment option because of the guaranteed rental income and return.
Student apartments can be an attractive investment for young investors eager to get a foot on the property ladder, because they generally retail for between $145,000 and $190,000 and only require a deposit of about 20%.
But mortgages for studio or serviced apartments can be harder to take out.
"Generally speaking, student accommodation facilities are more difficult to sell, particularly in a slower market," Ms Mitchell said.
"Serviced apartments tend not to be that attractive as loan security because of the way the property is managed, in that buyers have to lock themselves into a service agreement with the vendor."
Some lenders may be willing to lend for student apartment but many will steer a wide berth because of the higher risks associated with them, such as lower capital growth potential and difficulties in selling.
Most lenders won't accept university apartments as security for the loan because of the limited rental market. Even though there are lots of university students in need of accommodation in any given city, the fact that most student apartments don't accept tenants that aren't students limits the rental pool.
---
5. Off-the-plan apartments
Off-the-plan apartments can be harder to get lending for, as there's the risk the property may be sold for more than its real value. In a shaky property market, the value of the apartment could go down before it's even been fully built.
Because of this, some lenders have a maximum loan-to-value ratio (LVR) of 80% for off-the-plan apartments.
As off-the-plan apartments can take anywhere between 18 and 24 months to be completed, lending policies have the potential to change a lot in this time. What the banks accepted 12 months ago may not be acceptable to them by the time you come to apply for formal approval at settlement, so some may require reviews of any pre-approvals they issue before you sign the contract.
"I would encourage borrowers to beware of off-the-plan purchases," Ms Mitchell said.
"A lot can happen in 18 months or more, and dwelling values data reveals that property prices have fallen considerably in this time, particularly in the nation's capital cities. Unfortunately, our brokers have seen a number of borrowers come to them after signing on to purchase an off the plan apartment 18 months ago in areas which have since experienced significant value falls. This will ultimately affect how much the buyer can borrow and if obtaining finance is now not possible, they may risk losing their deposit."
---
Tips on getting approved for an apartment loan
While it may not be as easy to get a loan approved for a small apartment than it is for a bigger apartment or a house, there are a few things you could do to possibly improve your chances of getting your home loan approved.
1. Have a minimum 20% deposit saved
No matter what type of property you're buying, the bigger your deposit is, the better your chances are of being approved for a loan. The recommended deposit amount is 20% of the value of the property. This is because if you borrow more than 80% of the value of the property, you'll often have to pay lenders mortgage insurance (LMI) which protects the lender from the risk of you defaulting on the loan.
The bigger your deposit is, the less of a risk you are in the eyes of the lender. And the bigger the deposit, the less 'genuine savings' you might need, if any at all.
---
2. Look at apartments larger than 40 square metres
Because apartments any smaller than this are very hard to get finance for, the bigger the apartment is, the better. But if your budget is limited to studio apartments, Ms Mitchell said you still have options.
"If you can afford to purchase only a smaller apartment, you may have a limited choice of lenders and home loan options, which is why speaking to a mortgage broker is your best course of action," she said.
"Mortgage brokers are familiar with the lending appetite and policy of a range of lenders, which means they will be able to help you find a loan product suited to your individual needs."
---
3. Beware of off-the-plan purchases
Off-the-plan apartments always come with an element of risk, which is why borrowers should seriously weigh up all the pros and cons before buying one.
When you're buying off the plan, as long as you have a 10% deposit, the developer is likely to hand over the contract. They probably won't look into your finances and see if the amount you're borrowing is right for your situation, so there's a chance you may run into trouble when you go to get finance and the bank doesn't approve you for the loan. If that happens, the developer may take your deposit and could even sue you if the apartment sells for less than what you had agreed to pay for it.
---
4. Do your research
To find the right property and minimise the level of risk you present to potential lenders, it's important to do your research first. Lenders will take into consideration the location of the property, features of the area, market trends, and the sales performance of similar properties in the area to determine how easy (or difficult) it will be to sell in the future.
If the property you're purchasing ticks all the right boxes for resale potential, a lender may be more willing to give you a loan.
---
5. Go guarantor
If you're a first home buyer and the deposit and loan-to-value ratio (LVR) restrictions imposed by lenders are restricting your ability to qualify for a loan, consider asking your parents to go guarantor.
Having a guarantor involves listing your parents' property as security on the loan, so you may even be able to borrow up to 100% of the purchase price. But having a guarantor on a home loan can come with added risks for both you and the guarantor, so make sure you do your research.
---
Frequently asked questions
1. Is an apartment a good investment?
Investing in apartments can be riskier than investing in a freestanding home, but it all depends on a variety of factors, especially location. Apartments can be easier to rent out than standalone houses, but they often don't rise in value as much as houses.
As a general rule, properties with an element of scarcity and properties that are well-located will generally make a good investment. Consider the services of a buyer's agent for expert personal advice on property investment.
2. How can I get an apartment with no money down?
Like any other property, buying an apartment often requires a considerable down payment. However, if you're a first home buyer, you could technically use the First Home Owners Grant (FHOG) as your full deposit, but such grants are typically restricted to newly-built properties. Otherwise, you could consider using a guarantor to secure a home loan if you have no deposit saved.
3. Do apartments increase in value?
The key to choosing an apartment that will deliver strong capital growth is to look at it through the eyes of a future buyer. A decent size, location, aspect, parking, quality construction and an element of scarcity will generally appeal to buyers.
4. Do apartments depreciate?
Like houses, an apartment can also have depreciation costs, which, if you're an investor, you may be able to claim as a tax deduction.
5. Which is better, a house or apartment?
Apartments and houses both come with benefits and drawbacks - neither one is necessarily better than the other. Choosing between an apartment or a house depends on your finances, your lifestyle, and your property goals. In terms of affordability, apartments generally have the upper hand, but houses have higher average rates of value growth.
6. Are apartments safer than houses?
This entirely depends on which apartments and houses you're comparing. Apartments can be much harder for a burglar to break into than houses, particularly if they're on a higher floor and in a building with lots of security. While there's been a spate of structural issues with newly-built apartment buildings around the country recently, houses can be just as prone to building defects - we just don't hear about them in the media as much because a high-rise tower with serious issues will typically grab more headlines than a single house in the suburbs.
---
Savings.com.au's two cents
No matter what type of property you're trying to get a home loan for, lenders are always looking to minimise and avoid risk as much as possible.
With this in mind, lenders prefer to fund the purchase of properties they will be able to sell quickly if you're unable to pay off the loan. Smaller apartments are generally considered to be harder to sell than bigger ones, because banks believe they're less desirable to buyers. There are other unique risk factors, which we've outlined above, that apply to apartments which may affect a lender's decision to give you a loan.
While there are some risk factors that may affect your apartment home loan, the same principles apply when it comes to improving your chances of being approved for a house home loan.
Namely: aim to have at least a 20% deposit (if not more) saved, do your research, and try your best to be a low-risk borrower.
---
Photo by Dmitry Zvolskiy from Pexels