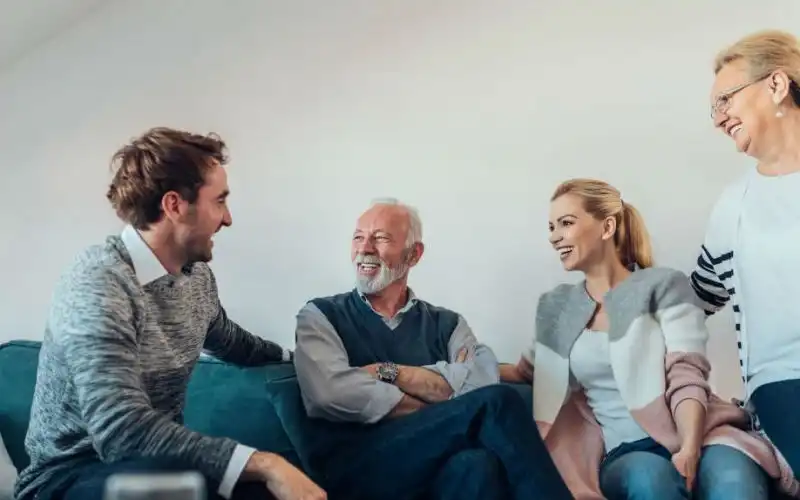 Image by bernardbodo via Adobe Stock
Having a guarantor on your home loan application can give you the edge you need to seal the lender's approval, but there are some things to keep in mind.
It takes most first time buyers five years to save for a house deposit on average. In some parts of the country (looking at you, Sydney) it can take almost twice as long. Most of us just suck it up and deal with it, scrimping and saving as much as we can.
But some first home buyers just can't wait that long. If you're one of them, one way you could fast-track your way into your own home is with the help of a guarantor.
What's in this guide:
Buying a home or looking to refinance? The table below features home loans with some of the lowest interest rates on the market for owner occupiers.

Advertisement
Smart Booster Home Loan
Product Features
Discount variable for 1 year <=80% LVR
No ongoing fees
Unlimited redraw facility
Monthly repayments: $1,476
Advertised
Rate (p.a.)
1.99%
Comparison
Rate (p.a.)
2.47%
Product Features
Discount variable for 1 year
No ongoing fees
Unlimited redraw facility
Base criteria of: a $400,000 loan amount, variable, fixed, principal and interest (P&I) home loans with an LVR (loan-to-value) ratio of at least 80%. If products listed have an LVR <80%, they will be clearly identified in the product name along with the specific LVR. The product and rate must be clearly published on the Product Provider's web site. Monthly repayments were calculated based on the selected products' advertised rates, applied to a $400,000 loan with a 30-year loan term.
What is a guarantor home loan?
A guarantor home loan allows a close relative (typically a parent) to use the equity in their home as security for part or all of your mortgage. You still need to borrow money from a lender and repay it, but your guarantor provides security for the loan that you would normally have provided in the form of a deposit.
And that's the catch. If you can't make your loan repayments, your guarantor is liable to cover them. If they also can't meet the repayments, they could be faced with the bank repossessing their home.
Even if you're the favourite child, your guarantor may choose to only guarantee a portion of the loan (like 20%) rather than all of it. Once you (the borrower) has repaid that 20% portion of the loan, the guarantor's property is safe even if you miss future repayments. The guarantor can then ask to be released from the loan.
Who can be a guarantor?
Most lenders will generally require a guarantor to be a close family member, such as a parent or partner, though some lenders may allow other relatives to be guarantors, like a sibling or grandparent.
Many banks will have different eligibility requirements of who can be guarantor, but the following usually apply:
A stable income
Between the ages of 18 and 65
A good credit report
Sufficient equity in their home (typically at least 80%), or they must own their home outright
The guarantor's property must be here in Australia
How much can I borrow with a guarantor?
In many cases, lenders may allow you to borrow up to 100% of the value of the property, or even up to 110% if you're using a guarantor. Much of this will, of course, depend on the lender, your financial standing as a borrower, and the guarantor's financial situation.
Some lenders may require you to put down a deposit of some kind, typically at least 5% in genuine savings, even with a guarantor.
Benefits and risks of using a guarantor
For some borrowers, having a guarantor can be a great way to fast-track their way into the property market. For others, it can be too much of an extra burden knowing that the finances of a close family member could be at stake.
Benefits
Get into the property market faster: Using a guarantor allows borrowers to leapfrog their way into the property market, which can be extremely appealing. Once you've got your foot in the door, you can start building up equity and reap the rewards of capital gains if your property grows in value.
Sometimes, property prices can rise faster than your ability to save for a 20% deposit. What was a 20% deposit a few years ago may now only be worth 15% because house prices have risen so much in that time.
Avoid paying Lenders Mortgage Insurance (LMI): LMI can add thousands of extra dollars onto your home loan. Sometimes it can be worth paying if house prices are rising faster than your ability to save, but using a guarantor allows you to skip paying LMI altogether. That's because the risk to the lender has already been insured in a way, by having the guarantor's home as security for the loan.
Improve your chances of getting a home loan: Having a guarantor can also strengthen your home loan application as it demonstrates you have security in place for the loan. However, most lenders will still require you to demonstrate you'll be able to repay the home loan in your own right.
Risks
Guarantor's property is at risk:This is definitely the biggest risk of guarantor home loans. If the borrower can't make their loan repayments for whatever reason (i.e. they lose their job and suddenly have no income) the guarantor is then liable to cover the mortgage repayment. If they also can't make the repayments, the guarantor could end up being forced to sell their home to repay your loan.
Obviously, this presents a huge risk and both parties need to be fully informed about it before entering into a guarantor agreement. This is especially the case if parents are on the path to retirement because it could jeopardise their retirement plans if the worst came to the worst.
Martin North, Principal of Digital Finance Analytics warns the first five years are the riskiest time for guarantors.
"You're twice as likely to default in the first five years if you got help from mum and dad and never got into the savings mindset," Mr North said.
Guarantor's credit report could be ruined: Wrecking your guarantor's credit report is another nasty problem that could rear its ugly head if you as the borrower can't pay and nor can your guarantor. You'll have essentially ruined their credit record for a debt that wasn't even theirs. Ouch.
The strain on relationships: Asking a loved one to go guarantor for you is an enormous financial commitment which can put an enormous amount of strain on even the best relationship. Expect family dinners to be pretty tense if your parents don't think you're being responsible enough with your mortgage commitments.
That's not to mention the precedent it sets for your siblings if your parents give you a leg up into the housing market.
What are my other options if I can't use a guarantor?
Obviously, having a parent who's willing to guarantee your house deposit is an enormous privilege only a lucky few have. Many of us will have to resort to other means to get our slice of the Great Australian Dream.
First Home Loan Deposit Scheme
The First Home Loan Deposit Scheme will allow eligible first home buyers to buy a house with a deposit as low as 5%. Provided they have saved up a deposit of at least 5%, the government will then guarantee the additional amount needed to reach the 20% deposit, saving borrowers the cost of LMI.
The scheme is set to kick off on 1 January 2020 and will be capped to a minimum of 10,000 loans every financial year on a first-in, best-dressed basis.
The scheme will be limited to those purchasing properties priced up to a maximum threshold which varies depending on the location of the property. The price caps have been set with reference to the median house prices and stamp duty concessions in the various states and territories (as high as $700,000 in Sydney and as low as $250,000 in parts of South Australia.
Co-buying a home
Under a co-buying arrangement, you get a home loan with your parents (or another relative or a friend) and buy a property together. Your parents would typically use the equity in their current home to boost your borrowing power and the cost of repaying the loan is split between the two of you.
If either one of you falls behind on their repayments, the other party is responsible for paying their share (similar to how you would cover a bad housemate's missed rent) but your parents won't have to put their home up as security for the loan.
Under a co-buying arrangement, there are two ownership options: tenants-in-common or joint tenants.
Tenants-in-common is the more popular option and allows you and the other party (or parties) to divide ownership of the property in whatever way you want, such as 60/40, 50/50 or even 20/30/50, etc.
Under a joint tenancy agreement, ownership of the property is split 50/50. Joint tenancy comes with the "right of survivorship" so if one tenant dies, their share of the property is passed on to the surviving joint tenant.
Low deposit home loan
Buyers struggling to save up a decent 20% deposit may want to consider a low deposit home loan. As the name suggests, a low deposit home loan allows borrowers to take out a home loan with a deposit as low as 5%.
But there's a catch. Because you're borrowing more than 80% of the property's value, many lenders will charge you LMI. Depending on how much you're borrowing, LMI can be a significant cost, ranging from a few thousand dollars up to twenty thousand dollars or more, depending on the price of the property you're buying.
Low deposit home loans aren't as common as higher deposit home loans, but they are available from some of the biggest lenders including the big four banks: ANZ, Westpac, Commonwealth Bank and NAB, as well as ING, Suncorp Bank, Macquarie Bank, Bank of Queensland, ME Bank, and Bendigo & Adelaide Bank.
95% deposit home loans do come with certain downsides, like higher interest rates, higher fees and stricter lending criteria to compensate for the fact that you're a riskier borrower.
95% home loan lenders
Buying a home without a 20% deposit? The table below features home loans with some of the lowest variable interest rates on the market for owner occupiers with 95% LVR.
Cash gift
If you've got cashed-up parents who are generous with their coin and willing to gift you money for a house deposit (first of all I'm up for adoption), but secondly you can use this towards your down payment.
There are some rules though.
A gift letter or statutory declaration has to be signed by the family member, stating the money is to be used to buy a property and that the loan is unconditional (meaning it's non-refundable). Non-refundable cash gifts can only be given from an immediate family member, which includes parents, siblings, grandparents but also de facto partners.
You can't rest on your laurels either as you need to be able to prove you have genuine savings and have the capacity to afford to make the loan repayments.
What if I want to be a guarantor?
Guaranteeing someone else's loan is a massive commitment not to be entered into lightly. Before you potentially sign your home away, these are the things to keep in mind:
Think carefully about whether you can afford to be a guarantor and if the borrower can afford the loan
Seek out legal and financial advice to make sure you understand how the loan process works and the impacts it could have on your financial situation
Take your relationship with the borrower into account
If possible, limit your guarantee in terms of the amount and time period
Make sure you can cover the monthly repayments if you're required to in the event the borrower can't
Are you prepared to repay the loan if the borrower can't?
Get guarantor protection
Consider if the borrower expects any life changes that will change their current circumstances (i.e. are they planning on having kids and leaving work?)
Does the borrower have plans in place if their circumstances change?
Do you have a strategy in place if the worst-case scenario happens and you need to sell your house to repay the guaranteed amount?
Savings.com.au's two cents
If you really want to buy a house with no deposit, using a guarantor can be your best option. But there are a few things to keep in mind, namely:
What will happen if you can't make your home loan repayments?
How could that affect your relationship with the guarantor?
Just because you can buy a property without a 20% deposit doesn't always mean you should. In many cases, it's often better to patiently save up. Our article on how to save up for a house deposit has some handy tips for doing this, and if you're on one income we've got an article for you too.
---
Disclaimers
The entire market was not considered in selecting the above products. Rather, a cut-down portion of the market has been considered which includes retail products from at least the big four banks, the top 10 customer-owned institutions and Australia's larger non-banks:
The big four banks are: ANZ, CBA, NAB and Westpac
The top 10 customer-owned Institutions are the ten largest mutual banks, credit unions and building societies in Australia, ranked by assets under management in November 2020. They are (in descending order): Credit Union Australia, Newcastle Permanent, Heritage Bank, Peoples' Choice Credit Union, Teachers Mutual Bank, Greater Bank, IMB Bank, Beyond Bank, Bank Australia and P&N Bank.
The larger non-bank lenders are those who (in 2020) has more than $9 billion in Australian funded loans and advances. These groups are: Resimac, Pepper, Liberty and Firstmac.
If you click on a product link and you are referred to a Product or Service Provider's web page, it is highly likely that a commercial relationship exists between that Product or Service Provider and Savings.com.au
Some providers' products may not be available in all states. To be considered, the product and rate must be clearly published on the product provider's web site.
In the interests of full disclosure, Savings.com.au, Performance Drive and Loans.com.au are part of the Firstmac Group. To read about how Savings.com.au manages potential conflicts of interest, along with how we get paid, please click through onto the web site links.
*Comparison rate is based on a loan of $150,000 over a term of 25 years. Please note the comparison rate only applies to the examples given. Different loan amounts and terms will result in different comparison rates. Costs such as redraw fees and costs savings, such as fee waivers, are not included in the comparison rate but may influence the cost of the loan.
Latest Articles