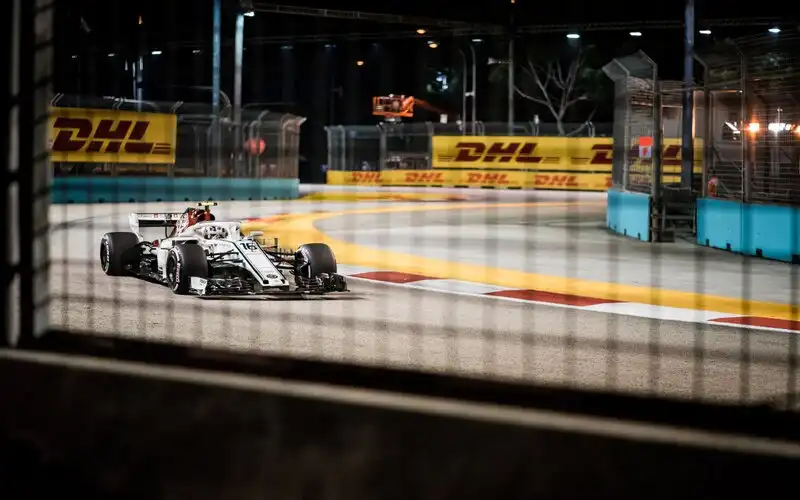 In a hot housing market, a fast home loan approval is vital and can give you the edge on other buyers.
The speed of home loan approval comes down to a range of factors and differs between lenders.
However, there are a number of things you can do to help give your application a better chance of fast approval.
---
Buying a home or looking to refinance? The table below features home loans with some of the lowest variable interest rates on the market for owner occupiers.
Lender

Advertised rate
Comparison rate*
Monthly repayment
Rate Type
Offset
Redraw
Ongoing Fee
Upfront Fees
LVR
Lump Sum Repayment
Additional Repayments
Pre-approval

---

Variable

More details

FEATURED

LIMITED TIME OFFER

Smart Booster Home Loan Discounted Variable - 2yr (LVR < 80%)

Fast turnaround times, can meet 30-day settlement
For purchase and refinance, min 20% deposit
No ongoing or monthly fees, add offset for 0.10%

Variable

More details

FEATURED

ZERO APPLICATION FEES

FEE FREE OFFSET

Owner Occupier Accelerates - Celebrate (LVR < 60%) (Principal and Interest)

We lower your rate based off how much you've paid down your loan
Automatic rate match
No upfront or ongoing fees

Fixed

More details

FEATURED

USE A MARKET LEADING APP TO HELP YOU PAY OFF YOUR LOAN SOONER

Fixed Home Loan 1 year (Principal and Interest) (LVR < 80%)

Make up to $20,000 additional repayments per fixed term
Redraw available – lets you access any extra loan repayments you've made
Choose to rate lock for 90 days (fee applies)

Variable

More details

FEATURED

REFINANCE IN MINUTES, NOT WEEKS

Variable Owner Occupied, Principal and Interest (Refinance Only)(LVR <75%)

No application or ongoing fees.
100% free offset sub account.
Fast online application, approval in minutes not weeks.
Mobile app, Visa debit card, Apple and Google Pay
Refinance loans and variable rates only.
Fast turnaround times, can meet 30-day settlement
For purchase and refinance, min 20% deposit
No ongoing or monthly fees, add offset for 0.10%
---
How to speed up your home loan approval
We talked to some experts to discover some of the best ways to fast-track your home loan approval:
Have your paperwork ready
Mortgage Choice CEO Susan Mitchell said it is vital to have the necessary paperwork ready when applying for a home loan.
"The more lenders know about your financial situation, the more seamless the process will be for you," Ms Mitchell told Savings.com.au.
"Examples of paperwork you will need include proof of ID such as birth certificate, driver's licence or household bills, up to date payslips (you may need to submit between 3 and 6 months worth of recent payslips) or business tax returns if you're self-employed, you'll need to provide an estimate of your living expenses such as how much you spend on food, transport, education and more and you'll also need to declare any ongoing debts or liabilities you may have."
Finance Broker at Archer Mortgage Group Jasjeet Makkar said it is worth contacting a professional, such as a mortgage broker, to find out what paperwork is required and help you through the process.
"Request a document checklist before you sit in the meeting with your broker so you can give all the supporting documents to them upfront," Mr Makkar told Savings.com.au.
"This will allow your broker to come back to you timely with your borrowing capacity, a suitable lender, and the maximum purchase price."
Get pre-approval
Home loan pre-approval is a non-binding agreement from a lender to lend you a certain amount of money to buy a home, based on a short initial assessment.
Chris Christofi, chief executive of property investment firm Reventon, said pre-approval is a quick and easy way to fast-track your full home loan approval.
"Pre-approvals are important. Best of all, they're completely free, so get one today," Mr Christofi told Savings.com.au.
Phillip Carrington, Bank of Queensland Aspley owner, said he typically recommends getting pre-approval prior to going house hunting.
"This means the majority of the groundwork is already completed prior to signing a contract," Mr Carrington told Savings.com.au.
Reduce your expenses and debts
Ms Mitchell urges homebuyers to clear up any existing debts before applying for a home loan and avoid taking on new debts where possible, in order to get speedy approval.
"If you're asked to explain any debts you haven't reported, for example, it can delay the approval process by another week," she said.
"You should consider reducing any unnecessary discretionary living expenses in the lead up to applying for a home loan, closing credit card accounts you don't use and reducing the credit limits on cards you have and don't need.
"It may also be worthwhile getting a copy of your credit report so that you can address any issues before the lender starts asking you questions."
Consider talking to a professional
Mr Makkar said consulting with a professional could not only fast-track your home loan approval but alleviate much of the stress in the process.
"Speak to a professional as soon as you feel you are ready. This can be a mortgage broker or financial planner who can help you through the process and submit the application to the most suitable lender."
Mr Christofi said home loan professionals could provide a wealth of experience and knowledge.
"Listen to the professional and work with them, they're trying to help you," he said.
Do your research
Some lenders will have far longer approval times than others, and Mr Makkar said it is vital buyers did their research on which ones could offer quick approvals.
"It is crucial to choose the right bank as some banks are taking up to 30 days for a pre-approval, so along with the cheapest rates, please ask your broker which bank has a good turnaround time on applications. It is important to find the right balance between the cheapest and quickest lender."
Employ good financial habits early
Lenders want to see evidence of good financial behaviour when reviewing your application. Mr Makkar said he often recommends buyers financially act like they have a mortgage in the lead up to applying.
"If your mortgage repayment is expected to be $2700 per month, start putting that amount in a separate savings account and have the discipline to not touch it," he said.
"Banks like to see a healthy savings habit. Seeing that the customers can pay their deposit and the whole deposit is not a gift makes your application stand out, giving assurance to banks that you will be a quality customer."
A correct and complete application form
Head of Marketing and Communications at Tic:Toc Laura Osti said customers could fast-track their home loan approval by ensuring their application form was correctly filled out and completed.
"Customers can fast-track their approval by ensuring they have all the right information before starting their application," Ms Osti told Savings.com.au.
"They should be specific so that their application progresses as smoothly as possible. If a customer submits an incomplete form or provides inaccurate information, it may require more manual work for the client and for the credit assessors which can slow down the process."
Mr Makkar said the application form seemed like an easy thing to do, but many buyers slowed themselves down by incorrectly completing it.
"The type of application you send to the bank will be the key differentiating factor to getting quick approval on it being stuck with multiple back and forth for weeks, seeking correct information. So, always review your application form with a hawk's eye before signing it for your mortgage broker."
---
What factors affect home loan approval time?
Mr Makkar said one of the main factors that could speed up home loan approval time was a quality submission.
"If you have provided correct information and it is a strong application where you meet the borrowing criteria, the banks will have no surprises helping them process the application quicker. This assessment process can be anywhere between 24 hours to at most a week."
He said one of the main things that could slow down an approval was complications in a buyers credit file.
"It is imperative that you take the time and share all the necessary information at the first go, declaring all financial history of investments and any previous history with any lenders," he said.
Mr Christofi said bank timeframes and service levels were big factors in how long approval could take. Additionally, he urged buyers to provide requested documents as soon as possible.
"When you are asked for something, always try to provide it on the same day. This is a lifelong decision you've entered into, don't take a lifetime to send information back."
---
How long does home loan approval take on average?
Ms Mitchell said Mortgage Choice was seeing a larger range in approval times at the time of writing.
"Some lenders are taking weeks to pick up a loan application, while others are much faster. The Big 4 are taking an average of 22 days while non-bank lenders on our panel have much faster turnaround times, averaging around 14 days."
The Australian Financial Group's (AFG) Mortgage Index for the third quarter of the 2021 financial year reported the average lender turnaround time was 27.1 days, up from 25.2 days in the previous quarter.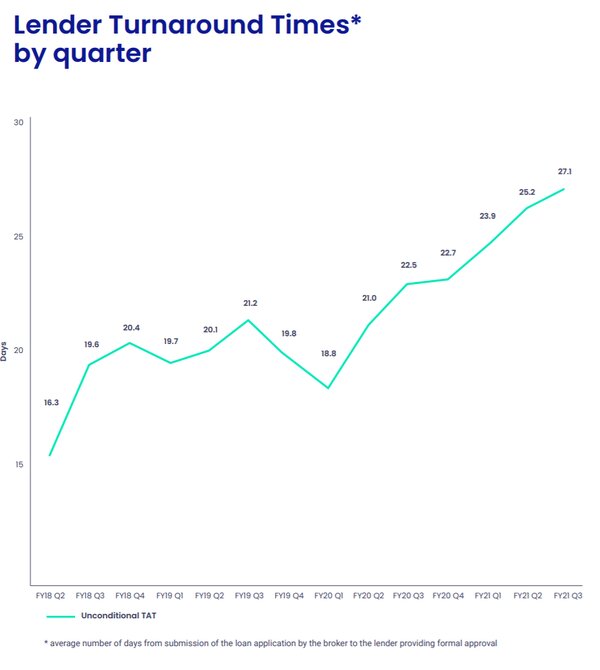 Source: AFG Mortgage Index FY21 Q3 Report
---
What are the advantages of a quick home loan approval time?
Ms Osti said lenders with a quick approval time could give borrowers an edge over other buyers.
"Another big advantage of using a lender such as Tic:Toc, is they give customers the ability to still be in the running for their dream home, even if they don't already have a pre-approval," she said.
"The quick turnaround time can give customers clear guidance on what they can spend, allowing them to shop with confidence should their dream home come onto the market."
Head of Third Party Distribution at Teachers Mutual Bank Mark Middleton agreed with Ms Osti, and said in the current climate, a fast approval could benefit you greatly.
"With a hot property market, we can understand why some members would like to move through the process as quickly as possible. If your lender has a quick approval time, you might have an advantage over other people competing for the same property," Mr Middleton told Savings.com.au.
Ms Osti added Tic Toc's human-assisted AI approval technology saved them on overheads, which translated to money saved for borrowers.
"That gets passed onto borrowers in the form of lower rates and better lending terms. Customers also know the outcome of their application in hours rather than weeks."
---
Savings.com.au's two cents
With many lenders having different processes and turnaround times, it may seem like your home loan approval time is out of your hands. But choosing the right lender and using the tips from the experts above can drastically improve how long it takes to be approved. Compare home loans to find a lender with a great rate and ask them about how they can get you fast approval.
---
Photo by Jonathan Chng on Unsplash