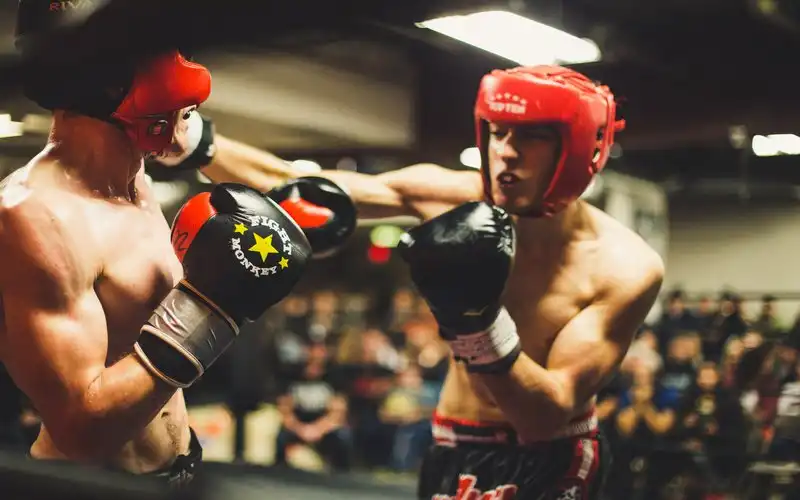 Marvel vs DC, AFL vs NRL, Labor vs LNP - all these matchups pale in comparison to the property vs shares debate.
The past two years has seen the sharemarket climb to record highs, regaining all of the losses seen from the COVID-induced crash in mid-2020.
Not to be outdone, the property market had a scorching year in 2021, with values reaching record highs.
But that's what's happening at the time of writing. Thirty years ago, shares may have offered a better return than property or vice versa.
So in 10, 20 or 30 years from now, which strategy is going to net you more cash? Let's start with a quick and simple introduction to both types of investment, should you be unfamiliar with them.
---
Buying a home or looking to refinance? The table below features home loans with some of the lowest interest rates on the market for owner-occupiers.
Lender

---

Variable

More details

AN EASY ONLINE APPLICATION

Yard Investment Loan (Principal and Interest) (LVR < 80%)
Fast turnaround times, can meet 30-day settlement
For purchase and refinance, min 20% deposit
No ongoing or monthly fees, add offset for 0.10%
Base criteria of: a $400,000 loan amount, variable, fixed, principal and interest (P&I) home loans with an LVR (loan-to-value) ratio of at least 80%. However, the 'Compare Home Loans' table allows for calculations to be made on variables as selected and input by the user. All products will list the LVR with the product and rate which are clearly published on the Product Provider's web site. Monthly repayments, once the base criteria are altered by the user, will be based on the selected products' advertised rates and determined by the loan amount, repayment type, loan term and LVR as input by the user/you. *The Comparison rate is based on a $150,000 loan over 25 years. Warning: this comparison rate is true only for this example and may not include all fees and charges. Different terms, fees or other loan amounts might result in a different comparison rate. Rates correct as of May 22, 2022. View disclaimer.
---
How does property investment work?
It may seem like an obvious or easy question but it's worth breaking down to understand the differences in risk between property investment and investing in shares.
Property investment is generally considered a safer and more traditional way of growing your wealth in Australia.
Although buying a home takes a large amount of capital, through the deposit required, there's the potential to reap a constant income from rent, given the house is occupied of course.
In addition to this, making principal repayments off your mortgage over time will grant you equity in your home, which could potentially be used to purchase more homes and expand your investment portfolio.
Value can also be added to a home through renovations and even the simple passing of time, and investors could reap considerable tax benefits.
Many first-time or inexperienced investors also value the tangibility of a brick and mortar home - an asset they can see and touch.
Despite these positives, there's something worth mentioning: being a property owner can be hard.
There's often a huge amount of costs through mortgage repayments, expenses and maintenance.
Your rental income may not cover all of these and not having a tenant could easily put you in serious financial strife.
The tangibility of a home also makes it a non-liquid asset - you generally can't quickly sell it if you need cash and you also can't sell part of it, it's all or nothing.
---
How does investing in shares work?
The buying and selling of shares, bonds and exchange-traded funds (ETFs) are done through the Australian Securities Exchange (ASX), via a broker or online broking service.
A broker does the trading for you, and you can advise them what you wish to buy or sell, or they can make recommendations to you, provided they disclose any interest they have in it.
If you're feeling confident there are online trading platforms where you can make trades yourself, like CommSec, or investment apps like Raiz and Spaceship.
They'll also charge you 'brokerage' which is either a set dollar amount or a percentage of the value of the trade. Bigger transactions are typically charged brokerage as a percentage of the value of the trade while smaller ones are charged the the set dollar amount. For example, for those trading Australian shares online and settling into a bank account of their choice, CommSec currently (at the time of writing) charges $19.95 for trades over $1,000 and up to $10,000, and $29.95 for trades over $10,000 and up to $25,000.
Buying shares makes you a part-owner of a company, otherwise known as a shareholder, and some companies will pay you dividends and afford you other benefits.
Like any market, there are buyers and sellers and sell orders going through brokers, whose job it is to match orders and get the best possible price for buyer and seller.
The price at which you want to buy the shares is known as the bid price, and the price at which a seller wants to sell the shares is known as the offer price.
Investors typically make money by buying stock and that stock rising in price; they can then choose to either sell this stock and take the cash, or hold onto the stock if they think it will continue to rise.
It's often said that time in the market is more important than timing the market when it comes to investing in shares. The theory goes that if you're investing for the long-term, it doesn't matter too much whether the market is crashing or rising.
In a December 2018 speech, Reserve Bank of Australia (RBA) head of domestic markets Marion Kohler pointed out that $100 invested in the Australia sharemarket in 1900 would be worth an inflation-adjusted $100,000 today. That's despite numerous notorious share market crashes over that time, including the Great Depression of the 1930s, the Tech Wreck of 2000 and the Global Financial Crisis (GFC) of 2007-2008.
---
What investment has performed better historically?
It can be difficult to define which investment strategy has performed better historically as it's easy to pick a time-frame that suits your argument - both investments have experienced booms and busts.
For the sake of this article, we've decided to assess these two different types of assets on the performance over the last two decades.
A report from the ASX and Russell Investments released in June 2018 examined the returns of long term investments.
It found from the 20 years to December 2017, residential investment property saw better gross returns, as seen in the table below.
Australian shares averaged returns of 8.8% p.a. over the 20 years, while Australian residential property averaged 10.2% p.a. Of course, keep in mind this period encompassed the GFC and a historic boom in Australian property prices.
Australian shares returns v Residential Investment Property returns, with and without gearing: 20 years to December 2017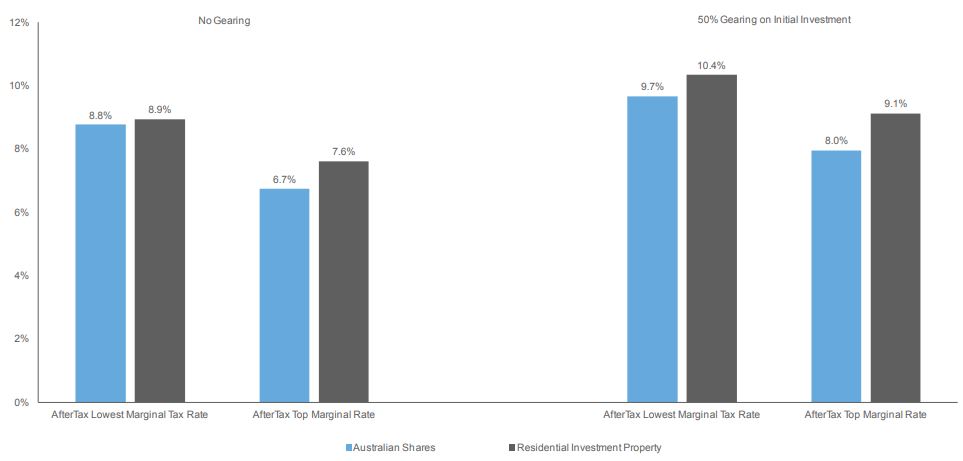 Source: Russell Investments, ASX.
Although historical analysis can be useful, it's important to not fall into the trap of thinking that past performance is a barometer of future performance.
Professor of Finance at the University of Queensland Dr Shaun Bond told Savings.com.au it's more important that investors consider the risk associated with each investment.
"It is important to remember that most economists expect that investment returns for both shares and real estate will be lower in the future than they have been over the last thirty-five years," Dr Bond said.
---
Which is the better investment?
So we come to the ultimate showdown - what's the better investment between property and shares?
Savings.com.au asked experts from both sides of the fence to argue the case for one or the other.
Team property
Michael Sloan of Better Homes and Gardens Real Estate told Savings.com.au there are four main strengths of property investment:
"You get to use other people's money. For every $1 you have saved, the bank will lend you $4, that leverage is what will make you wealthy."

"The Government will give you some of your tax back if you buy an investment property. How much did you claim in tax deductions last year? Not much right, yet one new investment property ($500K) can give you $449,143 of tax deductions in the next 10 years."

"The tenant will help buy the property for you, over $200,000 of rent in the first ten years for a four-bedroom house."

"Once you buy that first property you will never need to use your money again. Over time you can build a portfolio of properties using the equity from your first."
Mr Sloan also pointed to the fundamental need for shelter that humans need for survival and the massive population growth Australia was set to see over the coming years.
"The government is not going to build the properties we need," he said.
"We have a growing population that requires hundreds of thousands of new homes built.
"The government wants you to build them, and they will give you massive tax breaks to make sure you do.
"Smart investors buy investment properties that give them the most tax breaks."
When considering property investment compared to investing in shares, Mr Sloan said the leverage you can get from buying an investment property makes it the clear better option.
"If you have a $100,000 of cash or equity in your home you can buy a $400,000 investment property.
"Assuming you buy a quality property and stay away from student accommodation and the like, what is going to deliver you a better return long term? A $400,000 property or $100,000 of shares?"
Dr Bond said property investment could be a worthy investment strategy, given the investor knows the magnitude of the task.
"Clearly a number of people in Australia have built significant wealth through investing directly in property," he said.
"I consider buying property to be more like owning a business rather than being a passive investment. If you are prepared to invest significant time and energy in your investment than you can end up achieving good returns.
"Some investors have building or trade skills that allows them to create 'sweat' equity in a property through renovation or redevelopment. Others are very good at property management or identifying up and coming areas.
"Successful real estate investment is often about the business or entrepreneurial skills that you can apply to the investment as opposed to just sitting back and collecting the rent."
Team shares
Founder and CEO of online investment adviser Stockspot, Chris Brycki, told Savings.com.au that investing in shares has the advantages of lower upfront and ongoing costs.
"Low costs are important as all costs are subtracted from your gross return," Mr Brycki said.
"Shares are easier to buy and sell and they generate higher income and returns. When investing in shares what's important to remember is to diversify across different sectors of the economy and also invest overseas so all your eggs aren't in one basket."
Mr Brycki said that over the coming decade, shares were likely to perform better than Australian residential property investment.
"Property is as expensive as it has ever been on a relative basis compared to shares," he said.
"The average rental yield of a residential property in Sydney or Melbourne currently stands at 2.7%.
"On the other hand the dividend yield of the Australian share market is currently 5.0%, almost double.
"Shares haven't offered such an attractive return compared to both property and the RBA interest rate in the last 20 years."
Andrew Moore, CEO of investment app Spaceship agreed with Mr Brycki, telling Savings.com.au the greatest advantage to trading shares over property investment was that you can start small.
"Property investment usually requires a large amount of money to start with," Mr Moore said.
"There was a time when accessing stocks and shares was similarly inaccessible for most people, but now you can start investing with very little."
Mr Moore also pointed to the diversification and liquidity of share trading over property investment.
"Through certain apps and platforms, you can invest relatively small amounts across a large number of companies in different industries or geographies.
"Shares can generally be bought and sold in a matter of minutes. You wouldn't be able to buy or sell a house in a day without a whole chain of bureaucracy!"
Dr Bond said that when considering investing in shares, inexperienced individuals shouldn't actively trade shares.
"Instead, they should consider long-term investment through low-cost index funds.
"These funds offer the ability to diversify across a range of companies, industries and countries. Investing through low-cost index funds offers small investors the chance to gain exposure to world-class companies.
"Investors can start with small amounts of money and easily add to this over time."
---
Savings.com.au's two cents
So which is better?
The simple and perhaps frustrating answer is that it's completely dependent on your situation and both are a valid and legitimate way to grow wealth.
For those that don't have a lot of capital, the share market is a great way to get in with a small amount of money and earn some valuable experience.
You can also get access to your funds quickly if you need too and have the ability to diversify across a number of sectors. However, it's extremely volatile and your whole portfolio could be wiped out in a matter of days.
Property investment requires a large amount of capital and can take a long time to provide returns.
However, it's often considered to be a safer investment than shares and you can use equity to build your portfolio without more capital needed.
Carefully think about your financial position before investing in either asset class and consider talking to a professional financial adviser.
---
Article originally published by Alex Brewster, May, 2021. Last updated by Aaron Bell, March 29 2022.
Photo by Hermes Rivera on Unsplash