The 'Xero Payphoria Study' of 1,000 people found 45% of respondents were cutting back on simple pleasures like buying coffee and eating out, while 34% even delayed paying household bills in the countdown to payday.
A massive 63% of workers claimed to have financial difficulties before payday and relied on short-term fixes for support.
One in five Australians used Afterpay, payday loans, credit cards or overdrafts, while 12% asked friends and family to help them out.
The study from the global small business platform also linked the frequency of pay to the ability to save.
Workers who were paid monthly were more likely to save, while those paid weekly were more likely to be spenders.
Meanwhile, workers in cities were more likely to be savers than those in rural areas.
Payday – cause for celebration
The study found half of Australian workers count down the days to their next pay, while 58% mark the occasion a celebration.
'Payphoria' brought feelings of happiness, followed by a sense of relief for two out of five workers.
As part of this feeling, one in three Aussies spent more on payday than they ordinarily would, with 80% of workers recognising they work hard and deserve to enjoy their money now.
This recognition saw just under one in three workers treat themselves by having a night out with friends or family, making an extravagant purchase, booking a trip or event, or buying a new outfit.
Xero Small Business Advocate Angus Capel said financial stress before payday was commonplace, and 'payphoria' was a natural reaction.
"Australians are tightening the purse strings ahead of payday, cutting back on life's simple pleasures like the morning coffee or eating out," Mr Capel said.
"It's not surprising that when payday does come around, Aussies are experiencing rushes of 'payphoria' and are wanting to reward their hard work by spending up."
Saver vs Spender
Australians consider themselves a nation of savers (70%), but more than half know that 'they should save more, but that would mean giving up luxuries'.
45% of Australians even plan to be better with saving but it never happens.
Workers agreed that saving is 'very important to them as the thought of not having any would worry them', and that they 'budget and keep track of expenses and spending habits'.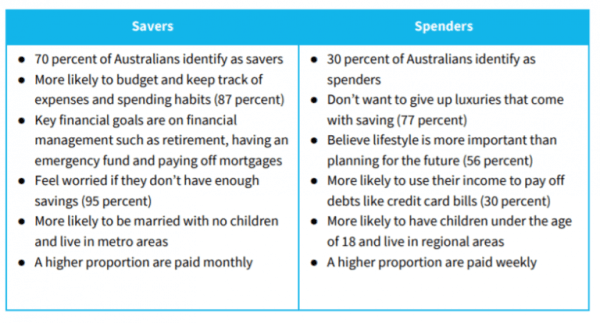 Source: Xero
Payday Trends
Workers paid weekly were mostly happy with the frequency of their pay, while one in three and one in two of those paid fortnightly and monthly respectively would prefer to be paid more frequently.
Almost half of the Australian workforce seek weekly pay, followed closely by a preference for a fortnightly pay cycle.
For a quarter of workers, the timing of payday impacts people's lifestyles, primarily making it hard to manage money and meet day to day needs (70%), but also encouraging extravagant spending (45%).
"Mapping out Australia's payday trends has shown that people have a huge emotional and psychological response to their earnings," Mr Capel said.
"In any discussion of payday, the starting point has to be for employees to be paid on time and accurately, and with the correct benefits. This can be a complex thing to get right, but thankfully there is a range of tools and technologies that can support this.
"Xero has been working with small businesses across Australia to help them adopt new payroll technologies, ensuring both employers and employees can be supported to do their best work."
A recently launched Australian fintech Earnd also allows employees to ask their employers to pay their income as they earn it, rather than in single weekly, fortnightly or monthly blocks.
---
How to manage 'payphoria'
Personal finance expert and author Melissa Browne shares her five tips on how to manage your finances leading up to payday.
1. Automate to limit your everyday spending
"Send parts of your pay immediately to different accounts (at the minimum a bills account and a savings account) then only spend what's left."
"If you start to run out of cash, then it's beans and rice or inviting yourself to the parents' house for free meals."
2. Hide your money
"Use a different bank for your savings so you aren't tempted to dip into those monies as payday nears and definitely don't cheat with credit or buy now pay later sites."
"Only spend from your everyday spending account."
3. Swap rather than stop
"Yes, we want to enjoy life today, but consider swapping your behaviours for a cheaper option."
"Instead of an Uber, use public transport. Instead of Friday night dinner and drinks, do Sunday brunch. Instead of buying your lunch every day, buy it three times a week. Instead of a personal trainer, go to group classes."
4. Fall in love with free
"You might want to treat yourself on payday simply for surviving another pay cycle at work without yelling at Jane for not washing her coffee cup. Again."
"But instead, grab a friend and find a dopamine hit another way. Maybe that's picnicking in the park at lunch, doing a class together, going for a walk or a run, grabbing a coffee and going to a free exhibition or more."
5. Find more cash
"Rather than feeling like you're a slave to your wage, challenge yourself to earn your spending money away from your wage."
"This might be from a side hustle, tutoring, dog walking, Uber driving, doing surveys online, consulting, selling product at the local markets and so much more."