The RBA releases data on credit and debit card transactions each month with the figures useful in highlighting consumer borrowing and spending trends.
The most recent figures for November 2019 revealed there is $27.2 billion in debt accruing interest in Australia, the lowest level since December 2006.
It's a massive improvement on the previous year's result, when consumers cleared just $675 million in debt.
Credit and debit card purchases rose by 0.5% in November to be up 6.7% on the year, in line with a sharp lift in retail transactions as a result of Black Friday.
Data from the Australian Bureau of Statistics found Australian retail turnover rose to 0.9%, well above economists' predictions of between 0.4% and 0.6%.
There were 14.72 million active credit card accounts in November, a nine year low, down from 14.75 million.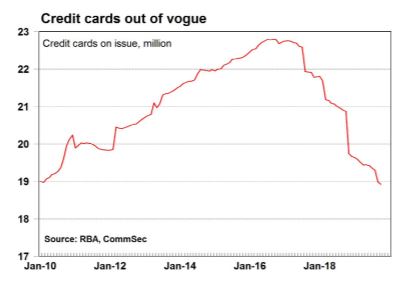 The average credit/charge card balance was $3,357.82 in November, while the average limit, which has taken a tumble recently, was $9,833.34.
The number of credit and charge card purchases rose by 0.8% in November, up 6.0% annually.
However the value of purchases made with credit and charge cards fell by 0.3% in November but was still up 3.7% on a year ago.
Debit card continue to outperform credit cards in almost every way, with the value of debit card purchases rising 0.1% in November to be up to 9.7% annually.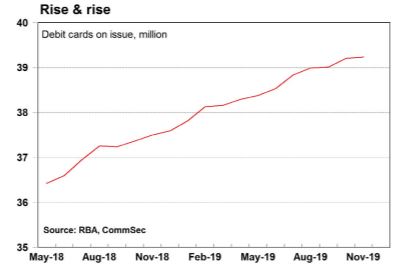 The number of debit card accounts rose 0.1% in November to 39.2 million, with accounts up 4.6% on the year.
However, businesses still continue to put their faith in credit cards; the value of transactions made with commercial credit cards was up a massive 21.6% on a year ago.
Meanwhile, prepaid cards lifted almost 2% in November after hitting 12 month lows in October, but the number of cards is still lower than a year ago.
The average value of a prepaid card continues to fall and now stands at $120, with the data showing the cards are being used more often but the value of transactions continues to fall compared with a year ago.
ATM usage continues to plummet from its peak a decade ago: the annual average of ATM withdrawals hit fresh eight year lows in November at 46.3 million.