Moneytree, one of Australia's most downloaded budgeting and savings apps, connects to over 50 different financial institutions to help users get a better idea of their net worth, based on their bank accounts, debts, loans, investments and superannuation balances.
This aspect of the app is free to use, but, users can now subscribe to Moneytree Grow for $4.49 per month or about $47.5 annually (12% annual discount) to access its new budgeting services, which include:
Budgets by category: you can set a monthly budget for all your important spending categories and receive notifications.
Daily background updates: information gets updated daily in the background, keeping your information always up to date.
Data exporting: downloadable transactions by account or across all accounts, to an Excel or CSV file.
Monthly reports: monthly snapshot summaries of your spending along with the breakdown of spending by category.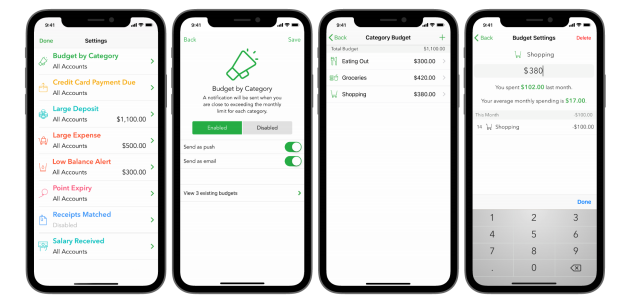 What Moneytree Grow looks like. Source: Moneytree
Chief Executive and Founder of Moneytree Paul Chapman said this new tool is a result of Moneytree evolving its app to deliver "real financial progress" to its users.
"We've been excited to see users engage with our app since we launched in Australia in 2017. Now, with Open Banking just around the corner, we are starting to make some big changes," Mr Chapman said.
"A great starting point to improve your financial well-being is to really understand what you're spending money on.
"With more and more people cherry-picking the best credit cards and bank accounts, you'll be better off with an automated tool like Moneytree Grow to help you successfully steer the course."
Should you use a paid budgeting service?
In a competitive space such as budgeting apps, there are a number of apps that can do what Moneytree does (to varying levels of quality) for free, including the likes of Pocketbook, Frollo and MoneyBrilliant.
So the key question is: is a paid budgeting service worth using?
We asked Paul Chapman that very question, specifically in regards to Moneytree's new app. Why should the average customer use this paid app instead of a free one?
According to Mr Chapman, there are a number of reasons.
"Our budgeting tool is not burdensome and lets you focus on what's important. We do this by helping people focus on and gain better control of specific types of spending," he told Savings.com.au.
"By setting limits or goals only in areas where you need to gain control, it can cut through the noise to help you be better off."
Another key differentiator is Moneytree's "strict approach to privacy".
"It is all too common for money management apps to sell or disclose your information for marketing or advertising purposes," he said.
"Moneytree fully respects your privacy, and this is the same regardless of when using the Moneytree app for free, or via a paid plan."
Making the most of open banking
With open banking now a reality in Australia, Moneytree plans to weaponise it to improve the customer experience in-app.
According to Mr Chapman, Moneytree is working behind the scenes with banks and fintechs to help leverage the benefits of open data.
"Ultimately, people will benefit from open banking by having a more seamless experience in the use of their data," he said.
"It's important to remember that open banking will enable data owners (you, the bank customer) to use data in ways we haven't been able to before. For sure it will be a big learning experience for everybody."
"Our mission is to make this new world of open banking easier, more transparent and safe for all."
In an open-banking world, customers could more easily switch banks, receive more personalised product offers and most importantly, save money on financial products.