According to Compare Club's latest Bill Shock Index, 65% of Australians experienced a bill being more expensive than usual or a difficulty paying bills, known as bill shock, in the last three months.
While this seems high, it's actually a decrease from 85% seen in the last index released in January.
However, two-in-three are again concerned about their bills increasing in the next quarter - especially electricity and energy bills - while 40% were unaware their health insurance premiums were rising again on April 1st.
"After a tumultuous 12-months, consumers are starting to feel confident about Australia's economic recovery. Unemployment is decreasing, state borders are opening, and the arrival of the COVID-19 vaccine all contribute to Aussies feeling more financially secure," said CEO of Compare Club Andrew Davis.
"The rise in private health insurance premiums will cost families on average an extra $126 a year, but many funds will pass on even higher premium increases.
"Premium increases were delayed in 2020 until October, which now means that Aussies will be hit with a combined increase of 5.66% in just six months - eight times the rate of inflation."
After this increase - the second premium rise in just six months - households could save as much as $126 annually by switching to a cheaper insurance policy.
Meanwhile, a cheaper energy plan could also provide savings of $219 per year, creating combined savings of $385.
"People generally only review their service and insurance providers during big life events like having a baby, buying a home or retiring, but you can potentially save thousands of dollars by throwing out brand loyalty and regularly setting aside time to explore better offers for better cover," Mr Davis said.
"In addition some customers elect to pre-pay their cover allowing them to access the lower premium in place prior to the rate rise.
"The April 1st rate rise is the perfect line in the sand to get yourself a better deal and set yourself up for a healthier 2021."
Related: How regular reminders could save you thousands on your household bills
Young people hardest hit by bill shock
Younger consumers are still the most heavily impacted by bill shock, well above the 65% average at about 80% of those aged 18-24 and around 76% of 25-34 year olds.
This isn't that surprising considering many young people were hit hard by the pandemic, but older customers (55+) were the least likely to switch products.
Younger people on the other hand switched or planned to switch at above the average rate (about 62%).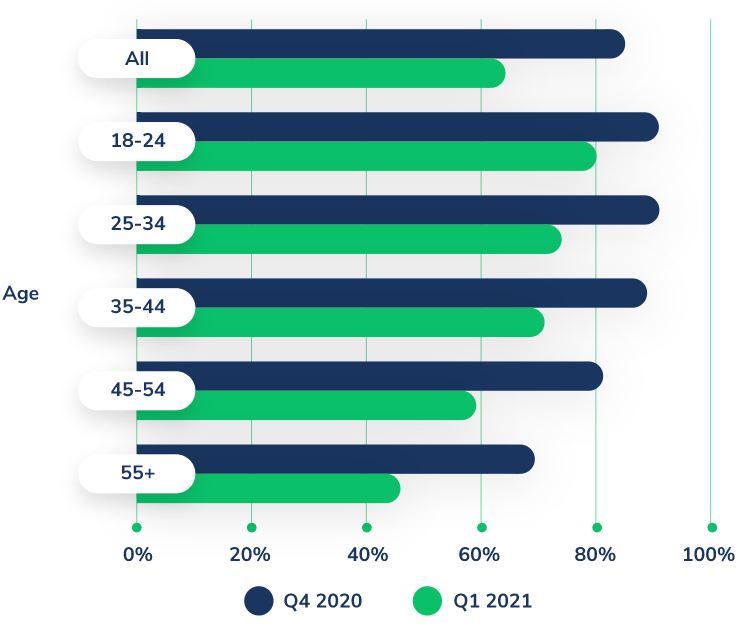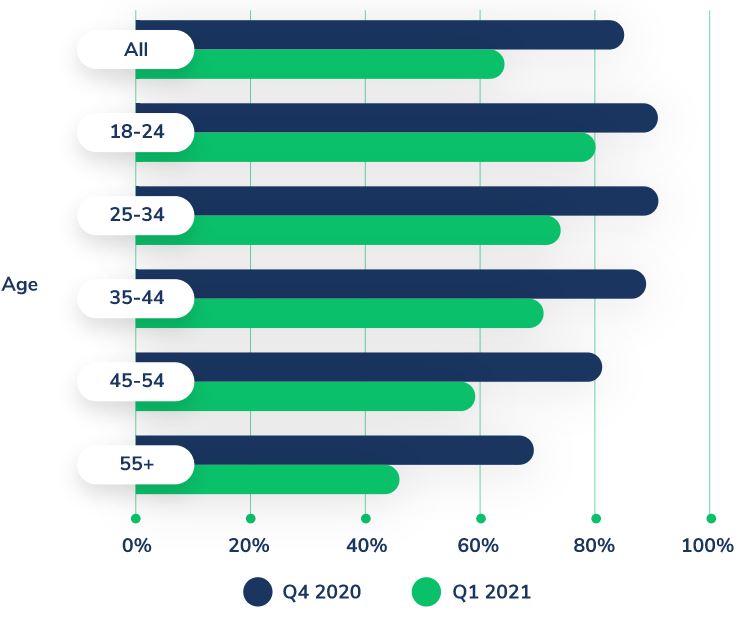 Image source: Compare Club
Financial stress continues to grow for some
Australian financial stress, as well as mental stress, has risen to its highest level since the start of the pandemic one year ago, according to the latest Melbourne Institute Taking the Pulse of the Nation survey.
That's despite Australia's recent recovery, summarised by a 3.1% GDP increase last quarter and a fall in the unemployment rate to 5.8%.
The number of people reporting financial stress (difficulty paying for essential goods and services) has risen to 31%, now exceeding the number of people making ends meet (26%).
Half of self-employed Australians say they are financially stressed and 15% are only making ends meet.
Professor Guay Lim, author of the report, said Australia's recovery was not being felt equally.
"The data from this latest wave suggest that not everyone is seeing the benefits of the economic upturn and this is having a serious impact on Australians' financial and mental wellbeing," Professor Lim said.
"This is an opportunity for policy makers to address the persistent issue of job insecurity and underemployment, particularly among low and middle income earners."
Related: Savings cliff looms ahead of JobKeeper, JobSeeker cutoff next week.
Photo via Sebastian Herrmann on Unsplash