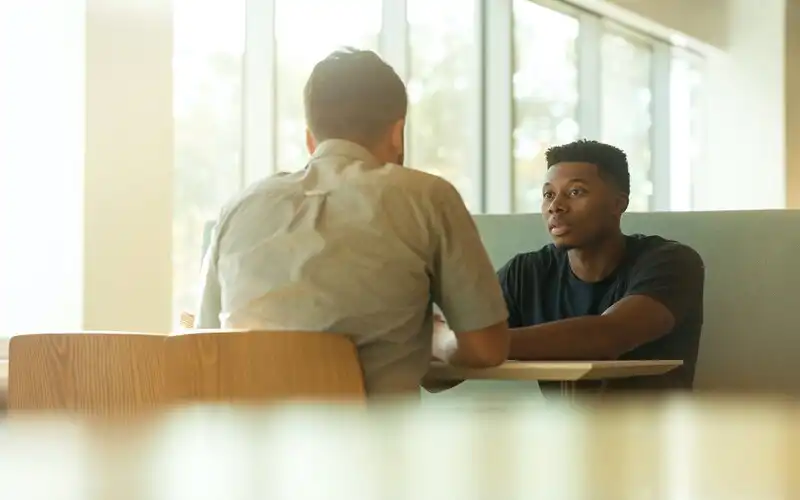 Photo by LinkedIn Sales Navigator on Unsplash
At Savings.com.au, we often recommend you consider consulting a financial adviser before making a major financial decision. So what do advisers do, and do you actually need to see one?
As of June of this year, there were 22,334 registered financial advisers in Australia, according to Rainmaker.
Financial adviser numbers have dipped recently, in the wake of COVID-19 and the Hayne Royal Commission, which saw a tightening of education requirements and mandated exams.
The fall in adviser numbers doesn't diminish the importance of their role in any way though - a financial adviser can be hugely helpful, no matter how little or much money you have.
Find out what financial advisers are, what they can do for you, and the biggest benefits of using one.
Need somewhere to store cash and earn interest? The table below features savings accounts with some of the highest non-introductory and introductory interest rates on the market.
Lender

---

4

0

0

0

$product[$field["value"]]

$product[$field["value"]]

$product[$field["value"]]

More details

FEATURED

Online Saver (Amounts < $499999)

4

0

0

0

$product[$field["value"]]

$product[$field["value"]]

$product[$field["value"]]

More details

High Interest Savings Account (< $250k)

4

0

0

1

$product[$field["value"]]

$product[$field["value"]]

$product[$field["value"]]

More details

0

50

0

$product[$field["value"]]

$product[$field["value"]]

$product[$field["value"]]

More details

0

0

0

$product[$field["value"]]

$product[$field["value"]]

$product[$field["value"]]

More details
Rates based on a savings balance of $10,000. Sorted by total interest rates. Refer to providers' websites for bonus rate conditions and for any applicable fees and charges. Rates correct as of June 26, 2022. View disclaimer.
---
What does a financial adviser do?
Grant Miller from Inspired Financial Planners said a financial adviser's main objective is to help people make the best use of their money.
"A financial adviser's primary role is to educate and support people to make wiser decisions with their money so they can live their best life and make the most of their hard-earned cash, or the cash they were fortunate enough to inherit from those who've worked hard before them," Mr Miller told Savings.com.au.
Mr Miller said all financial advisers are required to be registered with the Australian Investments and Security Commission (ASIC) and the Tax Practitioner's Board (TPB).
"This is because financial advisers give advice to people about financial products and actions that have tax consequences," he said.
Neil Rogan, Head of Wholesale Partnerships at Russell Investments, told Savings.com.au a financial adviser can help you to reach a variety of goals whatever your financial status may be.
"A financial adviser is a professional adviser who will sit down with an individual, couple, or family, and talk about your financial and non-financial goals and work with you to achieve those over your lifetime," Mr Rogan said.
A financial adviser typically has quite an expansive role, with some more experienced in certain areas than others.
Mr Miller outlined the key areas a financial adviser would help with people's personal finances:
Setting up a budget so you know what the gap is between what you earn and what you spend (and therefore what your capacity is to succeed financially).

Setting up personal risk insurance like life insurance and income protection; determining whether the insurance should be held through superannuation or funded personally.

Forming a strategy to manage personal investments + the investments through your superannuation.

Giving advice on tax minimisation strategies relating to superannuation, salary packaging, investments and more. We're not tax agents, though, so we can't help with tax returns.

Working with other professionals (mortgage brokers, accountants and estate planning lawyers) to cover all bases as part of a long-term financial plan.
---
Do you need a financial adviser?
You might be thinking, 'why do I need a financial adviser, surely I can just do it myself?'
While this is true, Mr Rogan said advisers had access to a wealth of resources that are out of reach for most everyday Joes and Janes.
"A financial adviser has access to information and analysis that you may never have," he said.
"It's their job to get you to where you need to be, so that's their absolute focus."
Mr Miller echoed Mr Rogan's sentiment's and said while there was a great amount of financial information online, there are intricacies you may miss, leading you to not make the most of your situation.
"This is why many people use an accountant, for instance; anyone can lodge a basic tax return," he said.
"If you really want to make the most of your tax situation and identify opportunities, though, you use an accountant.
"A colleague of mine worded it perfectly a number of years ago; 'You can't Google what we know.'
"In other words, you can't Google experience, or the ability to understand and implement the right strategy for your unique circumstances."
Mr Miller said books and online resources were best used in conjunction with a financial adviser, so you could fully understand the motivation behind their moves.
---
When might you need a financial adviser?
A financial adviser can be a great resource to have in many situations, but particularly around a major life event. Examples of these are:
Buying or selling a home

Getting married or engaged

Having a child

After a death/receiving inheritance

Receiving a raise

Suffering an injury which prevents you from working
Mr Miller recommended seeing a financial adviser who allowed for a free first session, to scope out whether you were a right fit for each other.
"As a general rule, I would say to go and see a financial adviser who offers a complimentary consultation to discuss your situation if you're really unsure about whether you could benefit from advice, but also be prepared to pay for the consult as financial advisers are professionals with overheads that need to be covered.
"On your first meeting, your financial adviser can generally get a good feel in that meeting whether they can help you or not.
"Worst case scenario, they should be able to point you in the right direction for resources that can help you."
---
How much does a financial adviser cost?
How much a financial adviser costs is dependent on how you utilise them.
If you have a full-time financial adviser then they may charge you on a percentage basis, based on the size of your investment portfolio.
So if you have $500,000 in assets, an adviser may charge you a 2.5% fee, costing you $12,500 a year. Typically the greater the value of your assets, the higher the fee.
There are also fixed fees, for one-off advice, ongoing advice, review fees, hourly rate fees for when you want some one-on-one face time, and a fee for services, like preparing paperwork.
This might seem like a lot of fees but chances are you'd only be paying one or two of these infrequently.
Mr Rogan said a financial adviser typically charges a few thousand dollars a year.
"On average an advisor may charge around $1,000 to $3,000," he said.
Russell Investments Director, Head of Business Solutions, Bronwyn Yates said a fee just above $3,000 could deliver over triple that in returns.
"Our report shows that an adviser charging an advice fee of $3,250 to a client with a $250,000 balance can potentially deliver $13,250 of value – that's $10,000 extra value to the client," Ms Yates said.
---
Where to find a good financial adviser
Mr Rogan said there two main channels that were best to find the right financial adviser for you.
"Officially, the best way to find an adviser is through the Financial Planning Association of Australia website," he said.
"Outside of that, I'd recommend talking to a friend or family member to refer you to someone they've already seen.
"Once you've done that, you can see who aligns best with your values and goals, and then select someone to work with over the longer term."
---
What are the benefits of using a financial adviser?
Mr Miller said the main benefit of using a financial adviser was how they could use a whole network of resources.
"Financial advisers are well-versed on strategies to minimise tax, increase your wealth and protect your wealth.
"We work with other professionals to look after the big picture – accountants, mortgage brokers and estate planning lawyers, for instance.
"We can help you have a greater awareness of your situation and find ways to do more with what you have."
Additionally, advisers are legally required to do the best possible job for you.
"Financial advisers are bound by law to give advice that is demonstrably in the best interest of their clients. So, we literally need to demonstrate that you will be better off by following our advice," Mr Miller added.
Mr Rogan said when things were going badly, advisers could stop you from getting scared and selling up.
"The key thing with having an advisor is they're going to stop you from doing anything a little bit silly," he said.
"Consumers often freak out when stocks are falling and want to sell to recoup losses, but this isn't usually the best course of action.
"Afterpay crashed to $8 earlier in the year and is now above $100. A financial adviser can save you from being your own worst enemy."
---
Savings.com.au's two cents
A financial adviser can be your best mate when it comes to your finances.
They're legally required to act in your best interests and can stop you from making rash decisions.
Although they may seem expensive, the cost of consulting a financial adviser can be a sound investment, given the access they have to a wealth of knowledge and resources.
That's not to say you should blindly rely on them - keep yourself informed by doing your own research and making sure you understand exactly where your money is going and why.
---
Latest Articles