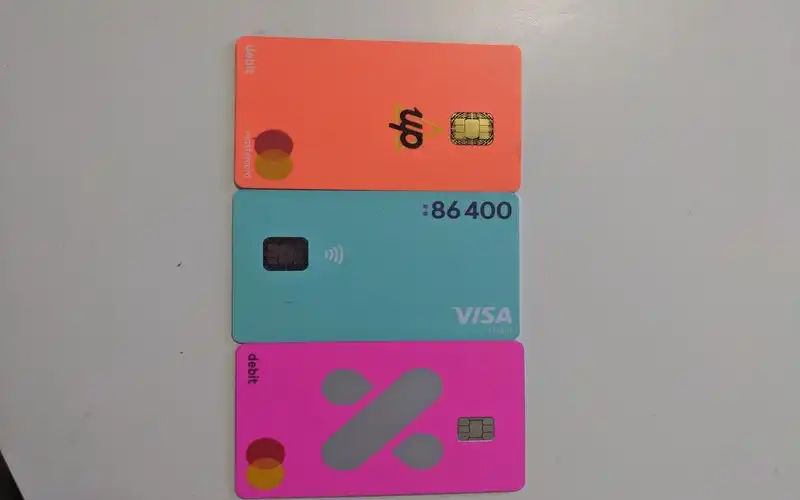 Here's our simple comparison of the rates, fees, features and payment options neobanks offer Australian banking customers.
Neobanks are a relatively new phenomenon in Australia, and it might seem like a new one is popping up every week.
There are actually only a handful of neobanks currently active in Australia, with a few more waiting in the wings. But they've already shaken up the industry quite a bit, ushering in a new wave of high interest, low-fee and online banking products.
So which neobank offers the most competitive products? Well, read on to have a look at how they stack up against each other.
Related article: What's a neobank?
On this page:
Australian neobanks
Neobanks are a relatively new thing in Australia, with five granted Authorised Deposit-Taking (ADI) licenses from the Australian Prudential Regulation Authority (APRA) in the last couple of years.
The five neobanks we'll be comparing are:
Click on the links above the learn more about these banks.
(*Note: Some say Up technically isn't a neobank as it uses existing banking infrastructure from Bendigo and Adelaide Bank, but as 'neo' means new and it launched in 2019, we're including it in our consideration set.)
Neobanks compared: Products offered
Australia's neobanks are very new, only being a couple of years old at most. As such, these entities haven't had much time to release a wide range of products, instead choosing to launch with just one or two.
The majority offer savings accounts, while only one (Judo) currently specialises in term deposits. 86 400 is the only one of these banks to currently offer home loans, although some are planning to do so in the near future.
Judo also predominantly offers business loans, which none of the others do at the moment.
I think I have the most 😩😊😬 pic.twitter.com/axT0jFbBXs

— Daniel Feodoroff (@mrdanielfeo) March 11, 2020
Neobanks compared: Interest rates
Neobanks aren't like traditional retail banks, and don't have as many expensive overheads to pay for. It is claimed that these cheaper overheads makes it easier for neobanks to offer competitive products to customers with lower fees and better interest rates.
But just how true is this claim? Well, see for yourself: check out our table of neobank savings accounts below, and compare to our list of savings accounts with some of the highest interest rates on the market to see how they stack up.
The table below displays a snapshot of savings accounts with some of the highest non-introductory interest rates on the market.
Maximum interest rate requirements
Note how the table above shows three different interest rates:
The base rate
The bonus rate
And the total rate
The 'base' interest rate is the default interest rate on your savings account that you earn without having to meet specified conditions - this rate is usually very low, but in the case of some neobanks, it can be high. This is where the bonus rate comes in.
The bonus rate is an extra interest rate some savings accounts offer on top of the base rate, given to customers that meet certain requirements. These requirements can be any or multiple of the following:
Depositing at least $X into your savings account each month
Making zero or limited withdrawals each month
Having a linked transaction account with $X deposited each month
Making a certain number of transactions each month using the linked transaction account
For the neobanks that offer savings accounts (all but Judo), the bonus rate requirements are summarised below:
(*Another note: Xinja, as at March 2020, has suspended taking in new customers, so only existing customers can earn its maximum interest rate).
Xinja and Volt do not, at the time of writing, have any bonus conditions, meaning the base rate and the total interest rate are the same, and customers don't have to do anything in particular to earn the highest available interest rate. 86 400 meanwhile requires a minimum deposit of at least $1,000 each month, while Up requires at least five transactions to be made from a linked transaction account in the same time frame.
Read: The different types of savings account interest rates
Deposit limits
Even if you do meet the bonus interest rate requirements, there's generally a ceiling to how much you can have in a savings account before you stop earning the maximum interest rate.
Between the neobanks, the deposit limits for earning the maximum interest rates vary from $50,000 to $300,000.
*From 1 November 2020, reduced from $100,000 per account (up to $300,000 across three accounts)
Always check the deposit limit on a savings account before you commit to opening an account, as it might not work for you.
Judo term deposit interest rates
As Judo doesn't offer a savings account (yet) it hasn't featured in the above tables. Instead, Judo offers term deposits, and Savings.com.au's research shows it has some of the highest term deposit rates available to the general public at the time of writing.
Judo's able to offer these competitive rates in part because it also offers business loans, which typically charge higher interest rates than home loans, allowing it to offer high term deposit rates while maintaining the bank's healthy profit margin.
But don't just take our word for it. Check out some of Judo's term deposits which feature prominently in our list of the highest term deposit rates, or have a look at where they feature in the one-year term deposit table below.
You can also check a comprehensive list of Judo's term deposit rates here.
Neobanks compared: Bank account fees
It isn't just interest rates you need to consider. Bank accounts can also charge fees, fees which can easily add up over time. Research from 86 400 found big four banking customers are being charged an average of $87 in account keeping fees, overdrawn fees and dishonour fees each year. But are neobanks any better?
As it turns out, neobanks do indeed have very few fees, with only a few exceptions.
Domestic banking fees
We've considered the different types of domestic banking fees you're most likely to encounter in your day-to-day business in Australia, including account keeping fees and ATM fees. The neobanks we're comparing charge $0 for most of these fees.
Just a few things to note:
ATM fees can be charged by the ATM network
Retailers and companies can charge late fees, even if the banks don't
International banking fees
Different banking fees can apply if you use your bank debit card while travelling overseas, mainly:
Currency conversion fees, which are charged as a percentage or a flat fee on every foreign transaction you make, or
International ATM fees, which are the same as domestic ATM fees but charged overseas
Neobank debit cards again fare very well in terms of international fees, with some specifically tailored for travellers.
Read our breakdown of the different banking fees that can apply when overseas.
Judo term deposit fees
Term deposits are typically fee-free, with the vast majority of term deposits on the market charging no account keeping fees or opening fees. Judo is no exception in this regard. Holding a Judo term deposit for the duration of the term means you should be charged $0 in fees.
If you choose to terminate your term deposit prior to the term's expiry, however, Judo can charge a break cost at their own discretion. This won't be charged to people experiencing financial hardship or if the deposit is terminated during a grace period. Judo can also charge an interest rate reduction relative to the length of the term that's expired.
Judo's website says to call 13JUDO to discuss these costs, but a general breakdown commonly seen among other term deposit providers is as follows:
| Percentage of the term elapsed | Interest rate reduction |
| --- | --- |
| 0% to 20% | 90% |
| 20% to 40% | 80% |
| 40% to 60% | 60% |
| 60% to 80% | 40% |
| 80% to 100% | 20% |
On top of this interest rate reduction, a break fee is often charged, which is typically around $30.
Neobanks compared: Payment options
Nowadays you can pay not just with your card or cash, but with your phone and even your smartwatch. These digital payment techs are known as digital or 'mobile' wallets, and enable you to pay for things in a secure and fast way. Prominent digital wallets include:
Being compatible with these platforms doesn't make a bank a neobank, but any 'new age' bank would be expected to offer at least some of the latest payment methods. While most of Australia's current crop of neobanks are compatible with all the prominent digital wallets, Xinja currently only offers Apple Pay and Google Pay. However, Xinja's product roadmap does list Samsung Pay as a future addition.
The table below lists each of the digital wallet options the neobanks are/aren't compatible with at the time of writing:
Neobanks compared: iOS and Google Availability
All of the current neobanks with savings accounts (86 400, Up, Volt and Xinja) are available via both iOS and Android/Google operating systems.
Savings.com.au's two cents
Neobanks could be set to shake up the banking industry, although there's a long way to go before they really challenge the big four or even the larger retail banks. According to APRA data, the big four had a combined $3 trillion in total residential assets as of December 2019.
The neobanks mentioned in this article, on the other hand, have just $1.6 billion in assets, most of which is held by Judo ($1.5 billion). Although:
This data doesn't include Up's assets, as its banking license is through Bendigo and Adelaide Bank
These banks are all very new: Volt is still in limited release as at February 2020
But don't let the lack of relative size put you off. Neobanks offer some extremely competitive rates and low fees compared to other much bigger banks, not to mention the abundance of features we haven't even mentioned yet, such as insights into your spending habits, budgeting tools, bill reminders and account aggregation, just to name a few.
Try comparing these neobanks to your current bank to see which better suits you.
---
Latest Articles