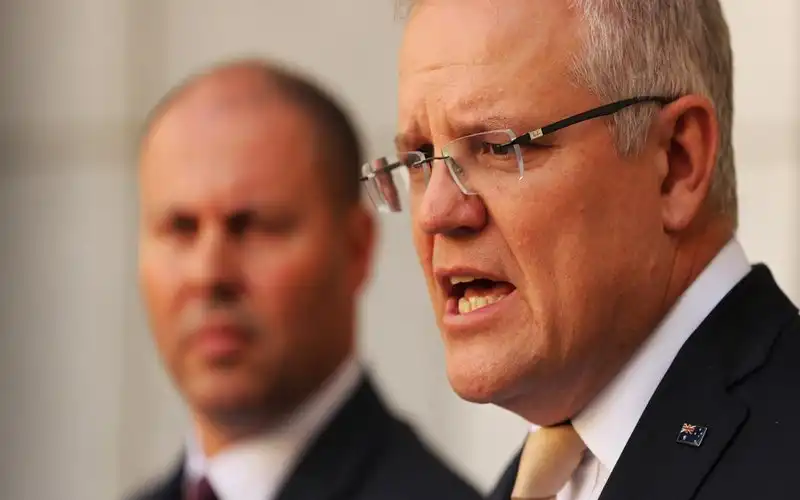 Source: Twitter
Scott Morrison has hinted at the JobKeeper scheme being extended past its September end date.
At a press conference on Wednesday, the Prime Minister said his Government was committed to financially supporting those who needed it.
"And I have been consistent in saying that there'll be a further phase of support [JobKeeper] that goes beyond September," Mr Morrison said.
"There will be a further phase of how we continue to provide support and as I was able to assure the Premier the other night, just like I can assure people in, in industries or in businesses or parts of the country that are more affected by COVID than others, then where there is the need, then there will continue to be support.
"And so this is about tailoring a national program to provide support where the support is needed and because of what has happened in Victoria, obviously the need there will be far greater than was previously and that need will be met."
Need somewhere to store cash and earn interest? The table below features introductory savings accounts with some of the highest interest rates on the market.

Mr Morrison denied extended support measures would be targeted at areas more affected by COVID-19 than others like Melbourne.
"That national programme of support will give people in the same areas of need the same support," he said.
"So it's not a state-based programme or anything like that, in the same way it has operated up until now.
"It's been something that has operated nationally and something that has been directed towards businesses that have had that fall-off in turnover and to their employees, and similarly JobSeeker is applied across the nation."
Treasurer remains tight-lipped
Speaking to Paul Kennedy on ABC News Breakfast, Treasurer Josh Frydenberg said there would be financial measures put in place to support the worst-affected sectors.
"There's going to be another phase of income support, the details of which will be announced on July 23," Mr Frydenberg said.
"We recognise that some sectors are going to recover more slowly than others. For example, the tourism sector as a result of the international borders being closed.
"We've announced a number of sector-wide specific packages for housing, for the arts, for tourism."
The Treasurer denied there would be any announcements earlier than the scheduled mini-budget date, due to the Victorian virus outbreak.
"What we are announcing on July 23 is an economic and fiscal update, which will give people a sense of where the economy is at, and obviously, developments in Victoria are very serious.
"They pose not only a health risk, but also an economic challenge as well."
As Melbourne goes back into lockdown and businesses close again, Treasurer @JoshFrydenberg says "there's going to be another phase of income support, the details of which will be announced on July 23." pic.twitter.com/7z1jsHVZok

— News Breakfast (@BreakfastNews) July 7, 2020
Economists have voiced their concerns the country is approaching a fiscal cliff in September, with the scheduled end of JobKeeper and JobSeeker, coupled with an end to home loan repayment deferrals.
However, on Wednesday the banks announced customers still experiencing financial hardship as a result of the pandemic would be able to extend their mortgage holidays for another four months if necessary.
---
Latest Articles