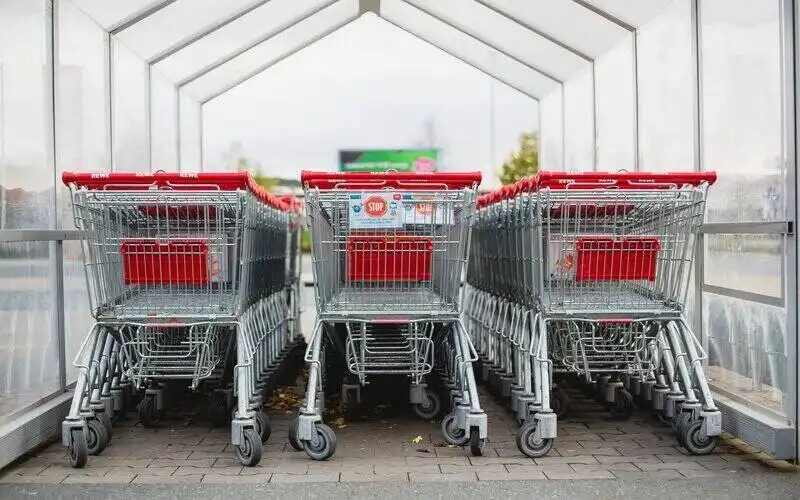 Photo by Markus Spiske on Unsplash
Retail turnover fell 1.5% in September, seasonally adjusted, after falling 4.2% in August.
The preliminary figures from the Australian Bureau of Statistics (ABS) revealed turnover rose 5.2% compared to September of last year.
ABS Director of Quarterly Economy Wide Surveys Ben James said the boom from COVID-induced panic-buying had now subsided.
"Food retailing, household goods retailing, and other retailing (which includes online only retailers) recorded falls this month," Mr James said.
"These industries have recorded elevated levels of turnover during the COVID-19 pandemic and continue to trade above the levels of September 2019."
Need somewhere to store cash and earn interest? The table below features savings accounts with some of the highest non-introductory and introductory interest rates on the market.
Lender

---

4

0

0

0

$product[$field["value"]]

$product[$field["value"]]

$product[$field["value"]]

More details

FEATURED

Savings Account (Amounts < $24k)

4

0

0

0

$product[$field["value"]]

$product[$field["value"]]

$product[$field["value"]]

More details

High Interest Savings Account (< $250k)

4

0

0

1

$product[$field["value"]]

$product[$field["value"]]

$product[$field["value"]]

More details

0

50

0

$product[$field["value"]]

$product[$field["value"]]

$product[$field["value"]]

More details

0

0

0

$product[$field["value"]]

$product[$field["value"]]

$product[$field["value"]]

More details
Rates based on a savings balance of $10,000. Sorted by total interest rates. Refer to providers' websites for bonus rate conditions and for any applicable fees and charges. Rates correct as of May 18, 2022. View disclaimer.
Australian Retailers Association (ARA) CEO Paul Zahra said the ABS preliminary retail trade figures can be interpreted with a sense of optimism for the all-important Christmas trading period.

"The figures show back to back drops in August and September. We interpret this as an adjustment or normalisation to the trend, which if you strip out the volatility of the past few months, has been quite strong," Mr Zahra said.
"Australian retailers make up to two-thirds of their profits during the Christmas period, and with Victoria opening up just in time, and continued government support in the form of tapered JobKeeper and JobSeeker, we expect to see reasonably positive data points during the Christmas period compared to last year."
Westpac economist Matthew Hassan said the figures were weaker than expected.
"Our card transaction data had suggested a firmer result in the month," Mr Hassan said.
"It is possible that shifts between cash and card usage may be skewing results – these had a clear effect during the nationwide lockdown back in April."
Clothing, footwear and personal accessory retail all recorded falls, which were slightly offset by rises in department stores, cafes, restaurants and takeaway food service, which recorded sharp falls in August.
After a 12.6% fall in August in turnover, Victoria recorded only a minor fall, but remains the only state to be trading below the level of September 2019.
"The situation can only improve for Victorian retail now Melbourne retail is days away from opening, just in time for Christmas trading which kicks off in earnest after Melbourne Cup," Mr Zahra said.
All states and territories, except for the Northern Territory, recorded a fall in turnover.
Deflation set to end
Westpac is forecasting a 1.1% jump in the Consumer Price Index (CPI), lifting the annual rate of inflation to 0.3% from -0.3% and taking the country out of deflation.
Westpac economist Justin Smirk said the jump would be driven by childcare, fuel, and education costs.
"Driving the bounce in the CPI is the 1,400% surge in childcare as the full government subsidy is unwound in all states except Victoria," Mr Smirk said.
"There is also the usual suspect in auto fuel lifting almost 14% as global crude prices jumped in Q3 while pre–school & primary education gained 11% as free before/after school care ended in all states except for Victoria."
Mr Smirk said inflation would be weighed down by the so far unclear impact of the Federal government's HomeBuilder scheme, and a correction in grocery prices.
"There is a lot of uncertainty about how these grants will impact on CPI dwelling prices with Westpac estimating a –4.2% fall," he said.
"Rents are forecast to fall –1.0% but this time it is more about falling market rates than government subsidies.
"This seasonal increase in health insurance premiums was delayed until October so the usual Q2 bump in hospital services won't appear until Q4.
"A positive growing season has seen a correction to whole fruit & vegetable prices and we expect this to have flowed through to retail prices."
---
Latest Articles