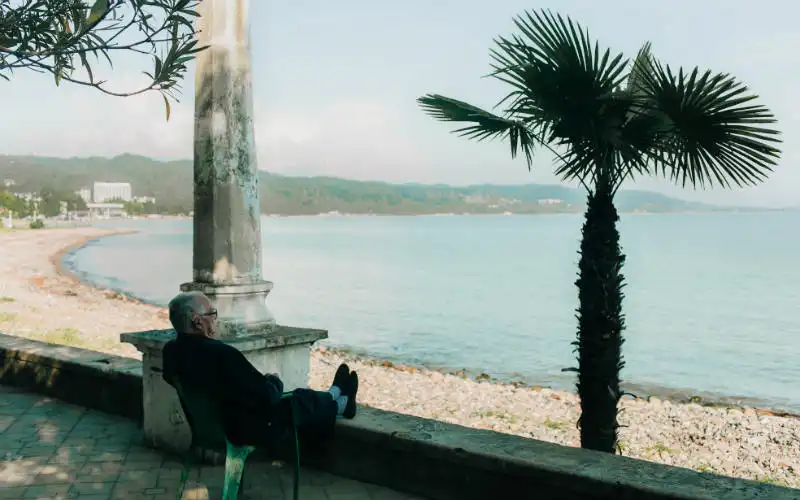 Photo by Elena Saharova on Unsplash
Savings.com.au takes a good hard look at the amount of money the average person needs to live a comfortable retirement.
You've finally done it- you've finally decided to take the plunge and retire from the workforce, ready to begin the next exciting – or dull, if you prefer that – chapter in your life. Five years later…you realise to your dismay that you've burned through your entire nest egg that was supposed to last you the rest of your life! You may then wish you'd planned better in your working years to save up enough for your retirement.
What is the retirement age in Australia?
In Australia, there's no definitive retirement age. Some wish to keep working until they drop dead, but many tend to retire around age 60 (the preservation age for the release of superannuation).
While age is an important factor, those wishing to retire should do so only when they're confident they have enough money and income-producing assets to live off without the need to work.
Given that many of your recurring expenses like food, bills, leisure and home improvements don't magically disappear when you stop working, you need to have a decent amount of money set aside to get you by. How much? Well, there's much debate as to what the exact number is.
US-based personal finance guru Suze Orman recently took to the media to savage ideals that you can retire in your 30s with $US2 million, describing that amount as 'pennies' and that you need at least $US5 million to live a comfortable life post-work.
"You need at least $5 million, $6 million," she was quoted as saying.
"Really, you might need $10 million. You don't know how long you're going to live and because you've done it when you're so young, if you start spending $350,000 a year, in not that many years, all your money is gone.
"If you only have a few hundred thousand dollars, or $1 million, $2 million … if a catastrophe happens, if something goes wrong, what are you going to do? You are going to burn up alive because you won't have the money to do it."
Her statement was criticised by many people around the world. But it does raise an interesting question: how much do you really need to retire comfortably?
Savings.com.au takes a look.
You don't need $10 million to retire
First things first, $US10 million like the figure Ms Orman quoted is over $AUD14 million. At an assumed earning rate of, let's say, 6% p.a., a fairly reasonable amount, that $14 million would return about $840,000 after one year, which is significantly higher than the average surgeon's salary.
Even in a standard savings account or term deposit, $14 million would go a long way. If you put $14 million in a savings account with a 2.80% p.a. interest rate (fairly high by today's low standards), you'd earn nearly $400,000 in the first year purely in interest. This assumes your savings account doesn't have a cap on the amount that can earn the maximum interest rate, which a lot of them do. But even a reduced interest rate would still earn you a fortune.
You'd get similar figures with term deposits. If allowed to invest that full $14 million, a five-year term deposit at 3.00% interest could earn more than $2 million in interest.
A lot of these calculations are hypothetical, but the end message is the same: the money you have in retirement is not meant to be stuffed under your bed. It's meant to be working for you, long after you yourself have finished work. One of the fundamentals of retiring is having enough passive income (such as through dividends and interest from investments) to provide for your daily needs.
Term deposits are a similar product to savings accounts, though they offer a fixed interest rate for a fixed term. If you want to earn a fixed interest rate on your cash, the table below features term deposits with some of the highest interest rates on the market for a six-month term.
How much do you need to retire?
While there will never be an 'official' amount (there are too many differentials from person to person) the most commonly accepted number is that put out by ASFA, the Association of Superannuation Funds of Australia. ASFA has a 'Retirement Standard' which was developed to help people budget for their retirement and is updated every quarter.
The ASFS Retirement Standard is broken down into two different categories:
A comfortable lifestyle, which enables an older, healthy retiree to be involved in a broad range of leisure and recreational activities, buying necessary and unnecessary goods and services as well as occasional travel.
A modest lifestyle, considered better than the Age Pension but still only allows for the basics.
These categories are then further broken down into singles and couples. According to ASFA's 2018 Retirement Standard report, these are the savings amounts required at retirement for singles and couples for living either modest or comfortable retirement lifestyles:
| | Single | Couple |
| --- | --- | --- |
| Modest lifestyle | $70,000 | $70,000 |
| Comfortable lifestyle | $545,000 | $640,000 |
These figures assume the retiree is between 65 and 85 and their investments earn a rate of 6% per annum. It also assumes the retiree owns their own home, so the money isn't going towards paying mortgage repayments or rent.
So what does the money go towards?
ASFA budget breakdowns
ASFA also does detailed budget breakdowns when formulating the retirement amount required for each category. These budgets are broken down into:
Housing expenses
Electricity and gas
Food
Home phone & internet bills
Household goods & services
Clothing and footwear
Transport
Health services
Leisure
For the average 65-85 year old in retirement, total weekly expenditure is equal to $1,165 for a comfortable couple's lifestyle and $528 for a modest single person. You can see what these expenses are broken down into in the infographic below.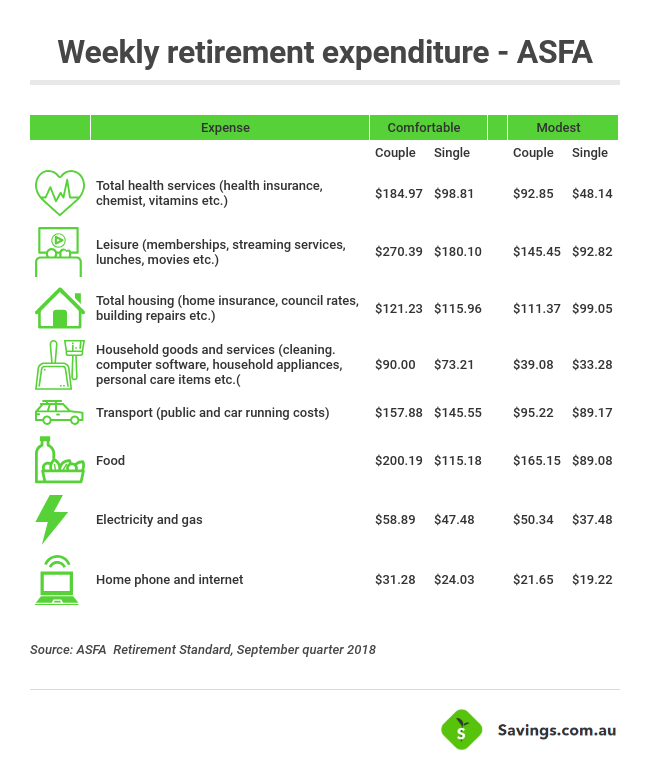 So a 65-85 year old couple seeking a comfortable retirement would require greater weekly expenses for things like top-level health insurance, operational air-conditioning, domestic and international travel, good clothes…you get the idea. Those seeking modest retirement should follow the modest budget, which only allows for things like limited home improvements, limited talk & text mobile plans, basic health insurance, occasional eating out experiences etc.
Those only on the age pension can afford even less than this. Retirees over 85 also have lower average weekly spends, but do spend more on things like health and home assistance and less on new clothes and travel.
Can savings accounts get you there?
Let's say you wanted to hit the ASFA requirement for a single, comfortable retirement: $545,000.
Savings account (and term deposit) interest rates are pretty low at the moment, much less than you can get through a diversified investment portfolio. The higher end of the savings account scale gives you interest rates of about 2.8% to 3% per annum. Comparatively, global shares have returned an average of 7.2% over the past 10 years, while Australian residential property has averaged returns of 8%.
If you wanted to reach $545,000 with a savings account interest rate of 2.80%, it would take you a while to get there. According to ASIC's savings goal calculator, starting with $10,000 means it would take you:
40 years at a savings rate of $581 per month
30 years at a savings rate of $924.5 per month
20 years at a savings rate $1,638 per month
10 years at a savings rate of $3,836 per month
These calculations assume you want to retire at the ASFA-accepted age of 65.
So it's very much doable – the earlier you start the more doable it is. Saving $581 per month isn't too far off the average savings rate for people aged 25-34, who save about $530 each month. But the later you get the more you have to save. If you start from scratch at 55, you need to magic up $3,836 a month to hit this target.
What about superannuation?
Of course, these figures are without the biggest contributor to retirement balances – superannuation – which for most people is a far more effective tool at saving money for retirement. It's mandatory, passive, more tax effective and in most years will give higher returns. According to ASFA (again), the industry-wide average for registered super funds for the year ending September 2018 was 8.1%.
But superannuation isn't perfect, and more ASFA data shows it currently isn't quite enough. The average 35-39 year old has $56,715 in super – nearly $500,000 less than needed, although time is on their side. Closer to the 65-85 age bracket, 50-54 year olds have around $135,000 on average, so they have 10 or so years to accumulate another $400,000.
Younger generations will likely have more super since they've been able to utilise it for longer, but ideally, you'd want to have a combination of:
Regular savings
Superannuation
Some money in an investment portfolio
Should you pay off your mortgage before you retire?
You do not want to be paying off a home loan after you stop receiving a regular income from working. The average monthly mortgage repayment can easily be in excess of $2,000, and according to data from the ABC, 30% – aka the mortgage stress level – is the average mortgage repayment as a percentage of take-home income.
Mortgage repayments take up a large chunk of people's income, and ASFA's Retirement Standard Budget doesn't account for these repayments in its final calculations, so those final figures discussed above are exclusive of mortgage payments. Yet there's been a rapid rise in the number of people still carrying mortgage debt once they hit 65.
ABS figures show 12% of people over 65 now have mortgage debt, up from 4% in 2002. Retirees being forced to pay off mortgages could lead them to draw down on their superannuation, potentially leaving them at the whim of the aged pension.
So pay off your home loan before you stop working. The same goes for other major debts, like credit cards and car loans. No matter what debt you have, pay it off.
Savings.com.au's two cents
You don't need to be a millionaire to retire. You don't even necessarily need the hundreds of thousands specified by ASFA for a comfortable retirement, although it is recommended. You can get away with less than this as long as you know how much you normally spend and have some left over for both investing and saving for emergency expenses.
But if you want to play it safe, those seeking a comfortable retirement need roughly:
$545,000 (if single)
$640,000 (if in a couple)
Whether you plan on living comfortably, frugally or in total glutinous excess once you ditch the 9-5, make sure you do so without a mortgage hanging over your head, no matter what.
---
Latest Articles