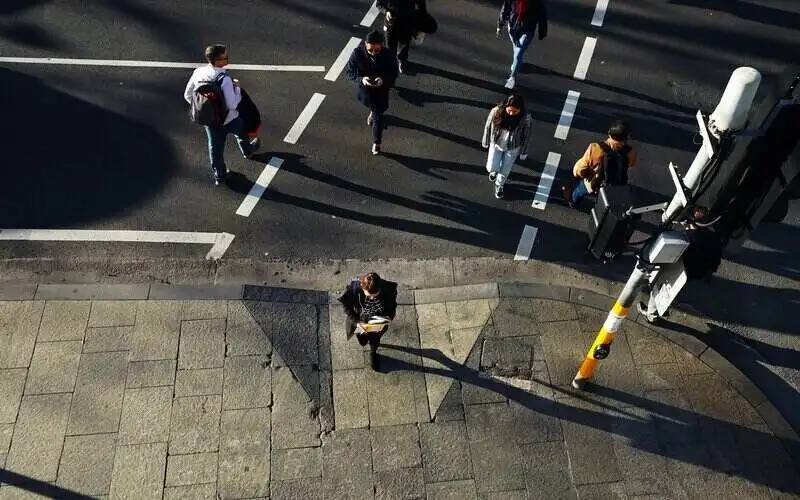 Australia's unemployment rate fell to 6.6% in December 2020 from 6.8% in November, seasonally adjusted.
The figures from the Australian Bureau of Statistics (ABS) demonstrate a significant recovery in the labour force to end the year, far from the forecasts made only months earlier the rate would be in double digits.
The figures were overall as expected, with the market accurately predicting there would be 50,000 jobs added between November and December.
Need somewhere to store cash and earn interest? The table below features savings accounts with some of the highest interest rates on the market.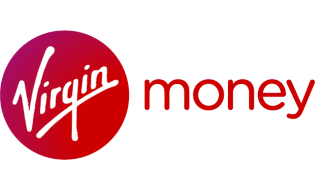 Advertisement
Boost Saver - Savings Account
Product Features
Zero monthly fees. Maximum rewards. Red hot savings rate.
5,000 bonus points points when you take out a new Virgin Money Go Account
Bundled with the Virgin Money Go transaction account
Highest
variable rate
1.20%†
Base
variable rate p.a.
0.10%
Enjoy up to 1.20% p.a. with your bundled Virgin Money Boost Saver
Product Features
Zero monthly fees. Maximum rewards. Red hot savings rate.
5,000 bonus points points when you take out a new Virgin Money Go Account
Bundled with the Virgin Money Go transaction account
Head of labour statistics at the ABS, Bjorn Davis, said there was 784,000 more people employed in December compared to May, demonstrating the incredible recovery seen in the job market.
"Employment finished the year 0.7% below the March level, having fallen 6.7%, or 872,000 people, between March and May," Mr Davis said.
"Although employment has recovered 90% of the fall from March to May, the recovery in part-time employment has outpaced full-time employment.
"While part-time employment was higher than March, full-time employment was 1.3% below March.
"The recovery in hours worked has been slower than the recovery in employment."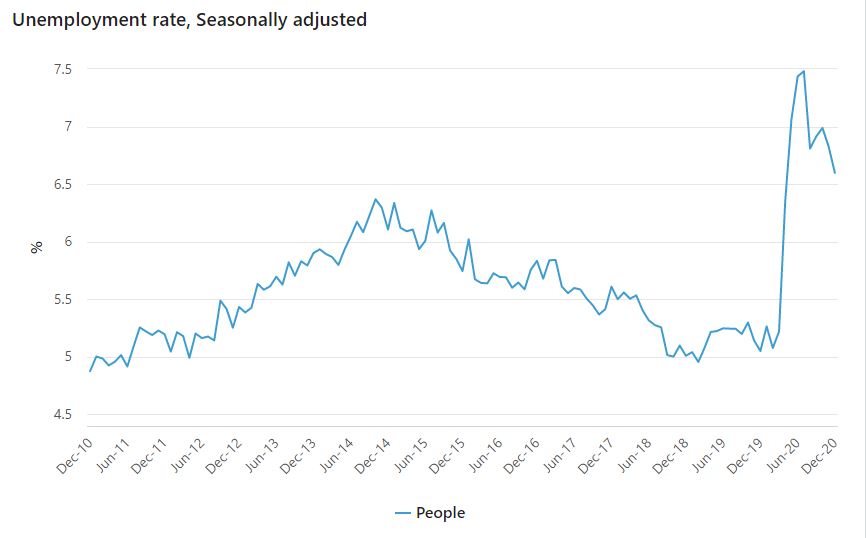 Source: ABS
The participation rate, the measure which represents the labour forece as proportion of the population above the age of 15, increased by 0.1 percentage points to a record high of 66.2%.
"The rise in the participation rate reflects a net increase of around 20,000 people in the labour force in December," Mr Davis said.
"There were 108,000 more people in the labour force than in March – 196,000 more unemployed people and 88,000 fewer employed people."
Treasurer Josh Frydenberg labelled the figures encouraging but warned there was still work to do.
Around 90% of the 1.3m Australians who lost their job or whose working hours were reduced to 0 at the start of the crisis are now back at work.

The road ahead will be hard but with the Morrison Govt delivering $251b of direct economic support, Australians know we have their back

— Josh Frydenberg (@JoshFrydenberg) January 21, 2021
Australian Council of Social Service acting chief executive, Edwina MacDonald, said the employment growth was welcome but more jobs needed to be generated.
"But with one and a half million people on unemployment payments and only two thirds of full-time jobs lost during the recession restored, we still have a long way to go to provide paid employment to all who need it," Ms MacDonald said.
"We know that for every job vacancy, there are nine people looking for a job or more hours, and that this is even worse in many regional areas.
"What's more, we still have to generate enough jobs for people entering the labour market, including over 200,000 school leavers."
Youth unemployment dropped by 1.7% but still remained high at 13.9%, while the youth participation rate fell by 1.1 percentage points to 68.6%.
Prior to the release of the figures, NAB economist Tapas Strickland said the labour force was in a far better place than most had predicted.
"Recent job vacancy data (11.9% above pre-pandemic levels) and consumer unemployment expectations (around 2019 levels) suggests the risk for the unemployment rate is that it falls far more quickly in 2021 than both the RBA and Treasury have forecast," Mr Strickland said.
The encouraging figures will likely reinforce the Federal Government's position that JobKeeper will come to an end, and JobSeeker will return to its pre-COVID level of $40 a day at the end of March, despite widespread calls for extensions to both.
---
Photo by Rose Lamond on Unsplash