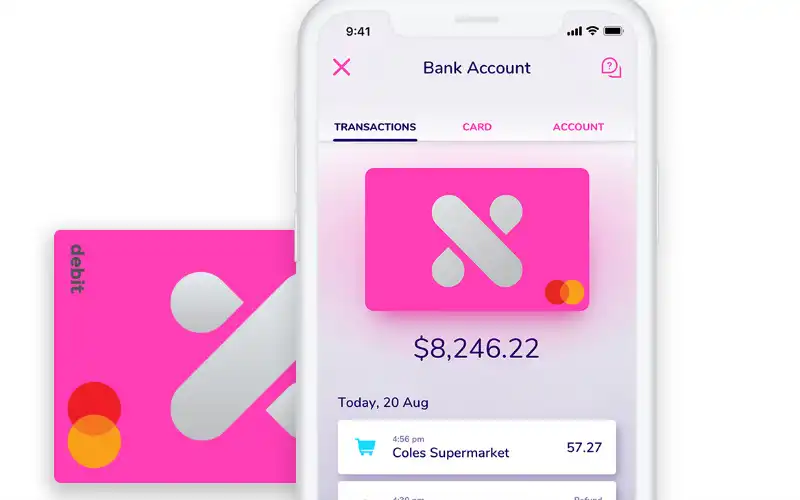 Image source: Xinja
Xinja Bank is expanding its product suite, launching a US share trading service called "Dabble" for existing customers.
Xinja, which launched earlier this year and as at May 2020 had $467 million in customer deposits, is set to launch its US share trading platform Dabble in-app, pending regulatory approval.
Need somewhere to store cash and earn interest? The table below features introductory savings accounts with some of the highest interest rates on the market.
Lender

---

4

0

0

0

$product[$field["value"]]

$product[$field["value"]]

$product[$field["value"]]

More details

FEATURED

Savings Account (Amounts < $24k)

0

200

0

$product[$field["value"]]

$product[$field["value"]]

$product[$field["value"]]

More details

PremiumSaver (Amounts < $250k)

3

0

0

0

$product[$field["value"]]

$product[$field["value"]]

$product[$field["value"]]

More details

0

10

0

$product[$field["value"]]

$product[$field["value"]]

$product[$field["value"]]

More details

4

0

0

1

$product[$field["value"]]

$product[$field["value"]]

$product[$field["value"]]

More details

WebSavings Account (New Customer) ($2,000+)
Rates based on a savings balance of $10,000. Sorted by total interest rate. Refer to providers' websites for bonus rate conditions. Note that the base rate will apply once the introductory term has passed. Rates correct as of May 26, 2022. View disclaimer.
According to the neobank, Dabble will sit alongside the Xinja bank account and 'Stash' savings account, and will "provide quick and easy access to US shares".
Xinja says it will offer access to more than 3,000 different US stocks and will charge customers less than traditional services:
$0 brokerage fees;
An $8 monthly subscription fee for unlimited trading;
A 1% FX (foreign exchange) fee, or international transaction fee
Xinja says other trading firms can charge brokerage as high as $19.50 per trade + FX fees, while in an "Australian first", Xinja customers can also access something called fractionalised trading, allowing investors to buy fractions of shares for as little as $1.
Xinja Bank founder and chief executive Eric Wilson said Dabble will give investors access to an alternative investment option, during a time when interest rates are at record lows and the ability to earn a decent return on invested funds also remains quite low.
"We are offering low cost, easy access via the Dabble platform, and the option to buy a portion of a share, which we hope opens up markets and investing to people who want to grow their wealth over the long term," Mr Wilson said.
"Many US-listed companies' shares trade at very high prices, which locks a lot of people out of the market. So while brand recognition for leading US companies is very high, few people invest directly.
"Entering the market hasn't been easy. We want to lower the cost and make it simpler to bring those opportunities to Australians."
Xinja attracted some criticism recently for halting applications for new customers to its Stash account.
However, this is not a concern for those looking to use Dabble, as this only applies to the Stash account, and not Xinja's transaction account.
Customers who want to sign up to Xinja and use Dabble can still do so by signing up to a transaction account, which is still possible at the moment.
[Read: How 86 400 plans to ramp up its banking game]
Dabble not for day traders
In an interesting move, Dabble will move to cut out riskier 'day trading' on its platform, which soared in popularity at the height of COVID-19 panic according to ASIC analysis.
According to Xinja:
Investors can only invest as much money as currently in their bank accounts;
Leveraged ETFs have been filtered out
Investors who buy and sell a stock within a day, 4 days in a row (known as pattern day trading), will have their account blocked
Dabble will also exclude weapon and tobacco-related stocks from its listings.
"Shares are volatile. The value of stock can go up and down, so you should never invest more than you can afford to lose," Mr Wilson said.
"You should not be investing in shares for short-term gains. It is not for everyone because of the risks involved.
"But over the long-term, and particularly when interest rates are so low, shares can provide investors with access to growth markets and economies, and potentially better returns."
Other key details about Xinja's Dabble app:
Customers will be able to monitor their investments, and ETF and share prices, in both $A and $US in the app;
Orders will be automated, and executed when the US market is open;
Once an investor decides to buy a share, or a portion of a share, the order is placed and executed as soon as the US share market opens for business;
Via Dabble, the only delay will be the time difference between Australia and New York, not several days
At first glance, Xinja appears to operate on a similar pricing model to the likes of Stake and Hatch, other US share trading services that incur no brokerage costs on transactions and instead rely on FX charges and monthly service fees.
There are around a dozen platforms in Australia allowing US shares to be traded, including ones from major banks CommBank (Commsec), NAB (Nabtrade), Westpac, ANZ Share Investing, and other platforms such as IG Markets and Interactive Brokers.
---
Latest Articles