An analysis of consumer spending data released today by illion and AlphaBeta has found that retail spending in Australia surged in the week 6 -12 July, driven by the second round of early super withdrawal and in anticipation of the second $750 stimulus payment from July 13.
In the week to 12 July, 581,000 people applied to withdraw their super early according to data from the Australian Prudential Regulation Authority (APRA) released on Monday.
Of these, 109,000 were first time applications while 472,000 people were applying for a second withdrawal of up to $10,000.
Over this same week, data from the illion and AlphaBeta report shows that retail spending spiked 17% above normal levels.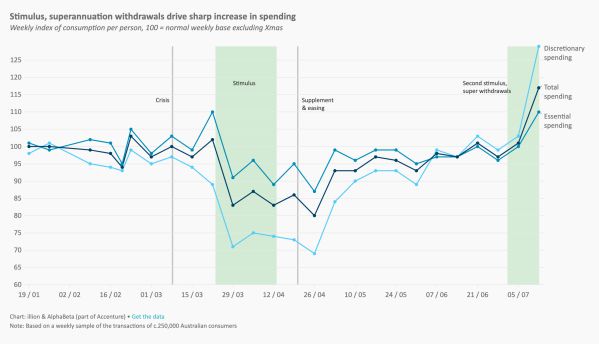 AlphaBeta Director Dr Andrew Charlton said this increase in spending was driven by government handouts.
"Consumer spending across all states except Victoria has skyrocketed and this is due to stimulus and super payments," Dr Charlton said.
"The most interesting part of this data is that while super and stimulus payments have accelerated spending, we are now also seeing spending creep up to pre-COVID levels from those who did not receive such support."
The report also found that when taking these factors out of the analysis, spending for the week dropped 2% below normal levels.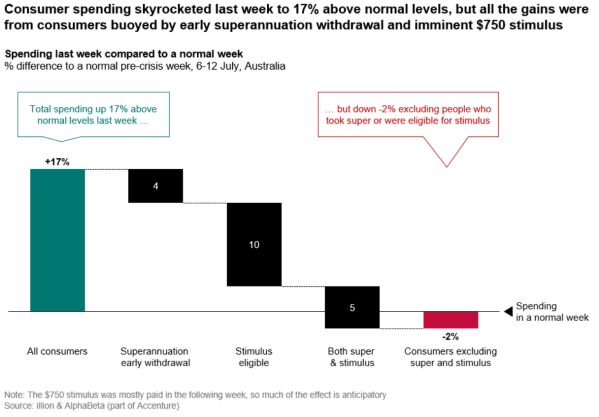 Over 2.8 million Australians have applied for the early super withdrawal scheme since it kicked off, with more than $2.8 billion paid out under the scheme so far.
Under the scheme, applicants can withdraw a maximum of $20,000 (two lots of $10,000) from their superannuation via the Australian Tax Office (ATO) if they have been made redundant or had their income reduced by more than 20%.
The average withdrawal amount so far is just over $8,000.
As for what Australians spent their money on, the report found that food delivery spend was up 294% in the week to July 12 compared with a normal week, while furniture and office spend wasn't far behind (up 114%), followed by department stores (up 54%), online gambling (51%), health services (49%) and home improvement (40%).
Department store spend is up 54% from pre-COVID levels, while spending on gyms and public transport remains lower than pre-pandemic levels but has improved slightly.
However, spending in Victoria was 15% below other states in the week to 12 July which included four days of the full Melbourne lockdown and NSW closing the border.
Commonwealth Bank weekly credit card spending data, released today, also shows that spending is 11.4% higher over the week than it was a year ago - despite Australia entering its first recession in 29 years.
In a tweet, finance guru Ross Greenwood said he suspects this is being driven by people spending government handouts.
My gut-feel is that some of these people are spending the Government handouts, not their hard-earned Cameron. Also, remember, anybody under 50 hasn't worked through a recession before.

— Ross Greenwood (@Ross_Greenwood) July 20, 2020
Online spending also rose sharply, up 22.2% for the week ending 17 July compared to the same time last year.
The reopening in some parts of the economy can clearly be seen in CBA's Household Spending Intentions series for June, which shows a boost in spend on retail, homebuying, entertainment and domestic travel.
But the data does not take into account the recent COVID-19 lockdowns in Victoria.
"While the more recent increase in Covid‑19 cases in Victoria and the subsequent re‑introduction of lock‑down measures is a concern, the data for June shows solid recovery in spending intentions for home buying, retail, travel (off a low base) and entertainment," CBA's Global Markets Research team said.
"There is some concern that rising coronavirus cases in NSW and VIC as well as uncertainty over the continuation of government income support could impact spend nationwide."