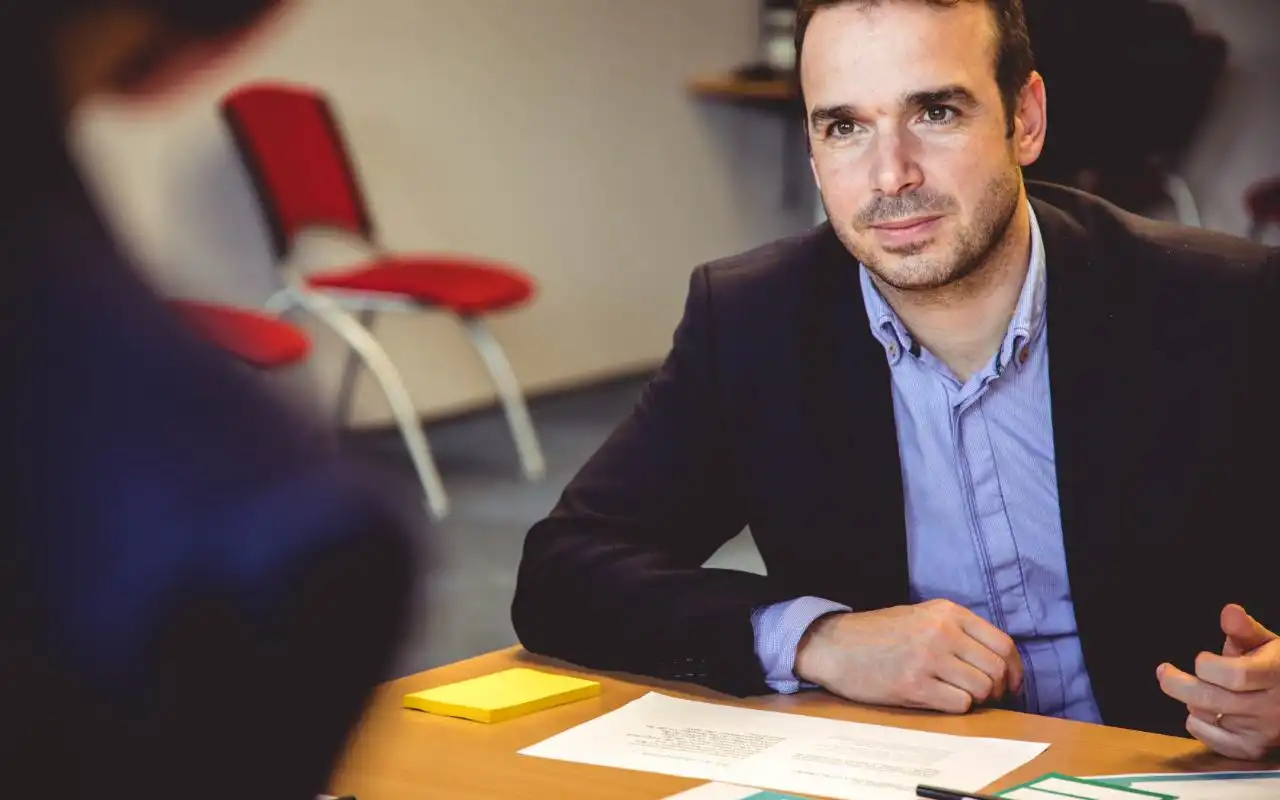 Photo by Johanna Buguet on Unsplash
Need to consult a mortgage broker, but unsure who to trust? Michael Brown from Mortgage Broker Sydney sheds light on the ideal broker.
Engaging a mortgage broker should be an exciting time. For many, it means taking their first steps onto the property ladder. For others, it means adding to an already existing portfolio or refinancing an existing mortgage product to receive a more favourable rate.
Mortgage Brokers, like any service, vary in their quality. It's important that you know what to look for in a broker so that you can choose one that's right for you. This article will explore the top nine things to look for in an expert mortgage broker.
1.
They do their research
From the second you start speaking to a mortgage broker they should be trying to get to know you. They should want to understand more details about your income, spending habits and lifestyle. It's a bad sign if a broker wants to push your mortgage through as quickly as possible without getting to know some of the more nuanced details about your situation.
An experienced broker will have an onboarding questionnaire. The questionnaire is used to gather important information that will help inform the advice provided, such as:
What is your occupation?

What is your employment type e.g. PAYG full time, contractor or self-employed?

How long have you worked for your current employer?

What is your salary?

What is your relationship status?

Do you have any dependents and what are their ages?

How much does your household typically spend each month on groceries, utilities, etc.?

Are these costs likely to change in the future?

What is the primary reason you are seeking a loan?

What are your main requirements and objectives?
It's okay if you don't want to fill out the questionnaire. No matter what any broker tells you, it's not essential that you complete their questionnaire before your first meeting. However, it will make the broker's job a lot easier. If you don't want to give any information before you get to know your broker you can ask them to bring example loan solutions to your first meeting, which can then be tailored to your needs once they better understand your goals.
2.
They have positive reviews
Thanks to social media and product/service review sites it's easier than ever to scope out a business before you make a purchase. The introduction of 'online star' ratings means that you can find the best local restaurants, hotels, and more in a matter of minutes. Mortgage brokers are no exception – the majority of brokers will have various online profiles where they receive, and often respond to real customer reviews.
Here are our two favourite places to look for unbiased reviews:
Google my business
You can find a Google My Business profile by searching for the name of the mortgage broker in Google or on Google Maps. For example, if you search for 'Mortgage Broker Sydney' you'll find our Google My Business profile: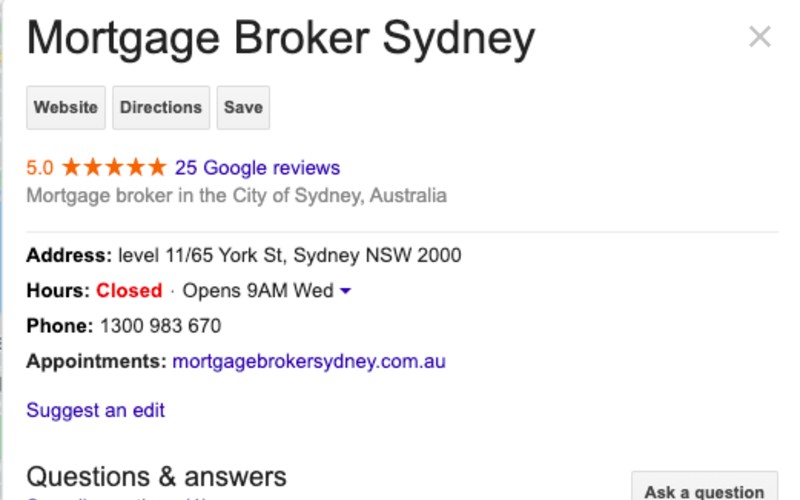 ProductReview.com.au and other comparison sites
Product Review is a customer-driven review site. It's similar to Google My Business, but there's the added bonus that you can quickly switch between different services in the same category.
It's a really good sign if the broker has a profile on Product Review, or on other independent review sites, because it means they're sure enough of their services that they are willing to publicly put their reputation on the line.
3.
They're experienced
When it comes to mortgage broking, experience is key. This is especially true if you are seeking a mortgage under atypical circumstances – for example, poor credit or a complex refinancing. An experienced broker will have seen your particular circumstances before, or at least similar circumstances, and will have the knowledge to react accordingly.
How much experience?
That's a very good question and there's no 'correct' answer. There are mortgage brokers with five years' experience that outperform some with 10 or 20. However, as a general rule of thumb, look for a broker with 5+ years' experience. This is just a guideline – if you find a broker with only a few years' experience and you think they're the right person for the job then go with them.
4.
They're transparent about how they receive their commission
One of the great things about Australian mortgage brokers is that there is no fee associated with engaging their services. This is because mortgage brokers are paid a commission by the lender once the loan is secured. They may also be paid a trailing commission by the lender as you make your repayments.
It's a good sign when a mortgage broker is very open about how they get paid. If a mortgage broker isn't clear about the way they're remunerated it's a sign that you should avoid them.
5.
They explain the fees associated with taking out a mortgage
Even though engaging a mortgage broker won't cost you anything, there are still a range of fees associated with taking out a mortgage. Your mortgage broker should make you aware of the following costs/fees:
Borrowing costs: loan application fees, valuation and settlement fees

Stamp duty & mortgage registration fees: charged by state and territory governments

Exit or break fees: if you decide to switch lenders midway through your mortgage, your existing lender has to be compensated for any loss they incur. It's important that you receive a quote before you break your current mortgage, as the fees can be expensive.

Lender's mortgage insurance: only applicable if you're borrowing more than 80% of the value of the property

Charges for loan features: the cost of redraws in branch or online, offset accounts and package products
6.
They have a diverse lender panel
A mortgage broker's lender panel is the list of lenders that a broker is qualified to work with. A diverse lender panel is a good sign, because it means that the broker won't simply be funnelling you to the one or two lenders that they receive the most commission from.
It's also advisable to ask for a breakdown of which lenders they use most frequently (with percentages). Just because a broker has a diverse lender panel does not mean they are using all of those lenders – they may be favouring one or two lenders that provide the most favourable commission structure.
7.
They have all of the appropriate education/training
Not just anybody can be a mortgage broker. Mortgage brokers are trained and licensed and are experts in communicating between borrowers and lenders. All good brokers, at a minimum, will have the following 3 things:
Certificate IV or a diploma in Finance & Mortgage Broking
Operates under an Australian Credit Licence (ACL) – obtained through the Australian Securities and Investments Commission (ASIC). A broker will either have their own ACL or be a Credit Representative of a Licensee
They are a member of a professional organisation such as the MFAA or the FBAA
8.
They're not owned by big banks
Mortgage Broker Sydney is not owned by a big bank. However, it is very common in the industry for brokerages to be owned by banks. If a mortgage broker is owned by a big bank (or any bank) they are much more likely to recommend a mortgage product from their parent organisation. This means they are less likely to recommend a mortgage that is the perfect fit for your circumstances.
9.
They make you aware of how to make a complaint
When you start working with a mortgage broker they should make you aware of the procedure for lodging a complaint. There are two types of complaints: i) internal and ii) external. Your mortgage broker should let you know how to make both types of complaints.
i) Internal complaints
Internal complaints are fairly straight forward. Most businesses will make you aware of their customer service contact number as a courtesy. Customer service numbers are a good way to get additional information about your service or to lodge a complaint if you're not satisfied. If you're unhappy with your mortgage broker this should be your first port of call before escalating to a higher authority. Most issues can be resolved between you and the broker.
ii) External complaints
As I mentioned above, if you are unsatisfied with your broker you should make a complaint to the broker's organisation directly. If you still don't get the response that you're looking for you can make a complaint to the Australian Financial Complaints Authority (AFCA) at any time.
You can contact the Australian financial complaints authority as detailed below. The AFCA provides fair and independent financial services complaint resolution that is free to consumers.
Telephone: 1800 931 678
Email: info@afca.org.au
Website: https://www.afca.org.au
Mail: GPO box 3, Melbourne, VIC, 3001
Summary
To summarise, here are the 9 things that you should be looking for in a mortgage broker:
They do their research to understand your individual circumstances (usually through an initial questionnaire or conversation)

They have positive reviews (check Google My Business and Product Review)

They're experienced (ideally five years or more)

They're transparent about how they receive their commission

They explain the fees associated with taking out a mortgage

They have a diverse lender panel

They have all of the appropriate education/training

They're not owned by big banks

They make you aware of how to make a complaint
Michael Brown is a Principal at Mortgage Broker Sydney. He's worked in the finance industry for more than 30 years and has helped countless young couples and singles access the finance they need to purchase their first home.
---
Latest Articles