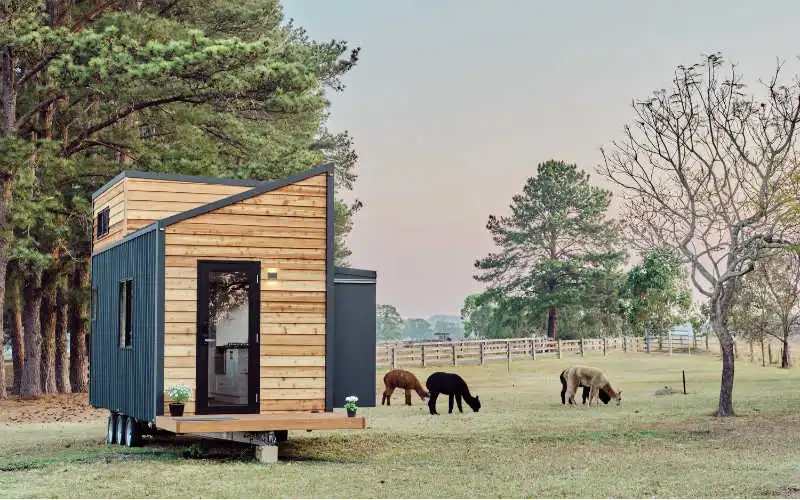 Photo supplied by Häuslein Tiny House Co
With the average price for Australian property seemingly on the rise again after recent falls, housing affordability remains an issue for many Australians. Could tiny houses be a solution?
The latest Domain House Price Report shows the median house price increased by 2.7% to more than $770,000 over the September 2019 quarter, while 68% of Australian home sellers expect prices to continue to rise in the next six months.
And while home loan interest rates may have fallen to record low-interest rates lately, that isn't doing much to boost confidence.
In fact, the Westpac-Melbourne Institute Index of Consumer Sentiment reported an 8.4% fall in consumer confidence since the Reserve Bank started cutting interest rates, while a study by CoreLogic in late-September found 90% of millennials are concerned they won't ever achieve the 'Australian dream' of owning a home.
With so much apathy being displayed towards buying a home, could tiny houses be the answer to buyers' woes?
How can tiny houses help?
According to the Internation Residential Code (ICC), a tiny house is defined as a dwelling under 400 square feet (or 37 square meters). A standard home, by comparison, is roughly 2,500 square feet (230 square meters).
So basically they're just smaller versions of houses, and they're usually built with wheels and a trailer underneath so they can be moved like a caravan.
The tiny house movement gained traction in America during the late noughties as the global financial crisis hit, with many people looking to sell their expensive, large homes to move into smaller, more affordable ones.
Although the movement continues to gain traction, the national Association of Realtors (American) found homes under 1,000 square feet only account for around 1% of purchases – and many of those wouldn't even qualify as tiny houses.
Häuslein Tiny House Co – Häuslein translating to 'little cottage' in German – has just unveiled two new tiny house models in Australia as the demand for smaller, more efficient living continues to grow.
Sarah Rohdich, Co-Founder & Operations Manager of Häuslein Tiny House Co, said the demand for affordable housing, as well as the desire to live minimally with a reduced carbon footprint, has led to this increased demand.
"The launch of the two new models addresses more of the market and makes affordable housing more realistic," Ms Rohdich said.
"With no need for a 30-year mortgage, high deposit or static location – these tiny houses on wheels are registered as a caravan and can be purchased with a variety of finance offers."
The two new models include the 'Little Sojourner' (top) and the Grand 'Sojourner' (bottom), which are the smallest and largest in the Häuslein tiny house range respectively.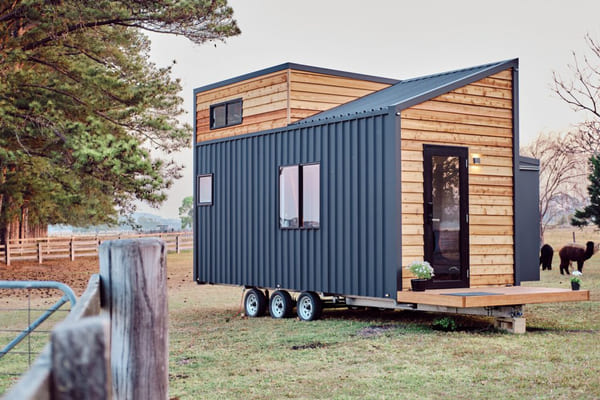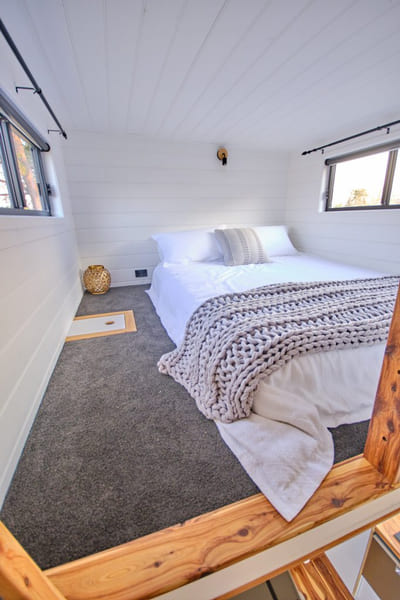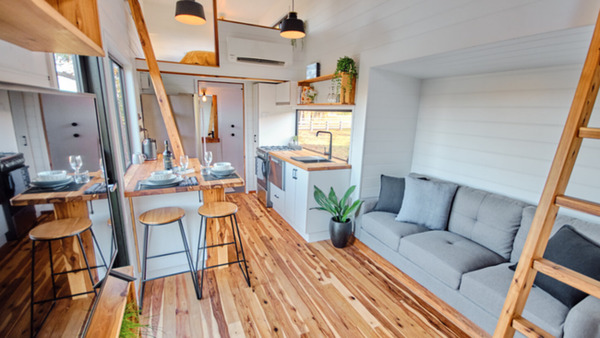 Images supplied.
The Little Sojourner
Is 6m long
Is 2.5m wide and 4.3m tall
Has 20sqm of living space
Has 1 queen bed, 1 bathroom and laundry
Full kitchen and flip-up deck
Can be towed by 4WD owners for flexibility
The Grand Sojourner
Is 9m long
2.5m wide and 4.3m tall
32sqm of living space
Downstairs bedroom and two lofts, can sleep up to six people
Full kitchen and living space, bathroom and laundry
"As a young family we are personally drawn to simple and sustainable living and prefer to forgo a draining 30-year mortgage," Ms Rohdich said.
"We love being able to put our own tiny living experience into every aspect of our designs. This ensures that each design decision leads to maximum livability, durability, aesthetics and functionality."
How much do tiny houses cost?
Tiny houses can be a very cost-effective way of living: according to Ms Rohdich, you can buy a "very nice" tiny house for $100,000 – roughly 10 times cheaper than the median house price in Sydney and seven times cheaper than the median unit.
"A tiny house is in many ways a 'common sense' investment, especially with the Australian housing market as it currently is, and particularly for those looking to break into property ownership without bearing the burden of a draining 30 year mortgage," she told Savings.com.au.
"To begin with, a tiny house has a much smaller overall price tag, enabling owners to become debt free in as little as three-five years.
"And in a short space of time, a large percentage of their income will be freed up to pursue other things."
A high-end tiny house can be bought for what amounts to a 20% deposit on a Sydney home.
She also said the savings on principal and interest repayments are gigantic.
"According to data from the ABS and Core Logic, someone with a standard house or unit in Sydney is probably making monthly repayments of $2,200 on their $500k mortgage," she said.
"And at that pace, they will chip away at repayments for as long as 30 years. By comparison, if you paid $2,200 per month on a $100k tiny house you would have it paid off entirely in under 4 years.
"The total interest repaid on the mortgage over the course of the loan could buy two-three tiny houses."
Drawbacks to consider
Of course, tiny houses aren't a one-size-fits-all solution, and they definitely aren't for everyone.
Living in a much smaller living space would be a struggle for some, and Ms Rohdich says the reality of downsizing is something that needs to be considered.
"Many of us do crave a simpler life and a tiny house can definitely help with that but it's important to think through the practicalities," she said.
"For example, how big (or small) of a wardrobe can you live with, how will you manage entertaining if this is something you love.
"There is no shortage of creative and innovative solutions for just about everything but it's worth getting the day to day logistics clear before you jump right in!"
Another potential disadvantage of having a tiny house is the lack of attached land, with not every location being suitable for a tiny house.
However Ms Rohdich says there are ways around this, and councils are becoming more open and willing to accept tiny homes as viable long-term dwellings.
"Tiny houses are legally classed as caravans and currently fall under caravan legislation," she said.
"There's an incredible allowance in Australia for parking a tiny house in the backyard of an existing dwelling and having a household member living in it full time without any council approval."
So you can park your tiny house in a friend or family member's backyard if you have their approval, and can use it as a sort of nicer granny-flat.
"It (a tiny house) can also be placed on a vacant block if it is used no more than 60 days per year and no more than 48 hours at a time, without any council approval required."
Resources and information on tiny houses are available from the likes of the Australian Tiny House Association and Tiny Real Estate.
---
Latest Articles