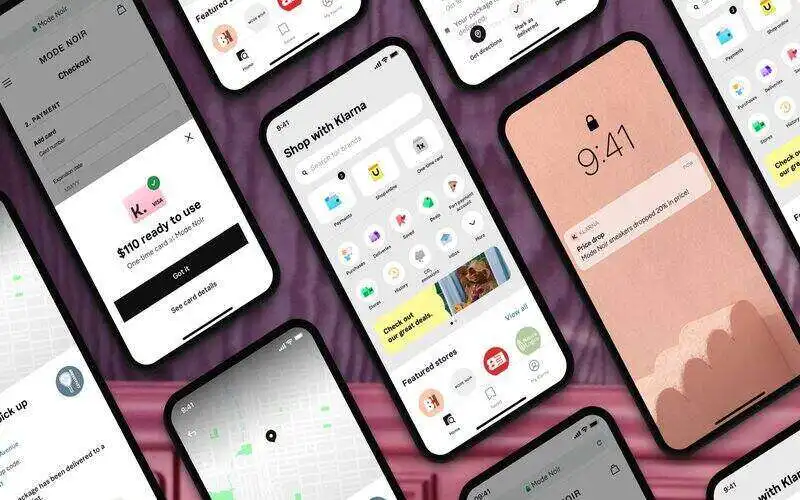 Customers can now shop and pay later anywhere in-store or online through the Klarna app with Klarna's 'unique' and 'interest-free' virtual one-time cards.
The introduction of an interest-free virtual one-time card system means customers can now use Klarna's payment methods at all online shops regardless of whether they are directly partnered with Klarna.
This comes just days after it axed late fees on some purchases, and the platform was also criticised by some in the industry as being too narrow in scope - only available across a select few retailers.
The push by Klarna for an all-in-one destination for customers comes after Klarna reported majority of consumers across the globe are shopping more on their mobiles today than two years ago.
Conducting a study of more than 13,000 participants across 13 countries Klarna, in collaboration with research agency Dynata, found the trend towards mobile shopping is significant across younger demographics.
Research found:
76% of 18-24 year olds and 71% of 24-40 year olds are using their phones more frequently to shop than two years ago.

73% of 18-24 year olds and 68% of 24-40 year olds believe they will shop even more on their mobile phones in the next five years.
Further, Klarna reported 70% of mobile customers would prefer to have one single app incorporating all the features of the shopping apps they currently use.
Sebastian Siemiatkowski, CEO of Klarna, said with the introduction of the new app, Klarna becomes an end to end shopping service that caters to many needs from inspiration and discovery to seamless post-purchase experiences.
"We've made transparent and flexible payments a possibility everywhere because we believe no one should ever have to pay credit card fees or high-interest rates," Mr Siemiatkowski said.
Klarna's new app serves as an update to the existing app launched in March 2020 with more than a million downloads.
Additional features in the pipeline include loyalty cards, money saving tools, product insights and more.
How to use a one-time Klarna card
Klarna has detailed the steps to use its interest-free virtual one time cards as follows:
Shop at any online store, including those not Klarna merchants in the Klarna app.

Find the products and add them to your basket.

Press the pink 'pay with K' button.

Create a one-time card for the value of your purchase.

Choose to pay later and review your plan.

Copy and paste your one-time card details into the checkout.

The process is complete
---
Advertisement
In the market for a personal loan? The table below features unsecured personal loans with some of the lowest interest rates on the market.
Lender

Advertised rate
Comparison rate
Monthly repayment
Interest Type
Secured Type
Early Withdrawal Fee
Ongoing Fee
Application Fee
Total Repayment
Early Repayment
Instant Approval
Online Application

---

Fixed
Unsecured
N/A
N/A
More details
FEATUREDNO ESTABLISHMENT, ACCOUNT OR EARLY REPAYMENT FEES

No Fee Personal Loan

No security required
Can apply online
Fast time to funding

Fixed
Unsecured
N/A
More details
CHECK YOUR RATE IN 2 MINUTES

Fixed
Unsecured
N/A
More details
FEATUREDAPPLY ONLINE

Low Rate Personal Loan Unsecured (Excellent Credit)

No extra repayment or early exit fees
Up to $75,000 in loan amounts
Funding approved within 24 hours

Variable
Unsecured
N/A
N/A
More details
FEATUREDNO ONGOING FEES

Plenti Personal Loan (Excellent Credit Rating) (Variable)

No application fees
No ongoing fees
Apply online

Fixed
Unsecured
N/A
More details

Liberty Personal Loan (Very Good Credit History)
No ongoing fees
No application fees
Apply online
Rates based on a loan of $30,000 for a five-year loan term. *Warning: this comparison rate is true only for this example and may not include all fees and charges. Different terms, fees or other loan amounts might result in a different comparison rate, Rates correct as of December 7, 2021. View disclaimer.
---
---
Image provided by Klarna.