According to research from DBM Atlas and Nielsen, more than one million Australians cancelled credit cards in the past year, in favour of new digital payment services offering interest-free payment instalments.
Younger consumers continue to embrace BNPL and are driving future growth.
The survey of 93,000 respondents found almost two-thirds of Australians who have used buy now, pay later payment are aged 18 to 44, though older generations are also increasing their use.
Students also make up 31% of BNPL customers according to the report.
Executive Director, DBM Consultants, Tony Williams, said the pandemic has caused "seismic shifts" in spending behaviour across the country.
"Buy now, pay later services aren't new financial options for consumers, but their appeal among Australians has been on the rise since entering the market in 2015," Mr Williams said.
"That rise then increased notably when the effects of the pandemic set in, bolstered by the flexibility and convenience of interest-free payment plan options—a dramatically different alternative to traditional credit cards."
The Reserve Bank of Australia reported in March of 2020 that buy now, pay later transactional values had risen by 55%.
In its national survey, Australian research consultancy DBM Atlas reported in June 2021 that approximately 14% of Australian adults had made a purchase using a buy now, pay later service in the past four weeks— up from 11% a year earlier.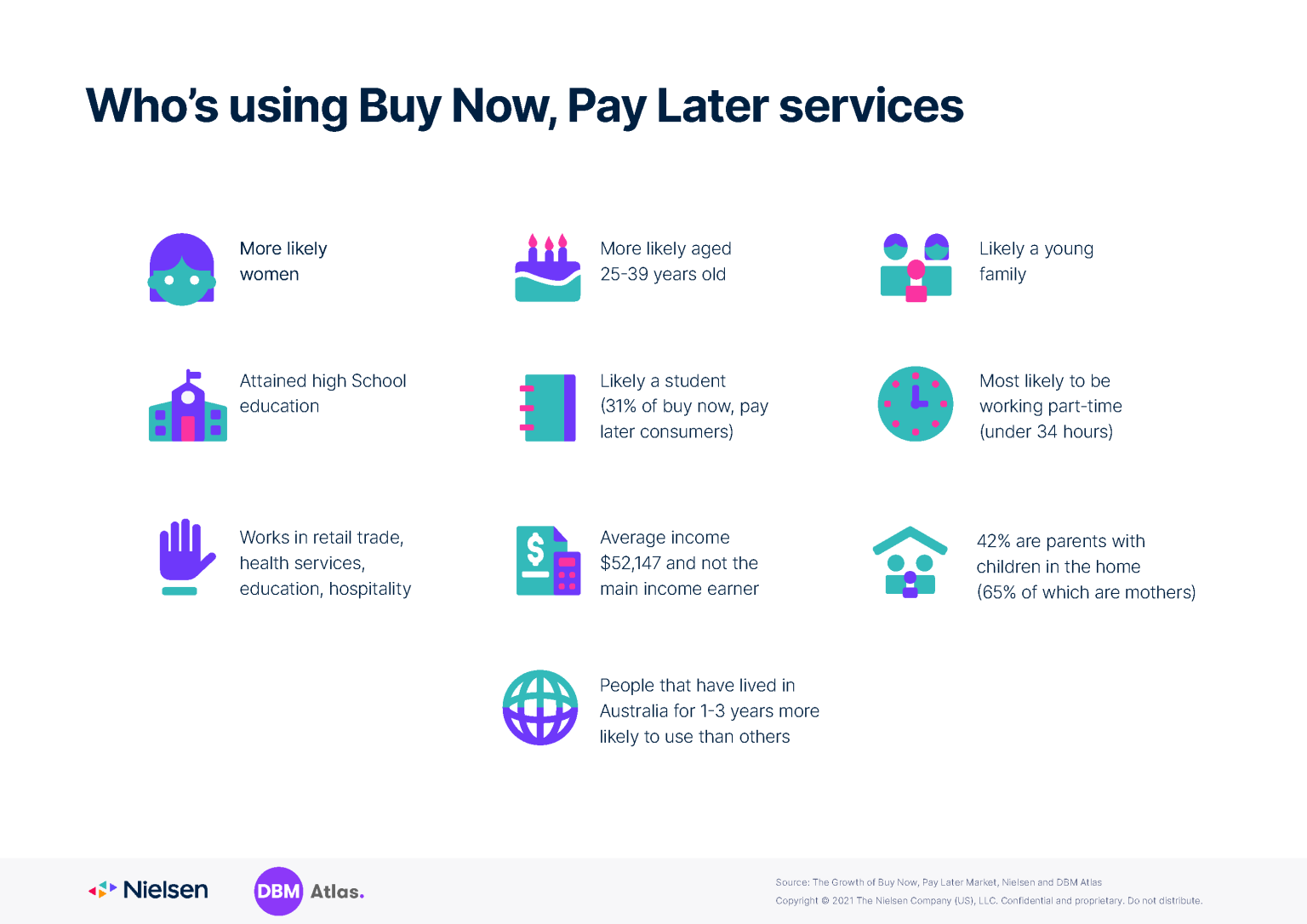 Source: Nielson and DBM Atlas
The report also said connectivity and online engagement were well above norms during much of 2020, and Nielsen expects the shift in spending patterns will remain as consumers begin to resume some—or all—of their pre-pandemic activities.
All major banks as well as PayPal and MasterCard now offer their own BNPL option for customers, reinforcing that all the big players see BNPL as a payment option of the future.
Image by Jens Lelie via Unsplash