Economic insights from CBA show that the growth in household income has accelerated whilst NSW and Victorian economies contract due to lockdowns.
This trend is reminiscent of 2020 when household income stepped up due to fiscal payments as the national economy plunged into a recession.
CBA data indicates that a reduction in household income from job losses to date in NSW and Victoria has been more than offset by an increase in government support payments.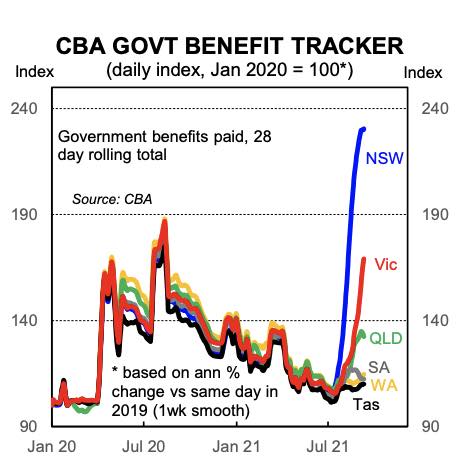 Wages and Salaries
CBA wages and salaries data had been trending higher in all states across the country before June this year.
Lockdowns and negative impact on labour has generated a market divergence between states.
There has been continued growth in wages and salaries paid into CBA bank accounts in WA, Qld, SA and Tas, however wages and salaries paid have been moving lower in NSW and VIC since late June.
Data suggests that there has been a contraction in wages and salaries of 8% in NSW from where Australia's largest state would have been travelling without the delta-induced lockdown.
Wages and salaries paid in Victoria are down by 5% over the same period.
Consumer Confidence Rises
The Westpac-Melbourne Institute consumer confidence index rose 2% in September.
After falling by 4.4% in August, September's results indicate a resilient response from Australians despite its two biggest cities enduring extended lockdowns.
The report pointed towards the improving vaccine situation as a key factor behind the results.
The latest results saw NSW confidence lift (5.3%), along with Queensland (8.4%), while Victoria held steady from its August results.
The clear theme from this survey is that consumers are looking through current lockdown disruptions to a sustained improvement once vaccinations reach levels that allow for a reopening, according to Westpac economists.
The Consumer index scale considers scores of over 100 to be optimistic sentiment.
The national index is now up 13.2% on September 2020.
Consumer Sentiment Index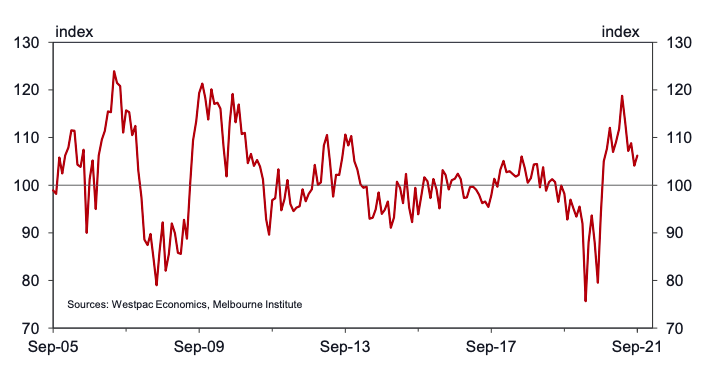 Source: Westpac
Image by Adeolu Eletu via Unsplash