According to the Reserve Bank (RBA) the average credit/charge card balance fell by $122.24, or 4.2%, to $2,813.32 per card.
That's the biggest monthly fall for any January in 27 years of records.
Additionally, the value of purchases made with credit and charge cards fell by 1.5% in January and is now down 7.6% on a year ago.
CommSec senior economist Ryan Felsman said Aussies are now increasingly using their own savings rather than credit.
"A larger proportion of Australians now prefer to use debit cards to help control their finances and for health reasons during the pandemic – with 'tap and go' purchases more readily available at stores," Mr Felsman said.
"Over the year to January, the number of debit card purchases lifted 13.7% and the value of debit card purchases were up 16.8%. Debit card accounts now total 35.05 million."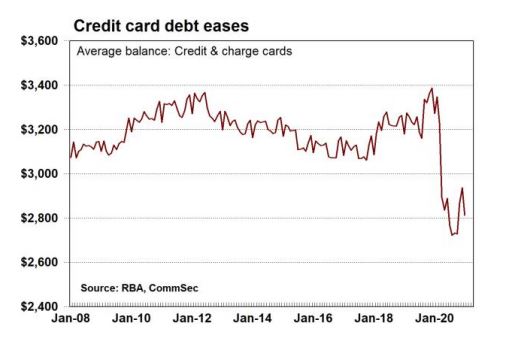 Off the back of financial support from the government through COVID, household incomes and savings rates skyrocketed, with consumers now seemingly keen to be debt-free.
"Consumer confidence has rebounded, but figures released by the Reserve Bank yesterday showed Aussies continuing to use savings amassed during the pandemic to pay down credit card debt," Mr Felsman said.
"Why? The average interest rate on credit cards is around 17.5% using bank-compiled data."
Debt accruing interest on credit cards fell by one quarter (25.2%) throughout 2020 to $21.2 billion.
The number of credit and charge card accounts was at an almost 14 year low of 13.55 million in January, down from 13.63 million in December, with accounts down 7.4% on the year.
Credit cards popularity have also been battered by the popularity of buy now, pay later services, a battering that may worsen with PayPal today announcing it was entering the lucrative sector with its 'PayPal Pay in 4' offering.
Debit cards had a soft start to the year, with the number and value of debit card purchases down by 0.5% and 0.9% respectively in January.
However, the number of debit card purchases was up 13.7% for the year, while the value of purchases was up 16.8%.
ATM usage continued to tumble, with the number of ATM withdrawals in January down 21.2% over 12 months, and the value of transactions down by 12.9%.
Consumer views on economy hit 19 month high
According to the weekly ANZ-Roy Morgan consumer confidence survey, consumers' views on 'current economic conditions' rose 3.6% to a 19 month high of 5.3 points.
"Aussie households are feeling more chipper about the economic outlook, supported by record-low borrowing costs, government stimulus payments and an improving job market," Mr Felsman said.
"After the deep pandemic recession, the December quarter national accounts - released last week - showed Australia enjoyed the strongest six-month period of economic growth (as measured by GDP) since records began in 1959."
Meanwhile, the Westpac-Melbourne Institute's monthly consumer confidence released today showed confidence was only marginally below its December 10-year high and is 20% higher compared to March 2020.
Photo by CardMapr on Unsplash