iTrust Invest has been described as the "ultimate present". Parents and caregivers can contribute gifts for kids in the app, starting with $10. From there people can make regular contributions to the account, with the funds used by iTrust to invest in pools of shares and exchange traded funds (ETFs). Founded in 2018, the app is registered with corporate regulator ASIC.
iTrust Invest is an addition to the litany of micro-investing apps - Raiz, CommSec Pocket, Spaceship, Blossom and Bloom to name a few - but few are designed for setting up children's futures. However, there are some considerations to weigh-up before jumping in.
iTrust Invest Quick Rundown:
Three fund options - Gold, Balanced, or Global Equities

$3.50 per month fee (or $35 paid annually), no fees to contribute, withdraw or exit

Encrypted platform with bank-grade protection

Manage up to 10 children/beneficiaries with Guardian account

Minimum deposit and withdrawal is $10
---
Advertisement
Need somewhere to store cash and earn interest? The table below features savings accounts with some of the highest interest rates on the market.
Provider

---

0

1000

0

$product[$field["value"]]

$product[$field["value"]]

$product[$field["value"]]

More details

FEATURED

Savings Maximiser (<$100k)

Deposit at least $1,000 + each month from an external source
Make 5 or more eligible transactions
Grow your savings balance each month

Savings Maximiser (<$100k)

Deposit at least $1,000 + each month from an external source
Make 5 or more eligible transactions
Grow your savings balance each month

0

200

0

$product[$field["value"]]

$product[$field["value"]]

$product[$field["value"]]

More details

No monthly fees

Save Account

Download the App to open your account
Get better visibility of your spending within App!
Deposit $200 per month to activate bonus interest

Save Account

Download the App to open your account
Get better visibility of your spending within App!
Deposit $200 per month to activate bonus interest

0

1000

0

$product[$field["value"]]

$product[$field["value"]]

$product[$field["value"]]

More details
Important Information and Comparison Rate Warning
How iTrust Invest works
iTrust Invest is designed for parents and caregivers to gift children with small investment amounts. In the app, users share the unique link associated with the child's account and loved ones can deposit money through there.
There are three main portfolio options for parents to select:
Gold: Essentially a skin of the ASX: GOLD ETF. 8.2% p.a. returns since inception to 28 February 2022.

Balanced: Uses Vanguard's Diversified Balanced (VDBA) ETF. Half the fund is dedicated to income assets such as bonds, while the other half is towards growth assets such as shares. 6% p.a. return since inception to 28 February 2022.

Global Equities: Invests in 20-40 of the world's top global stocks via Magellan's Global Fund. 11.1% p.a. return since inception to 28 February 2022.
Note that past performance is not an indicator of future performance.
Distributions are made to investors on an annual basis on 30 June each year. They are then re-invested in each account, however users are free to withdraw any amount of the distribution.
The minimum suggested investment timeframe is five to 10 years.
In addition to the $3.50 monthly (or $35 annual) fee, a total management fee of 0.9925% to 2.2925% (it varies by investment fund) also applies, which is deducted out of the total returns. So if you had an investment of $50,000, you could be charged annual management fees anywhere from $496 to $1,146 depending on your asset allocation.
How much to give your child
Analysis of iTrust user habits to November 2022 revealed some interesting insights as to how much Guardians are giving their beneficiaries.
The average value of a gift is $87, while $527 is the average value of one-off contributions.
The average weekly contribution value is $20 - there are no fees for depositing regularly, which makes it viable to contribute smaller amounts.
Most (87%) of all contributions by dollar value are one-off contributions.
iTrust CEO Paul Reynolds said having a smooth user experience is critical as there are potentially multiple people contributing to a child's investment journey.
"It takes a village to raise a child ... the advantage of the gifting facility is that family and friends can send financial gifts to increase the nest egg of the beneficiary. It's an investment in their future," Mr Reynolds said.
iTrust Microinvesting Costs Compared
As iTrust's portfolios are essentially skins of ETFs in the market, it's easier to compare costs. If you went through a broker, broker fees start at about $5.
Gold: ETF Securities 'GOLD' ETF - each unit in this fund represents an entitlement of 0.009294232 fine troy ounces (a fine troy ounce is approximately 31.1g) of physical gold as at 12 July 2022, which is reduced daily by a management fee of 0.40% per annum.

Balanced: Vanguard 'VDBA' ETF - 0.27% p.a. management fee.

Global Equities: Magellan Global Fund - 1.35% p.a. management fee plus performance fees (10% above benchmark).
Minimum investments through brokers are also a hurdle - they typically require $500 at minimum. Magellan typically requires at least a $10,000 minimum investment.
"Investors in the iTrust Fund gain access to quality investment funds which they may not be able to access on their own, due to the requirement to be a sophisticated investor or the high entry level of the initial investment which can range from $10,000 to $250,000," iTrust's PDS reads.
The ease of depositing small amounts - say $20 from Nan - is a key benefit of iTrust Invest. The $3.50 monthly fee and performance fees might be worth it. It might not make sense to pay at least $5 brokerage every time Christmas rolls around. You will have to assess the frequency and amount with which you intend to deposit.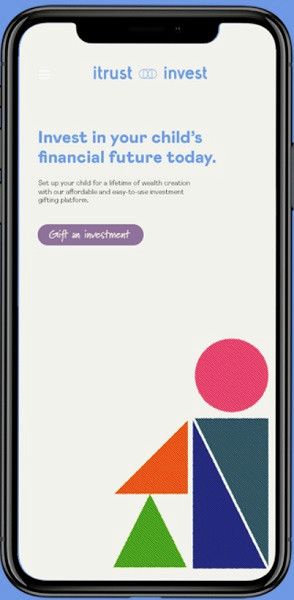 Image supplied
How to get started
Investors can set up an account in 2-3 minutes and can immediately establish up to 10 beneficiary or children's accounts. The encrypted banking system is backed by Westpac.
According to founder Lawrence Stapleton, the fund can help cut down on plastic waste because kids aren't receiving toys they'll discard in a year.
"People often tell me the thing they love most about our platform and gifting capabilities is that they're a sustainable present to give, in every sense of the word," Mr Stapleton said.
"Giving an investment as a gift helps to stop wasteful and unnecessary packaging ending up in landfill. And, of course, the more times you choose to pledge a financial investment to a special child in your life, the more waste you prevent."
With inflation the highest it's been in decades, Aunty Flo's $20 in a card is realistically losing value the longer it's held as well.
"We all know grandparents and other family members who like to give kids cash for their birthdays," Mr Stapleton said.
"Choosing instead to send a financial investment as a gift by making a direct contribution simply turbocharges that investment and unlocks a whole world of exciting possibilities for their future."
Is iTrust Invest safe?
iTrust Invest has a few safeguards in place to ensure the security of your funds. However as with all investment products and shares, there is a chance you could lose money.
Depositing funds
Depositors can inject funds via the iTrust Invest portal, which is delivered via Westpac's online debit service. This is a bank-encrypted service meaning it is a secure way to transfer money.
Custodian
Investments aren't actually held by iTrust. Instead, they are protected at all times by the ASIC-approved custodian, Perpetual Corporate Trust Limited.
Responsible entity and fund managers
The responsible entity is Stapleton Asset Management Limited (SAML), in which iTrust founder Lawrence Stapleton is executive chairman. SAML is responsible for overseeing the operations and for selecting the underlying investment funds.
Pros of iTrust Invest
1. Micro-investing for kids
As mentioned earlier, this micro-investing app appears to be distinct in the market in that it's designed primarily for kids. While kids can't exactly control the investments themselves, parents can direct pocket money, gifts and other funds for kids into iTrust.
2. Easy gift idea
Having kids or grandkids in this day and age is tough. Twenty bucks in a card might not excite, and will likely get spent on something you don't understand. At least with this app you can feel good knowing you're trying to set your kid up for the future.
3. Potentially higher returns than a bank account
Bank accounts - even kids' ones - are lucky to return much over 3.00% p.a. While the risk is higher with shares and gold, the returns over time could be more fruitful. As the old saying goes, it's 'time in the market, not timing the market'.
4. Choose assets based on your appetite for risk
At present there are three asset classes - Gold, Balanced, and Global Equities. Gold is traditionally a fairly safe if unexciting asset and tends to perform well in times of crises. A balanced portfolio is exactly as described, while global equities are more risky, but the potential pay-off is greater. iTrust says more options are on the way.
5. Easy to set-up and contribute
Accounts can be set up within minutes and parents can easily command up to 10 kids' accounts all under the one umbrella. From there you can share a contribution link among loved ones who can easily put in $10 or more into the account. The idea with the $10 is that it then grows considerably over time.
Cons of iTrust Invest
1. Limited portfolio options
At present there are only three portfolio options. Compared to other micro-investing apps - such as Raiz's seven - this is limited. For the eco-conscious there is also limited options to invest in ethical options. That said, there are reportedly more portfolios on the way.
2. Not as safe as a bank account
The investment avenue of choice for young kids has typically been a savings account. While hardly exciting, they provide a safer avenue for money-parking than the share market. This is largely because any deposits are backed by the government's Financial Claims Scheme, guaranteeing up to $250,000 per ADI or bank.
3. Not CHESS sponsored
CHESS stands for Clearing House Electronic Subregister System and essentially means you have a paper trail of owning those shares. You'll get a CHESS sponsorship notification if you purchase shares or ETFs through a broker. With iTrust and other micro-investing apps you are essentially investing in a trust who does the work for you.
4. Fees
$3.50 per month (or $35 per year if paid in advance) and the 1.125% to 2.2925% annual fees are comparable to other micro-investing apps (for example, Raiz is $3.50 per month as well), but could add up. At the low end, on a $10,000 investment that could add up to 1.6% or $160 - the performance fee is not upfront, so you might not notice it however.
You will have to do the maths here. Micro-investing tends to suit smaller, more frequent deposits, while going through a broker may suit the opposite approach.
5. Kid might not appreciate
At the end of the day, what's a kid going to appreciate more? A Minecraft skin, a Transformer … or here little Johnny, have $20 towards the VDBA ETF.
When I was a kid my Nan gave me a World Vision child sponsorship - the charitable cause was lost on me as I demanded Pokemon cards. Every child's different, so you may have to pay double - some money on the Transformer and some money into iTrust to keep them happy on their birthday.
Photo by McKaela Taylor on Unsplash