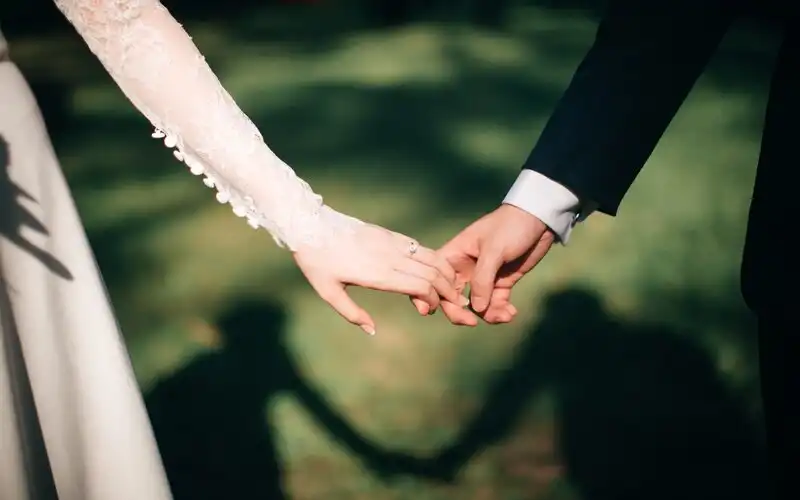 Before you walk down the aisle, you may want to walk yourself through these money saving tips to take some pressure off your wallet.
Getting married is not just a massive commitment to your partner - it's also a massive financial commitment. The average Australian wedding costs $36,000 according to Moneysmart - equivalent to buying yourself a brand new car or 36,000 $1 frozen cokes from Maccas.
But who has $36,000 just sitting in their bank account ready to be spent? If your answer is 'not me', check out these simple money-saving hacks that can help you say 'I do' without needing to say 'I don't have any money left'.
Here are a few tips we'll touch on:
Be strict with your budget
Of course it can be tempting to go all out on your big day and spend money like there's no tomorrow. But there always will be a tomorrow, and I would imagine you want to be financially secure when the day comes.
Being strict with your wedding budget might seem like a bore, but it's important to keep track of your expenses as it's all-too-easy to rack up a big wedding bill.
Vanessa Stoykov, money expert and best-selling author, says being strict on a budget is highly important to avoid post-wedding financial stress.
"For example, if the bar tab runs out on the night don't throw more money at it just because you are in a great mood," Ms Stoykov told Savings.com.au.
"Never go into debt for a wedding; if you can't afford it don't do it. There is no asset associated with a wedding, so don't overspend."
Kerstyn Walsh, wedding planner at Hire a Bridesmaid, backed the need for a tight budget.
"Have a budget in mind and track everything," Ms Walsh told Savings.com.au.
"Just paid for stamps to go onto invitations? Add it in."
Keep the guest list small
Ms Stoykov said the "best way to save money" is to keep the wedding guest list small, but she discusses what to do if this isn't an option later on.
This sentiment is backed by Carly Brown, owner of micro-wedding and elopement company Just Married Weddings, who suggests slimming your guest list to save some dollars.
"Really think about who you simply must share this moment with - cull that guest list," Ms Brown told Savings.com.au.
"Throw out the rule book, set it on fire, forget it ever existed.... and only do what you want, not what you think you have to do."
Whether you want to share your wedding day with 50 or 150 people, if it's down from 155, you're saving money. Besides, do you really need to share your wedding day with your creepy uncle who always hugs you a few seconds too long?
Get creative
Can't get that guest list down? That's all good - it's time to get creative with how to save money per head.
There are simple ways to save money on the expenses of a wedding. From the food to the dress to the DJ - you can make choices that soften the budget blow while still keeping your wedding big enough to invite all your nearest and dearest.
"For example, have canapes or grazing tables as food at the reception instead of sit down meals," Ms Stoykov said.
"Look on eBay and Gumtree for wedding dresses; this can literally save thousands of dollars."
Another avenue to save money is the bridal party costs.
"Book a hair and makeup artist for the whole day, that way it's cheaper because it's a full day service instead of a range of people booking singularly. It's also a lovely way to start the wedding day," Ms Stoykov said.
"[Have the bridal and groom parties] wear dresses or suits they already own OR wait for sales to buy items - especially for flower girl outfits that they will literally outgrow in a few months and never wear again."
Ms Walsh said you should decide what's most important for you on your wedding day and allocate your spending accordingly.
"If your priority is that the food is great and the dance floor is pumping, your priorities could be choosing a highly-recommended caterer and a band as opposed to a DJ," Ms Walsh said.
Do it yourself or enlist help along the way?
Is it cheaper to do it all yourself or to hire a wedding planner to help everything go smoothly?
"If you are having a large wedding, wedding planners are great, but otherwise, you'll save a significant amount by doing it yourself," Ms Stoykov said.
"My tip would be to find a venue that has a coordinator included in the package, so you can outsource the tasks that make you anxious."
On the other side of the coin, Ms Walsh said doing it yourself makes the expenses add up quickly.
"It's assumed that a full-service venue will be more expensive than a 'DIY' venue, but at the end of the day, the costs associated with the DIY add up much quicker than you realise," Ms Walsh said.
"Think about a DIY marquee-style wedding where you have to separately hire each chair, table, piece of cutlery, kitchen equipment, loos and lighting - it adds up!"
Off the back of this, she said that it's "always more affordable" to hire things where possible rather than make or buy things yourself.
"For example, you might be able to buy glasses from Kmart for $2 each," she said.
"But the time and effort involved in going to the shops, bringing them all home, cleaning them, storing them, transporting them to and from the venue, packing them up and then trying to decide what to do with them afterwards is much more time consuming than just hiring them for $4 each, which includes delivery and cleaning.
"It's also a much more environmentally-friendly way to choose sustainably and hire."
All about the venue
Now onto where you'll be getting married. If you're getting married in a church, the costs will likely be significantly cheaper than getting married in a private venue. But if you want to get married overlooking the mountains in a beautiful venue, or overlooking the beach and ocean - you will likely see a hefty price tag.
One easy way to save on your wedding venue cost is choosing to have a Friday or Sunday wedding over a Saturday one. While Saturday is arguably the day to go for convenience sake, for this reason, it's usually more expensive. Having your wedding on a less popular day will likely see the price figure drop.
Another potential venue cost saver is having the wedding and reception in the same spot. But Ms Stoykov said it depends on the venue - sometimes it will be cheaper, but sometimes it won't.
"I would suggest getting a full quote from the venue so you can see exactly how much each item costs, whether you'll save or spend money on having them both in the same location, and make a decision from there," Ms Stoykov said.
You may be surprised to know that sometimes, a destination wedding can end up cheaper than a conventional wedding. You wouldn't think so, but this is attributed to the smaller guest list, the wedding package you receive, and the convenience for your honeymoon (as you'll likely stay wherever you jetted off to).
"While they are a lot of fun, you have to make sure everyone is comfortable the spending money OR cover the cost yourself, which adds up," Ms Stoykov said.
"These days too with COVID, it adds an extra layer of risk, because if you can't get there, you will likely lose a lot of money."
Don't skip the honeymoon
Another wedding-related expense that can greatly add to the tally is the honeymoon. Particularly if you go abroad or head for a honeymoon suite, you'll see an extra few grand taken from your wedding fund.
If you have a tight wedding budget, you may be thinking the honeymoon is an easy thing to cross off the list - but Ms Stoykov disagrees.
"I think honeymoons are amazing, and would encourage going on one no matter what budget you have," she said.
"It's about the memories you make, rather than the money you spend. If you are on a budget, house swapping is a great option."
You could save on your honeymoon simply by not informing the hotel you're on your honeymoon. Without the expensive honeymoon suite, you could see money shaved off your honeymoon bill.
For some helpful tips on how to save on your next holiday, read our recent article.
Have your cake and eat it too
Another wedding expense is the wedding cake. Particularly if you want your cake to be six layers, six flavours, and topped off with real-life replicas of you and your new forever partner.
Wedding cakes can cost anywhere from a few hundred dollars to thousands, depending on the extravagance you're going for.
Sarah-Jane Wicks, owner of Happy Cake Day, said an easy way to save on your wedding cake is to serve it as a dessert.
"An economical wedding cake can cost as little as $7 per dessert portion, which is around a quarter of the price of a plated dessert at a restaurant or venue," Ms Wicks told Savings.com.au.
"This way, you are getting both a beautiful centrepiece for your wedding day, as well as a delicious dessert for your guests too."
Capture the moment with your photographer
You want to remember your special day with photos, but you don't want to trust your dad's shaky hands to to capture the kiss. Hiring a wedding photographer is a great way to ensure you have beautiful memories to look back on, but it's another expense to consider.
David Wall, wedding photographer and videographer for Masterpieces Photography, said he sees couples pocket significant savings by creating a strict timeline that ensures they get maximum value from their suppliers.
"Lots of photographers/videographers offer time-based packages rather than full-day or half-day packages," Mr Wall told Savings.com.au.
"Often, with good planning, couples might be pleasantly surprised how much they can save by opting for six hours of well-choreographed coverage rather than taking an all-day package."
Saving.com.au's two cents
Your wedding day can be what dreams are made of while still making your dream of owning a home or having savings left a reality.
It's important to remember that while your wedding day may be the biggest day of your life, it is still just one day. Having future goals of buying a house and starting a family together may be on the cards for you, and you may not want to push these things back because you spent so much money on your wedding festivities.
Be realistic. Have a sit down and think about what you want your day to look like, and how much you are reasonably able to spend to make it happen. The internet is a wonderful place where you can search for inspiration, and you can shop around for quotes once you have some ideas.
If you want to seek further financial advice, consider having a one-off consultation with a wedding planner or speak to a financial adviser.
---
Image by Jeremy Wong on Unsplash