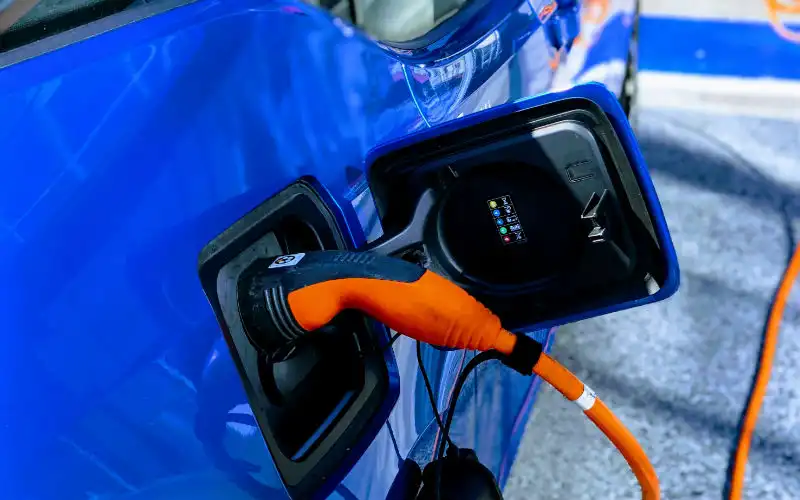 Photo by John Cameron on Unsplash
New research shows an increasing proportion of would-be car buyers intend to buy a hybrid vehicle, although the overall number of people looking to buy a new car is down.
Roy Morgan's Automotive Currency Report for March 2019 shows that for the March quarter, 1.889 million Australians said they intend to buy a new car at some point in the next four years – a 19.1% decrease from March 2018.
The numbers are down for every engine type too, with the exception of hybrid cars, which have seen an increase in purchase intentions by 5.6% to 10.1%.
Since March 2018:
Intentions to buy petrol cars in the next four years fell from 63% to 60%
Diesel fell from 27.6% to 27.4%
Fully-electric fell from 2.8% to 2.3%
LPG fell from 1% to 0.2%
The survey results are based on responses from 50,000 Australians.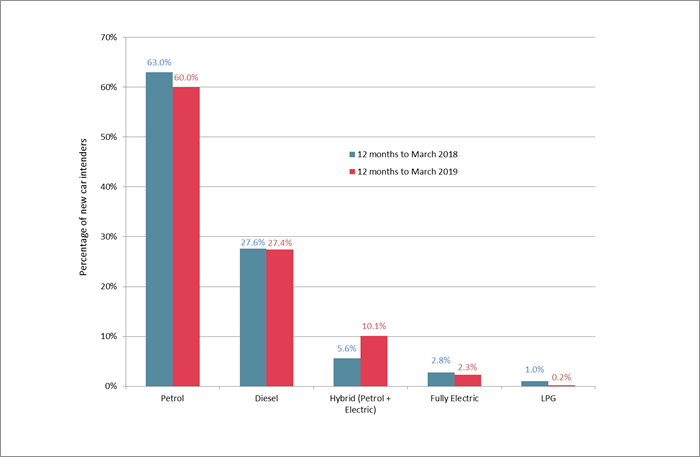 Roy Morgan's communications director Norman Morris said these results highlight the need to understand generational differences in fuel choices as the market changes.
"The rapidly changing technologies with the resultant fuel choice decisions adds to the complexity of decision making in this market," Mr Morris said.
"For example, the early adopters of changing vehicle fuels are most likely to be millennials as they appear to be more likely to move away from the traditional petrol engine cars."
Previous research from Roy Morgan from March supports this view.
The same report for the December 2018 quarter revealed that while hybrid cars represent only 0.9% of all current vehicle purchases, 8% (at the time) of would-be buyers intended to buy one.
"Most manufacturers are ramping up their development in areas such as electric vehicles and driverless cars but it will ultimately be the consumer that will determine who the winners are," Mr Morris said.
Interestingly, millennials are also not opposed to diesel vehicles, while baby boomers are the most in favour of fully-electric vehicles, probably due to their high prices.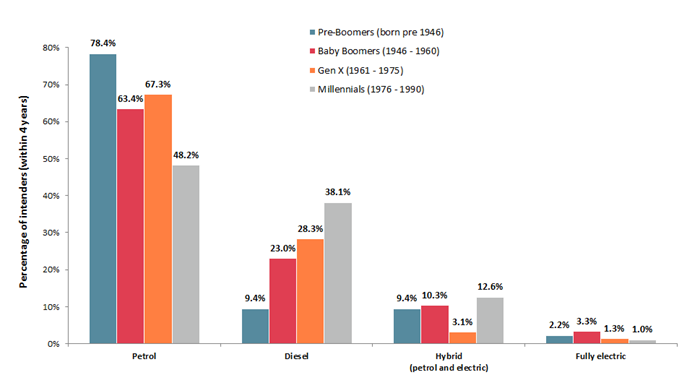 Short and long-term buying intentions down
Intentions to buy a car in the next four years are down 19.1%, or by 435,000 people.
Only 1.9 million Australians are in-market to buy, significantly below the 17-year long average of 2.15 million.
To further drive home the fact that 2019 is not set to be a good year for new car sales, one-year intentions are down by more than 22% from the same time last year.
476,000 Australians are now looking to buy in the next year, well below the long-term average of 611,000.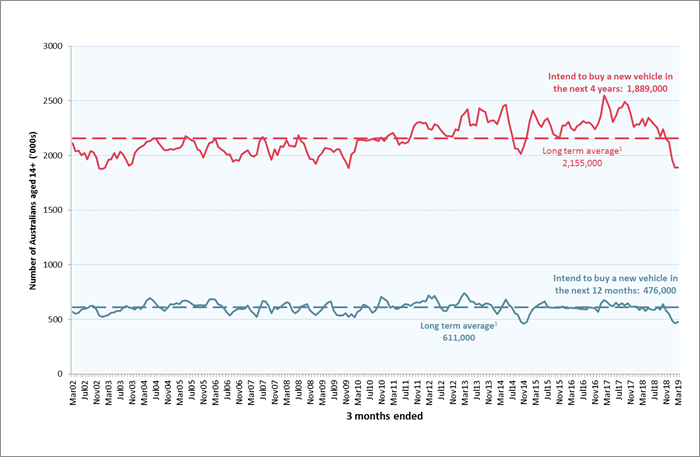 "Over recent years there has been considerable growth in the new vehicle market but this is now showing a potential decline and is facing a number of real challenges," Mr Morris said.
"There is currently some concern about the slowing economy, lack of wage growth, energy price escalation and declining home values.
"The new vehicle market is also likely to face major market disruption with trends away from personally owned and driven cars, shared driving or pooling, driverless cars, shared driverless cars and the rapid growth of Uber and similar ride sharing options."
Actual new car sale figures have been steadily declining.
According to the Federal Chamber of Automotive Industries (FCAI)'s car sales figures for April 2019, new car sales are down nearly 9% year-on-year.
Tony Weber, chief executive of the FCAI, said this result is in line with recent trends.
"We have seen a decrease of around eight per cent across the first four months of the year," Mr Weber said.
"This decrease is the result of a number of factors in the Australian market, including the downturn in the housing market, the tightening of lending practices, environmental factors such as drought and flood, and of course the imminent Federal Government election.
"With all these elements currently present in the market, it is no surprise that Australian consumers are conservative in their approach to major purchases at the moment."
---
Latest Articles