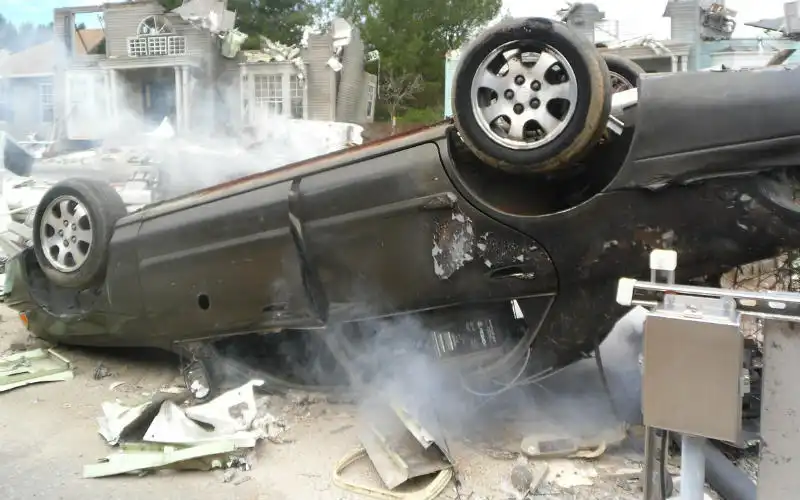 Image by floz from Pixabay
New car sales are down 10.1% from August 2018 to August 2019, according to the latest data from the automotive industry's peak body.
The Federal Chamber of Automotive Industries (FCAI) data for August shows 85,633 new cars were sold, down from 95,221 a year prior.
This means 358 fewer new cars were sold on average each day compared to last year's number.
This is the 17th consecutive month of negative annual growth in car sales and is the lowest August figure since 2012 when 82,122 units were sold.
Year-to-date (January-August) sales of 786,294 are down 8% on 2018, adding to recent fears of an upcoming economic downturn.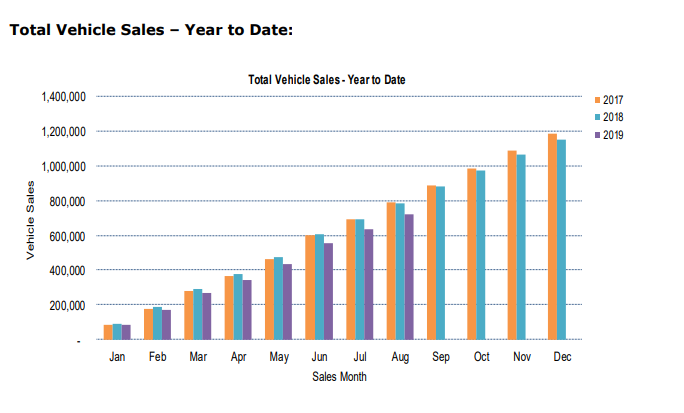 FCAI chief executive Tony Weber said it's a very tough market at the moment.
"Despite the best efforts of the industry, the decrease in sales continues,"Mr Weber said.
"It is well known that Australia is one of the most competitive markets in the world, and with the current economic environment, it is also one of the most difficult markets in the world."
According to Mr Weber, the recent spate of lamentable sales results stem from:
Tight financial lending
The recent state and federal elections
A general lack of

consumer confidence

both domestically and internationally
"The question needs to be asked about whether the current regulatory approach to financing is appropriate, and if not, what harm it is doing to both the sector and the economy more broadly," Mr Weber said.
Are car-sharing services the cause?
This isn't the first month to suffer a significant drop in new car sales recently.
Sales in one of the industry's most important months, June, were down 10% on last year.
There are several factors that could have caused these falls, such as the ones Mr Weber mentioned above.
Another could be that more people are turning to used cars, which are generally cheaper and not-necessarily of a sub-par quality.
But another key reason for the declining popularity of new cars could also be the rise of car-sharing services.
According to Popcar director Anthony Welsh, the cost of living is rising and people are becoming more and more conscious of the financial pressures in daily life, and are looking for ways to be savvy with their money as a result.
"With rising growth of car-sharing services, like Popcar, it means consumers now have an alternative to traditional car ownership and do not need to purchase a car for tens of thousands of dollars," Mr Welsh told Savings.com.au.
"This new trend is offering the convenience of owning a car without costs. By using a car-sharing service there are no registration costs, servicing costs or car payments."
Car-sharing services such as Popcar and others like Carbar or Car Next Door gives users access to cars for monthly or ongoing fees.
Popcar, for example, charges a one-off joining fee of $10 plus :
A monthly subscription fee of $19.90
Hourly usage rates from $5.50
A cost-per-kilometer fee of $0.40
These services laud themselves as being a cheaper alternative to car ownership since you only end up paying for what you use, or can switch your car ownership on and off.
The mere act of owning a car can easily cost more than $10,000 per year, and Mr Welsh believes declining car sales will be an ongoing trend as more and more people become aware of such options.
"We certainly see that in the areas where we operate there is constant demand for our carsharing service. When we launch in new areas the locals are intrigued by the alternative to traditional car ownership and see the benefits," he said.
"There is big potential for the car-sharing industry, as much of the population is unaware of the benefits that come with car sharing. We believe as availability of vehicles grows, the awareness and usage will follow."
Car-sharing service price comparisons
Service
Cost to borrow/rent a car (cheapest plan)
Car Next Door
– No monthly fee
– $5 booking fee
– $5 per hour or $25 per day
– $0.21 per km
Go Get
– $49 annual subscription fee
– $10.90 per hour usage fee
– $0.40 per km
– $89 per day
– $250 per-authorisation on sign-up
Flexi Car
– No joining fee
– $49 annual subscription fee
– $13.50 per hour
– $79 per day
– $0.39 per km
RACV Car Share
– $80 daily rate
– $13 hourly rate
– $0.30 excess kilometer charge
– $0.75 toll processing charge
– $250 pre-authorisation on sign-up
Popcar
– $10 joining fee
– $19.90 monthly fee
– $5.50 hourly usage rates
– $0.40 cost-per-kilometer
Carbar
– $119 flat weekly fee
– $150 fee to swap cars at any time
Prices correct at August 2019.
Most popular cars in August
The lists below show the 10 best selling car models and car brands across the country for August 2019 compared to August 2018.
There were some significant changes.
Toyota remains the best selling brand with the Hilux staying as our most popular car, but experienced losses in sales of 5.6% and 14.1% respectively.
The Mazda3 used to be the second-highest selling car but has fallen to sixth following a near 33% decrease in sales.
Mitsubishi and Volkswagen both experienced dips of more than 10%, while the Hyundai i30 and Toyota RAV4 experienced fairly significant increases.
Top 10 selling cars
Toyota Hilux: 3,674 (-14.1%)
Ford Ranger: 3,181 (-9.5%)
Toyota Corolla: 2,863 (-5.6%)
Hyundai i30: 2,813 (+21.1%)
Toyota RAV4: 2,006 (+19.1%)
Mazda3: 1,999 (-32.7%)
Toyota LandCruiser: 1,916 (-4.1%)
Mazda CX-5: 1,797 (-30.9%)
Mitsubishi Triton: 1,755 (+0.2%)
Nissan X-Trail: 1,743 (-8.7%)
Top 10 selling brands
Toyota: 16,700 (-5.59%)
Hyundai: 7,320 (-10.27%)
Mazda: 7,291 (-8.87%)
Mitsubishi: 6,242 (-2.34%)
Ford: 4,916 (-8.49%)
Kia: 4,662 (-2.13%)
Nissan: 4,538 (+11.01%)
Volkswagen: 4,100 (+12.32%)
Holden: 3,569 (+23.34%)
Subaru: 3,553 (+14.45%)
---
Latest Articles