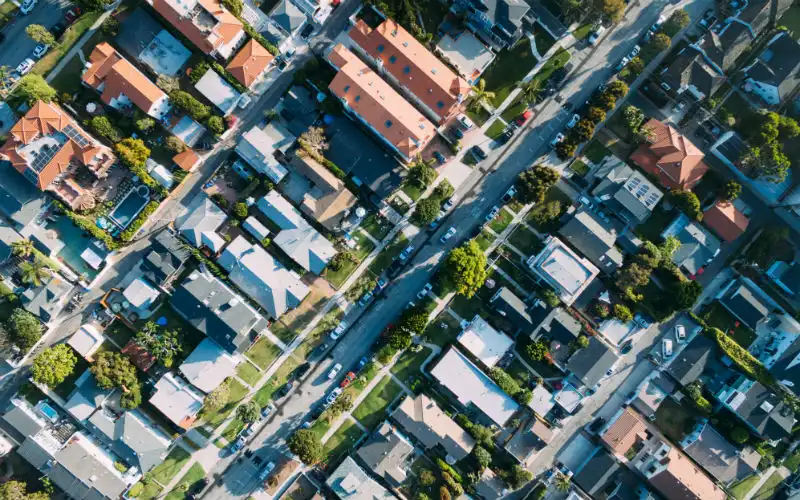 Read our comprehensive, step-by-step home buying guide if you're ready to make your move.
Buying a house is never as simple as walking into a real estate agency and slapping a thick wad of cash down onto the table. There are dozens of things you need to consider before purchasing.
Here's what to know when buying a house:
Houses typically cost hundreds of thousands of dollars (probably the largest purchase you'll make in your lifetime), so it stands to reason that you should put some serious thought into what you're buying.

Advertisement
Smart Booster Home Loan
Product Features
Discount variable for 1 year <=80% LVR
No ongoing fees
Unlimited redraw facility
Monthly repayments: $1,476
Advertised
Rate (p.a.)
1.99%
Comparison
Rate (p.a.)
2.47%
Product Features
Discount variable for 1 year
No ongoing fees
Unlimited redraw facility
Base criteria of: a $400,000 loan amount, variable, fixed, principal and interest (P&I) home loans with an LVR (loan-to-value) ratio of at least 80%. If products listed have an LVR <80%, they will be clearly identified in the product name along with the specific LVR. The product and rate must be clearly published on the Product Provider's web site. Monthly repayments were calculated based on the selected products' advertised rates, applied to a $400,000 loan with a 30-year loan term.
1. Consider your motivation for buying a house
Think about why you want to buy a home: are you sick of the renting roundabout? Do you want somewhere to raise a family? Do you want a fixer-upper?
Homes are expensive, so you should only buy one if you believe it will provide long-term benefits. Don't feel obligated to buy a house for the sake of the social cachet that seemingly comes with partaking in the "great Australian dream".
Alternatively, you might want to buy an investment property while still renting – a method popularly known as 'rentvesting'. Whatever your reason for buying, knowing your long-term plan is the first thing you should work out.
Rent or buy?
You might've heard the snooty adage that 'rent money is dead money'. All things considered, there are pros and cons to both renting and buying property. While it's true renting doesn't have the 'forced savings' effect of home ownership (building equity in the house with every mortgage repayment), renting is often significantly cheaper.
The ABS's 2016 Census suggests as much:
Median Rent: $1,452/month (median weekly rent of $335 multiplied by 52, then divided by 12)
Median Mortgage repayments: $1,755/month
Based on these median figures, renting saves you $303 per month. If you included other additional costs of ownership such as council rates, maintenance, building insurance and water bills, this savings number is even bigger.
If a renter was to diligently invest these savings in high growth assets such as equities, they may even end up financially better off over the long term than homeowners! The Reserve Bank of Australia released research in 2014 which found over the past 60 years there wasn't much of a difference (in terms of financial benefit) between renting and owning Australian property.
Timing is also a factor – if there are signs the housing market might dip in the near future it might be worth refraining from buying until the market cools.
Obviously buying a home has lifestyle advantages besides cost – it's your home and you can do what you like with it (within reason). Renting doesn't really give you these advantages, and can leave you at the mercy of your landlord (who may decide not to renew your lease). But renting typically makes it easier to move around, which can be attractive if you're someone who doesn't like to set down roots in any one place.
So ultimately, consider your long-term goals, lifestyle and financial situation before committing to buy a home.
2. Work out what you can afford
It pays to know what you can afford, or even if you can afford to buy a house, before you start searching. This can help you set a strict price limit so you don't get in over your head by buying a house that's too expensive.
According to Domain, these are the median house prices in each of Australia's capital cities:
| City | Average house price (Dec 2019) |
| --- | --- |
| Sydney | $1,142,212 |
| Melbourne | $901,951 |
| Brisbane | $577,664 |
| Adelaide | $542,947 |
| Perth | $537,013 |
| Canberra | $788,621 |
| Hobart | $530,570 |
| Darwin | $509,452 |
| National | $809,349 |
Source: Domain June 2019 House Price Report
When taking out a home loan, it's often best to have a house deposit of at least 20% to avoid paying for lenders mortgage insurance (LMI). So if you were to buy the average house in Melbourne, for example, you'd be aiming for a deposit of at least $176,416! If this is unattainable for you, then you might need to look for cheaper options.
You should also get an idea of what your borrowing power is because even if you have a 20% deposit on a property, lenders might not be willing to lend you the amount you need to buy the property. Your borrowing power is assessed based on a range of factors including your income and expenses.
But just because a lender is willing to lend you up to a certain amount doesn't mean you should borrow that maximum. Take responsibility for yourself – borrow only what you can realistically afford. More than one million Aussie households suffer from mortgage stress – a condition which, in theory, you're diagnosed with when over 30% of your disposable income is required to meet your minimum mortgage repayments. Try using Loans.com.au's mortgage repayment calculator to get an estimate of what your loan repayments will be for the amount you're seeking to borrow. If these repayments are over 30% of your disposable income, perhaps you'll need to borrow less or wait till you've saved up a bigger deposit.
There are other home buying costs to consider
Even when you buy the home, there are still extra costs to consider, which tend to tally up at around 5% of the total purchase price. Home buyers will need to factor in:
Conveyancing and solicitor fees
Title searches (more on this below)
Pest and property inspections
Stamp duty
Application fees
Valuation fee
Home and contents insurance or landlord insurance if it's an investment property
There are also council rates and ongoing utilities like electricity and gas to consider, so the unfortunate reality is that owning a home is always more expensive than the purchase price.
3. Seek out a good value home loan
Almost as important as your choice of property is your choice of home loan. Choosing a good value home loan could save you hundreds of thousands of dollars over the life of the loan.
Low rate variable home loans
Buying a home or looking to refinance? The table below features home loans with some of the lowest interest rates on the market for owner occupiers.

Advertisement
Smart Booster Home Loan
Product Features
Discount variable for 1 year <=80% LVR
No ongoing fees
Unlimited redraw facility
Monthly repayments: $1,476
Advertised
Rate (p.a.)
1.99%
Comparison
Rate (p.a.)
2.47%
Product Features
Discount variable for 1 year
No ongoing fees
Unlimited redraw facility
Base criteria of: a $400,000 loan amount, variable, principal and interest (P&I) owner-occupied home loans with an LVR (loan-to-value) ratio of at least 80%. If products listed have an LVR <80%, they will be clearly identified in the product name along with the specific LVR. Monthly repayments were calculated based on the selected products' advertised rates, applied to a $400,000 loan with a 30-year loan term.
Let's say you were to buy the average Australian house, which according to Domain costs roughly $802,000. You have two home loan options (in reality you'd have many more than this!):
One has an interest rate of 3.60% p.a.
The other has an interest rate of 5.00% p.a.
If both home loans were for a term of 30 years with monthly principal and interest repayments, you'd see a substantial difference in overall costs:
| | | |
| --- | --- | --- |
| | Loan one (3.60% p.a.) | Loan two (5.00% p.a.) |
| Monthly repayments | $3,646.26 | $4,305.31 |
| Interest paid over 30 years | $510,652 | $747,911 |
| Total repaid over 30 years | $1,312,652 | $1,549,911 |
| Total difference | | +$237,259 |
These repayments would decrease with a lower house price but the lesson is still there: having an interest rate that's only 1.4 percentage points higher can lead to significantly higher monthly and overall repayments. So take the time out of your day to identify a good lender just as you identified a good house.
Consider a pre-approved home loan
Home loan pre-approval (or conditional approval) can potentially put you in a stronger position when buying a house.
Pre-approval is where a lender conditionally approves you for a loan up to a certain amount before you actually take out the home loan itself, This gives you an idea of your borrowing power, letting you know if certain houses are out of your price range before you start looking.
The majority of banks and lenders offer pre-approval today.
4. Decide on a location
Where the house is should have a major impact on where you buy, whether it's to live in or to rent out.
Let's say you're buying a house to live in with your young family: is it close to schools? Do other families live nearby? Is it a nice quiet street with minimal traffic?
If you're still young and want to live in a bustling area with lots of people to meet, are there shops and cafes nearby?
And if you're buying an investment property to rent out, is there a local university or institution nearby for students, or a wealth of public transport available for young professionals?
You should try to consider all of this before buying.
The top 10 most in-demand suburbs in Australia
According to Realestate.com.au's July 2019 Property Outlook, these are the most in-demand suburbs for properties, based on online searches compared to the number of properties for sale.
| Rank: | Suburb: | State: | Median house price: |
| --- | --- | --- | --- |
| 1 | Allambie Height | NSW | $1,595,000 |
| 2 | Middle Park | VIC | $2,775,000 |
| 3 | Crafers | SA | $700,000 |
| 4 | Narraweena | NSW | $1,427,500 |
| 5 | Birchgrove | NSW | $2,000,000 |
| 6 | Crafers West | SA | $954,873 |
| 7 | Millswood | SA | $895,000 |
| 8 | Stirling | SA | $846,250 |
| 9 | Stanmore | NSW | $1,642,500 |
| 10 | Annandale | NSW | $1,600,000 |
Source: Realestate.com.au
5. Research the market
So you've mapped out your ideal property in terms of price and location. Great! Now find one that matches. Go online to real estate websites to search for a suitable house, or use a buyer's agent who will do it for you.
Don't simply trust the ad online or what an agent tells you though. Take time to drive around yourself and inspect the area thoroughly.
6. Consider if the house is right for you
If you think you've found your dream home, then you're almost there, but you should definitely check inside and out before buying. Check:
The number of bedrooms (will you need more? Do they face the right way?)
The size of the garden (who doesn't love a bit of DIY?)
The streets nearby and garage/carport access (too narrow? Too steep?)
That the lights, inbuilt appliances and airconditioning all work
That the water runs and the toilet flushes
It would also be smart to plan for the worst too when inspecting a home, such as crime rates in the area and whether it has experienced flooding in the past.
7. Have a professional inspection done
For a few hundred dollars you can have a professional inspection done, which will cover all of the above and more. Professional inspectors will also look at potential structural and safety issues with the property that you might have otherwise missed, and could cost you a small fortune to fix later on.
Pest inspections are different to building inspections, although there are some companies that will do both at once.
8. Do a title and statutory authority search
A title search gives you an official record of a property's ownership history and can tell you if there's anything preventing you from buying it. Each state and territory has its own requirements regarding title searches, so ask a buyer's agent or conveyancer if you're not certain.
You should also check with any relevant government bodies (statutory authorities) if they have any interests in the property. For example, they might plan on building a highway straight through your living room in the not-too-distant future, which would be good to know.
9. Negotiate a good price
Now comes the really hard part – actually buying the house.
Assuming you've done all of the research above, then you should have a fairly good idea if the house is worth what they're advertising, and if you don't, no sweat: you can always ask for advice from a buyer's agent if you aren't comfortable doing the negotiating yourself.
It's important that you stick to your agreed upon budget, and take emotion out of the equation – it's easy to see yourself living in a certain home, but if you can't afford it you can't afford it. Be prepared to walk away if you think the real estate agent is being unreasonable with their price expectations. You know what the house is worth and you should communicate this clearly to them – this will also make you appear as a more serious buyer.
10. Get your documents ready
Almost at the finish line, it's time to get ready to take out a home loan to finance your purchase. To make sure the whole process is as painless as possible, have the relevant documents on hand and ready to show a prospective lender.
You should gather:
100 points of ID: can include your driver's license, passport, birth certificate, Medicare card, credit cards etc.
Details on your income: two or more recent payslips, a pay summary. personal and business tax returns (for the self-employed)
Details on your assets: other properties and their income,

vehicles,

term deposits, shares etc.
Details on your liabilities: outstanding debts from

credit cards

or loans
You may also need to provide other documents based on your buying situation. For example, if you're applying through the First Home Owner's Grant (FHOG), then you'd need to also submit your completed application form. Forms for things we've already mentioned in this guide like official valuations or title searches would also be most welcome.
Handing over all of these documents to your lender in a neat little package will make everything much smoother.
Frequently asked questions
1. Should I buy a display home?
A display home is a home built by building companies to show off their design skills. They're usually very sleek, fancy homes in outer-suburbs with top-of-the-range features and amenities. You can buy display homes, but the process is a little different, and not always easy. Most lenders won't give you a loan for them.
Display homes usually have a leaseback period after you buy them, often no more than 24 months. The leaseback term involves you leasing the home back to the building company so it can continue to be used as a display home temporarily. After this, you can either move in or rent it out as a landlord.
Consult a mortgage broker or financial adviser before committing to a decision.
2. Should I buy a house before selling my own?
Usually people sell their home first, as this sale can fund their new home. But you can buy your new house then sell, as long as you're financially capable of doing so. But buying before you sell can have its complications - if you don't get as much as you thought you would, you could be in financial trouble.
Buying the new house before selling can remove the hassle of renting inbetween, but can also lead to greater selling pressure. If you move during a slow market, you might not get a good price for your old home.
Consult a mortgage broker or financial adviser before committing to a decision.
3. Questions to ask a real estate agent when buying a house
When inspecting a house, you should come prepared and ask the real estate agent a few questions. If you're not sure what to ask, try starting with these ones:
Why is the house being sold? Who are the current owners?
How long has the property been for sale?
Do they have a list of comparable sales in the area recently?
What was the property's original price?
How flexible are they on price?
Do they have any similar properties listed?
What do they think of the area? Are the neighbours decent?
Don't forget to come prepared by doing your own research on the property and surrounding areas.
4. Should I buy a house that needs a renovation mortgage?
Buying a renovation house is up to you, but if your home requires work you can apply for a renovation loan, or renovation mortgage. These loans cover a large portion of the cost of renovations, as well as the purchase price of a new home if you're buying from scratch.
These loans function in much the same way as construction loans, as they allow you to draw down on funds as you need them throughout the various stages of renovation. They may only be available for larger renovations ($30,000 or more).
5. How much do I need to earn to buy a house?
How much you need to earn depends on the house you're buying. but you'll need to make and save enough money to pay both (1) the deposit, and (2) the monthly repayments and fees. You should generally earn enough money to avoid monthly mortgage stress.
Mortgage stress is when 30% or more of your take-home pay is devoted to mortgage repayments. Use a home loan calculator to work out what your potential repayments could be, and whether you have a suitable buffer in your salary.
Savings.com.au's two cents
The biggest lesson we can impart is that you should never rush the decision to buy a home, no matter what its purpose will be. From this shortlist of things we've discussed, there are three key savings points you should consider:
Happy house hunting!
---
Disclaimers
The entire market was not considered in selecting the above products. Rather, a cut-down portion of the market has been considered which includes retail products from at least the big four banks, the top 10 customer-owned institutions and Australia's larger non-banks:
The big four banks are: ANZ, CBA, NAB and Westpac
The top 10 customer-owned Institutions are the ten largest mutual banks, credit unions and building societies in Australia, ranked by assets under management in November 2020. They are (in descending order): Credit Union Australia, Newcastle Permanent, Heritage Bank, Peoples' Choice Credit Union, Teachers Mutual Bank, Greater Bank, IMB Bank, Beyond Bank, Bank Australia and P&N Bank.
The larger non-bank lenders are those who (in 2020) has more than $9 billion in Australian funded loans and advances. These groups are: Resimac, Pepper, Liberty and Firstmac.
If you click on a product link and you are referred to a Product or Service Provider's web page, it is highly likely that a commercial relationship exists between that Product or Service Provider and Savings.com.au
Some providers' products may not be available in all states. To be considered, the product and rate must be clearly published on the product provider's web site.
In the interests of full disclosure, Savings.com.au, Performance Drive and Loans.com.au are part of the Firstmac Group. To read about how Savings.com.au manages potential conflicts of interest, along with how we get paid, please click through onto the web site links.
*Comparison rate is based on a loan of $150,000 over a term of 25 years. Please note the comparison rate only applies to the examples given. Different loan amounts and terms will result in different comparison rates. Costs such as redraw fees and costs savings, such as fee waivers, are not included in the comparison rate but may influence the cost of the loan.
Latest Articles