Building approvals have seen record numbers in the past year, largely off the back of the success of the Federal Government's HomeBuilder scheme.
Building a house can be an exciting project, but there is a massive range of factors to consider which can affect your end bill. Read on to see how much building a home could sting you and ways you could save.
How much does it cost to build a house?
The cost of building a house is an incredibly broad and complex topic, with a plethora of factors contributing to the final cost. The oft-quoted and easiest way to break it down is by cost per square metre (sqm), as seen in the table below. The data is courtesy of Rider Levett Bucknall's Riders Digest 2021 Melbourne, Australia Edition, and details Australia's construction building costs for custom-built, single and double-storey dwellings as at fourth quarter 2020.
Melbourne and Sydney have the highest low range cost, at $1,820-$1,840 per sqm, while Perth has the lowest at $1,400. Sydney by far has the highest high range cost, at $5,400 per sqm, with Perth again the lowest at $2,700.
| | Cost range per floor area ($/m2) - Low | Cost range per floor area ($/m2) - High |
| --- | --- | --- |
| Adelaide | $1,580 | $3,450 |
| Brisbane | $1,800 | $4,000 |
| Canberra | $1,700 | $3,400 |
| Darwin | $1,800 | $2,800 |
| Melbourne | $1,820 | $3,500 |
| Perth | $1,400 | $2,700 |
| Sydney | $1,840 | $5,400 |
Source: Riders Digest 2021 Melbourne, Australia Edition
It is possible to be more accurate in build cost after defining the features of the home. You can use a turnkey property as a guide for what it might cost.
A turnkey property is one that is completely ready to be moved into, so for example, it doesn't require light bulbs or turf to be put in. You can quite literally "turn the key and walk in" so to speak. According to Mr Wilkinson, in Brisbane within 30 kilometres of the CBD, prices for home packages with turnkey finishes are as follows:
three-bedroom, two-bathroom, one garage: $150,000 - $170,000
three-bedroom, two-bathroom, two garage: $170,000 - $185,000
four-bedroom, two-bathroom, two garage: $185,000 plus
Ricky D'Alesio, Design Manager at Metricon Builders, said from 2018 to 2019, their most popular four-bedroom home design had an average contract value of around $297,000.
After reading all of these figures, you can see that the cost of building a home can massively vary, based on the level of inclusions and the specifications you select.
Buying a home or looking to refinance? The table below features home loans with some of the lowest interest rates on the market for owner-occupiers.
Lender

---

Variable

More details

FEATURED

Refinance Only

Apply In Minutes

Unloan – Variable Rate Investment Loan – Refinance Only

A low-rate variable investment home loan from a 100% online lender. Backed by the Commonwealth Bank.
Important Information and Comparison Rate Warning
Why build a home over buying one?
Building or buying a home is a common and difficult dilemma for prospective homeowners. Buying means you skip the waiting period of your home being built, while building one allows you to configurate the property exactly how you'd like.
Natalie Stevens, founder of Build In Oz and creator of the Building Home Masterclass Series, told Savings.com.au that a massive advantage of building a home comes down to stamp duty.
"When you build a new home you don't pay stamp duty on the house as no transfer of the house is taking place, only the land," Ms Stevens said.
"You only pay stamp duty on the value of the block of land you buy.
"This is a huge incentive to build as paying stamp duty on an existing home can put you in a negative equity position from the start. Whereas when you build, the opposite can be true."
Ms Stevens also pointed to the instant equity that can be gained through building a home.
"When you build a home you are creating an asset that may be worth more upon completion than what it cost you to build it, she said.
"Depending on your requirements there are rules you can follow to create instant equity through choosing to build."
Additional benefits of building over buying outlined by Ms Stevens were eligibility for government grants and incentives, living maintenance-free for a minimum of five years, and budgeting on areas which will make you most happy.
"Most people buying an existing home make concessions. Building means having everything just as you want it," Ms Stevens said.
What to consider prior to building
Contrary to popular belief, building a home shouldn't start with making contact with a builder.
Speak to a financial adviser first
Marc Wilkinson, Managing Director of Penfold Property Group told Savings.com.au the number one thing to do prior to building is to speak to a financial adviser.
"Speak with a financial adviser first to determine your realistic budget and your potential financial, legal and tax commitments," Mr Wilkinson said.
"They can also point you to the appropriate bank, as each has completely different lending policies, some of which won't work for you.
"Financial advisers are also very skilled at rearranging your debt and strategising your interest costs."
Ms Stevens echoed Mr Wilkinson's sentiments, saying it's important to get unbiased advice about the process of building a home.
"It's vital that you educate yourself on the process of planning to build so that you're not relying solely on the advice of builders and real estate agents who are shaping their advice on what maximises profit for them rather than savings for you," she said.
"You need to be aware that often salespeople will only tell you what they want you to know and if you're not asking the right questions then you're leaving yourself open to regrets."
Define your budget
When viewing a home, prospective buyers often fall in love, mapping out the next ten years of their lives around the walls they're walking. As a result, when faced with the possibility they might lose the house to other buyers, people make offers and buy a property that far exceeds their budget and means.
But the sentimental grapple is something that is far more prevalent when building a house, given the creative, hands-on process. Defining a budget, prior to any plans is absolutely vital to keep costs at a desired level.
The benefits of speaking to a financial adviser are again evidenced here, as they're a qualified individual who can give you a clear figure to work with.
The table below features construction home loans with some of the lowest interest rates on the market.
Lender

---

Variable

More details

loans.com.au – Solar Construction 90

10% deposit minimum
Up to 30 yrs loan term
Interest Only during construction

Variable

More details

Great Southern Bank – Basic Variable Owner Occupier Construction (LVR ≤ 70%)

Variable

More details

Qudos Bank – Construction Home Loan (LVR < 80%)

Variable

More details

Geelong Bank – HomeBuilders Loan (Interest Only) (LVR < 80%)

Variable

More details

loans.com.au – Construction Home Loan (LVR < 90%)

Interest-only during construction
No monthly or ongoing fees

Variable

More details

La Trobe Financial – Construction Home Loan

Variable

More details

Gateway Bank – Construction Home Loan
Important Information and Comparison Rate Warning
Buy the best land you can
As will be explored later, the land is a huge factor that affects the cost of building a house. Mr Wilkinson said the process of considering the size of land and where it is should be as important as any decisions made with regards to the property itself.
"You should buy the best land you can. This means the best position for your transport for access to work, access to schools, access to basically anything vital in your life," he said.
"The real value in your property is in the land, and be it a small house or large house, there will be more buyers when you come to sell if the position of the land is in the best position you can afford."
You won't live there forever
As with almost all property bought or built, the chances of you spending the entirety of your life there are very slim.
Mr Wilkinson said this should factor into your decisions prior to building, so as to avoid getting carried away, both mentally and financially.
"The majority of mortgages change every five to seven years, meaning before your children reach teenagehood, you'll likely be looking to update or expand to a new home," he said.
"Your first or second home probably won't be your dream/end goal home."
What are some of the factors that affect the cost of building a house?
The wide range in the cost of building a house has already been demonstrated, but what exactly contributes to these fluctuations?
Land and location
As previously mentioned, the land bought is just as important as the property built on it. The Urban Development Institute of Australia's (UDIA) 2021 State of the Land Report found land prices per square meter had mostly decreased in 2020:
Melbourne's land price decreased by 2% to $819 per sqm,
Adelaide's remained steady at $400 per sqm,
Perth's decreased by 1% to $573 per sqm,
Australian Capital Territory's decreased by 4% to $822 per sqm,
South East Queensland's increased by 1% to $628 per sqm, and
Sydney's increased by 6% to $1,2985 per sqm.
Australian Median Land Price ($/sqm)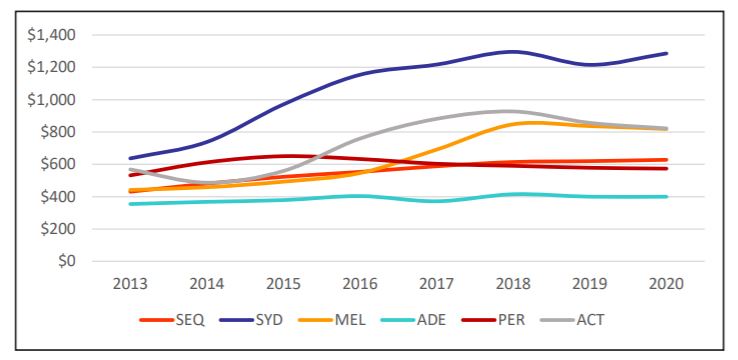 Source: UDIA
Mr Wilkinson said newly bought land often has to be contoured due to the slope of the surface, which then requires earthworks and/or retaining.
"This can add up to $10,000 for one metre of cut and one metre of fill and two retaining walls on a standard lot of 375m2," Mr Wilkinson said.
The location of the land will also greatly affect its price. For example, your proximity to a CBD, waterfront or hospital could affect the price of your land.
Size
As a general rule, the bigger the property is, the more it's going to cost. The expanding size of a property runs parallel to the cost, whether that be the sqm size of the property, or if it's one or two stories.
Adding a storey to your property will also significantly add to the bill, as it will require extra features such as stairs and scaffolding. A larger property will also directly increase the cost of all the other factors associated with your build, like the materials and tradesmen.
Quality and materials
The type and quality of materials used to build your property can greatly influence the total price. Different material types won't mean much to the average Joe, but using a timber frame is typically the cheapest option, brick veneer a median price point and double skin brick the most expensive option.
Furthermore, not all bricks are created equal, with mortar colour and the brick composition all affecting price. Looking internally, whether you have carpet or tiles and their quality is also a big factor that affects your end bill.
Using higher quality materials will usually be more expensive, but can lessen the chance of requiring maintenance down the line and can also improve the value of the property.
Trades
Unless you're applying to be on 'The Block', chances are you won't be building your own home - you'll need professionals to do it for you. Having a good relationship with your builder is important to ensure your build is going smoothly and it's better to go with someone reliable who is more expensive than someone cheap and dodgy.
Ensure your builder is appropriately qualified, registered, licensed and insured and also ask for their experience in similar projects to yours so you can see the evidence of their work. You'll also need plumbers, electricians, painters, tilers, plasterers; basically every single type of tradie.
Timeframes
Your builder will typically give you an estimated time of completion for your build. In some cases, you can ask for this to be shortened, at a cost of course.
It's also not uncommon for builds to be delayed, as a result of bad weather or bad builders. This is only going to increase your costs, so make sure you're prepared for this circumstance if it comes along.
Mr Wilkinson told Savings.com.au there a number of costs that people often aren't aware of. Take soil, for example. Did you think of the soil?
If the land needs added soil for the foundation, this can be a large extra cost, dependent on the type of soil required (in increasing order of quality: M soil, H soil, E soil and P soil). Obviously.
"It's about $5,000 for M classification, then goes up in approximate increments of $5,000 for H classification, E classification and P classification," Mr Wilkinson said.
Often necessary and legally-required in homes that are near bushland is bushfire protection. A bushfire attack level (BAL) is a means of measuring the severity of a building's potential exposure to fire.
"It costs $3,000 to cover for the lowest risk BAL 12.5, $6,000 for higher risk BAL 19 and $13,000 plus for BAL 29, which is within 10m of a bushfire hazard," Mr Wilkinson said.
Mr Wilkison also outlined a number of smaller hidden costs when building:
Council specific building conditions
Developer covenant conditions
Rock removal
Removal and connection costs e.g NBN
Finance for building a home
If you're not sure how you're going to finance your build then you might be looking at getting a loan. But how do you get a home loan for a property that hasn't been built yet? You get a construction loan!
A construction loan is a specific type of home loan designed to assist the funding of a new home's construction. They typically charge interest-only repayments for the duration of the build, which is initially set at 12 months in most cases. They can also divide your loan into stages based on what part of the building process is occurring, a method known as progressive draw-down or progress payments.
Construction loans can be complex, so we won't get bogged down with them here, but you can check out our separate guide to them. Generally speaking, you won't be able to get a normal home loan on a home that hasn't been built yet, since the lender won't be able to value it properly.
Energy-efficient tips to build and save money
A study from Mitsubishi Electric found that a whopping 96% of Australian households are worried about their rising energy bill. Being energy efficient is a massive cultural issue which Aussies are concerned about, so here are some tips on how you can save money on your energy bill when your building your home and afterwards when the home is finished.
Solar
Jan Prichard, Origin General Manager Customer Care told Savings.com.au that solar hot water systems are becoming more common in Australian households, with some builders offering solar-powered hot water systems as a standard inclusion and governments offering solar rebates.
"Depending on location and actual energy use, households with solar can expect to save around $1,000 - $2,000 on their annual energy bill," Ms Prichard said.
"Residential solar systems typically cost between $4,000 - $8,000. For a bigger 10kW system, prices are $8,000 - $14,000."
So you might not make savings on these systems straight away - it generally takes a few years before the energy savings overtake the initial installation cost.
Lighting
Ms Prichard said switching five 50w halogen downlights for two 15w compact fluorescent lightbulbs could save you between $80 to $140 per year.
"When it comes to efficient lighting in a modern home, LED downlights have set a new standard in appearance and energy efficiency - they're long-lasting and use about a third of the energy of halogen lighting."
Heating and cooling
Heating and cooling can add up to around 40% of a household's energy use, and Ms Prichard said it's important to consider how you set up your air conditioning units and heating appliances in a new home, to help optimise efficiency and minimise costs long term.
"When considering a new unit, split systems will be beneficial year-round and can be more effective and efficient than portable units," she said.
"In fact, homes warming up with a split system can save up to $572 over winter depending on where you live, when compared to a portable unit.
"If you're considering a whole house ducted unit or refrigerated cooling, consider zoning capabilities for different rooms. This will ensure you can heat up or cool a single room, or part of the home, rather than the whole house – this could save you thousands over the course of a year."
Windows and doors
Ms Prichard said a new home build should include double glazed windows and doors to contribute to the energy efficiency standards of new builds.
"This will help block out noise and also reduce heat penetration by up to 40% in comparison to standard glass," she said.
Laundry
Perhaps the easiest tip of the bunch is to install a washing line instead of having to use a clothes dryer. Ms Prichard said this can save you around $80 per year.
Savings.com.au's two cents
Building a house is not a decision that should be taken lightly, as there are a huge amount of different factors that can increase your final bill and any number of things could go wrong.
It's nigh impossible to provide an exact figure as to how much your build will cost but heading into the process with a clear budget can make all the difference. And the payoff of building your own home, exactly how you want, can make it all worth it.
Per the recommendations from some of the experts in this article, consider consulting a financial advisor before starting the construction process.
Article first published by Alex Brewster, June 2021. Last updated April 2022.
Photo by Jens Behrmann on Unsplash
---
---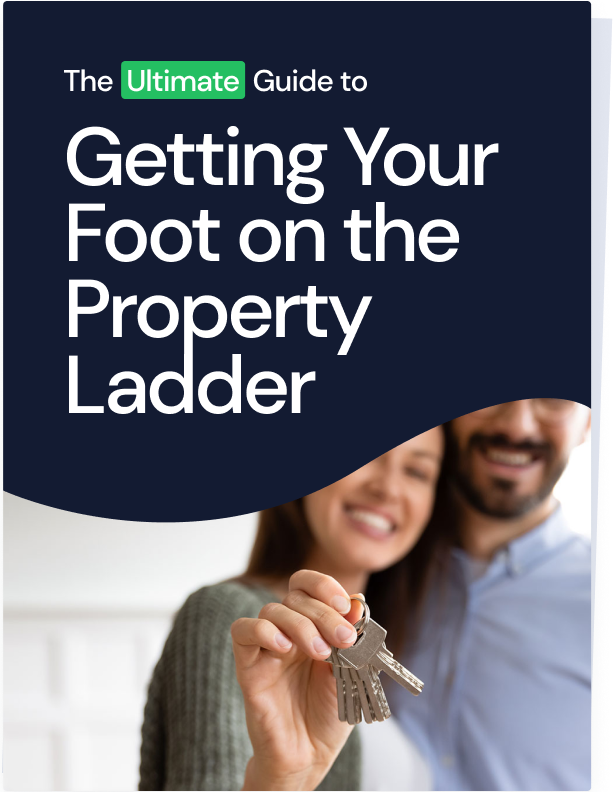 Ready, Set, Buy!

Learn everything you need to know about buying property – from choosing the right property and home loan, to the purchasing process, tips to save money and more!

With bonus Q&A sheet and Crossword!