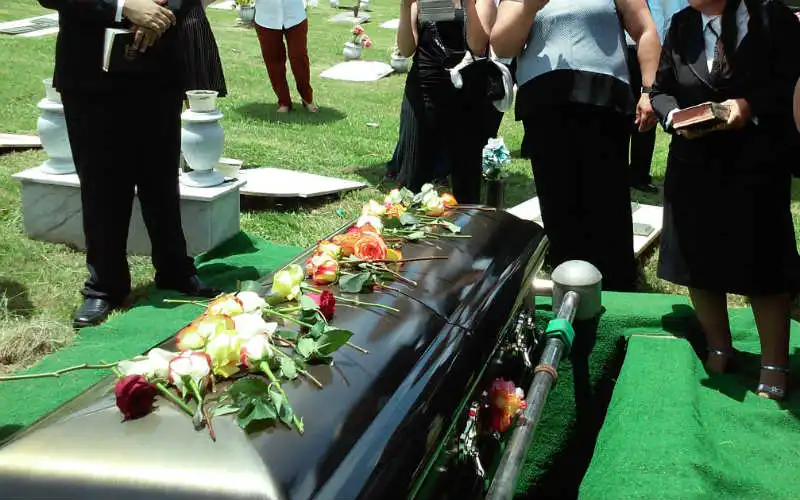 It may have the word 'fun' in the name but funerals are anything but - and they can be expensive.
Planning a funeral is tough at the best of times, let alone when someone unexpectedly passes away and you suddenly find yourself in the midst of planning - and potentially paying for - something you hadn't been prepared for.
If you're currently planning a funeral, this guide will break down how much a funeral costs, how to save money on those costs, and what your options are when it comes to paying for a funeral.
Need somewhere to store cash and earn interest? The table below features savings accounts with some of the highest interest rates on the market.
Lender

---

4

0

0

0

$product[$field["value"]]

$product[$field["value"]]

$product[$field["value"]]

More details

FEATURED

Online Saver (Amounts < $499999)

4

0

0

0

$product[$field["value"]]

$product[$field["value"]]

$product[$field["value"]]

More details

High Interest Savings Account (< $250k)

4

0

0

1

$product[$field["value"]]

$product[$field["value"]]

$product[$field["value"]]

More details

0

50

0

$product[$field["value"]]

$product[$field["value"]]

$product[$field["value"]]

More details

0

0

0

$product[$field["value"]]

$product[$field["value"]]

$product[$field["value"]]

More details
Rates based on a savings balance of $10,000. Sorted by total interest rates. Refer to providers' websites for bonus rate conditions and for any applicable fees and charges. Rates correct as of June 25, 2022. View disclaimer.
Funeral cost breakdown
According to ASIC's MoneySmart website, funerals can range from $4,000 for a basic cremation up to $15,000 for an elaborate burial.
Because funerals have so many customisable elements, there isn't really a 'fixed' cost for a funeral per se. A typical funeral has a range of costs to pay for, from the coffin to the cemetery plot and everything in between.
Please note the costs below are a guide only and have been sourced from a range of funeral directors across Australia. Costs may vary depending on the funeral director.
| Funeral item | Potential cost |
| --- | --- |
| Funeral director fees | $3,000+ |
| Hearse | $100 - $400 |
| Coffin/casket | From a few hundred up to $15,000+ for high-end caskets |
| Death certificate | $50 |
| Cemetery plot | $2,000+ |
| Celebrant | $250 - $600 |
| Burial | $8,000 |
| Cremation | $4,000 |
| Casket spray of flowers | $150+ |
| Funeral notice | $500 |
| Embalming | $700 - $1,500 |
| Preparation of the body (clothes, makeup, etc) for open casket viewing | $200+ |
| Headstone | $600 - $23,000 depending on quality and type of gravestone |
How to save money on funeral costs
There are a number of ways you can save money on the costs of a funeral and still give your loved one the send off they would have wanted.
Avoid peak times
Funerals held on a weekend or public holiday are often more expensive than those held during the week or in the early morning. Avoid those peak times and book the service during an off-peak time to avoid being charged extra - even if it does mean guests will need to book time off work or get up early.
Opt for a cremation
Cremations are cheaper than burials, which are becoming less common. You can save even more money on a cremation by scattering the ashes or keeping them in an urn rather than burying the ashes or keeping them in a niche or wall at the cemetery.
Shop around and compare funeral providers
Understandably, when it comes to planning a funeral people are really emotional and just want to get the process over and done with, so shopping around and comparing costs isn't on most people's minds. Don't be afraid to ask for an itemised quote so that there's little to no wiggle room for any hidden additional extras.
Keep extras to a minimum
Speaking of additional extras, if you're really trying to save money there are some 'nice to have' extras you can forego, like the newspaper notice. With many people on social media these days, it's easier (and free) to let people know about the funeral online. Rather than going for a full flower arrangement (which can cost hundreds) you can opt for a single rose or make your own flower arrangement with flowers from your garden for a personal touch.
Opt for a 'green' funeral
They're not super common yet, but 'green' funerals are exactly what they sound like: an eco-friendly funeral. You could save thousands on a green funeral because the grave plot is cheaper (often the body is buried at an unmarked natural burial site), and no headstone is required or even a coffin if you opt for a burial shroud.
How to pay for a funeral
Not many people can afford to pay for a funeral out of their own pocket, especially at short notice if the death was an unexpected one. Besides using your savings (generally considered to be the best option), there are some options that may make funeral expenses easier to afford, although be extremely wary of these, because they can turn out to be quite the opposite.
Funeral insurance
Funeral insurance provides your family with a lump sum payment that pays for your funeral expenses when you die, however funeral insurance is known for costing more than the benefit your family would receive (the premiums can actually end up costing more than the funeral itself). The funeral insurance industry has copped a lot of criticism for this over the years, with policies often slammed as a rip-off.
You have the choice of paying either monthly or fortnightly premiums, but if you stop making these repayments or can't afford the policy anymore and cancel, you instantly lose what you've already paid and can't get a refund.
Some exclusions apply too, such as if you die of a terminal illness within the first few years of taking out the policy you may not be covered. It can also take a while for your family to receive the insurance payout, which is hardly ideal when they're trying to pay for the funeral during such an emotional time.
Because of all this, you may wish to seek out alternative, more affordable options.
Prepaid funeral plan
A prepaid funeral is exactly what it sounds like: you organise a payment plan or pay for the funeral in advance. As you may imagine, this option works best for those who are nearing the end of their life or who have been diagnosed with a terminal illness and have time to prepare and plan for their funeral.
With a prepaid funeral plan, you pay for your funeral in advance with a local funeral director of your choice. It's important to shop around as funeral directors can offer different packages at varying prices. You can either choose to pay in full upfront, or put down a deposit and make regular payments.
A major advantage of prepaid funerals is that they're locked in at today's prices and don't rise with inflation.
Prepaid funeral plans came under fire a few years ago when funeral home O'Brien Family Funerals (now permanently closed) made off with the prepaid money of customers by closing their business and disappearing. Another funeral director in South Australia was jailed after being caught cashing in on prepaid plans of customers by lodging fake death claims.
As a result, funeral directors must put your money into a registered funeral fund in New South Wales, Queensland, South Australia, Victoria and Tasmania. However, in the Australian Capital Territory, the Northern Territory and Western Australia, these protections don't exist so it may be better to think about other methods of paying for a funeral, like a funeral bond.
Funeral bonds
A funeral bond is a kind of savings/investment product for funerals in that you pay a deposit and then make regular payments over time. Interest is paid on the money in the account (kind of like a savings account).
You can't withdraw the money earlier and it can only be used to pay for a funeral. Depending on the funeral bond, you may be able to choose a funeral director or nominate your family to pick one for you after you've passed.
Funeral bonds are available from funeral directors, life insurers or a friendly society.
Government bereavement payments
The government offers a range of support services and payments, such as bereavement payments, to assist people who have lost a loved one.
Superannuation
If you've got money in a super fund which most of us do, your family will likely be able to use this money to pay for your funeral.
Keep in mind that it may take a while for your family to receive this money, so they may need to pay for the funeral upfront and then claim back the costs of the funeral after the will is finalised. However, in the event of a terminal illness it may be possible to claim the super early.
Deceased estate
If your loved one owned their home, you can sell the property and the bank will release money from the deceased estate to pay for the funeral expenses once they have the invoice from the funeral director, or the receipt and tax invoice to claim for funeral costs already paid.
Savings
And last but not least, you can pay for a funeral with your hard earned savings, or from the sale of assets (like a car). Saving up for a funeral is hardly the most exciting savings goal, but it can save your loved ones from the stress of figuring out how to suddenly pay for this big expense once you're gone.
Most funeral homes allow funerals to be paid via credit card, just keep in mind the high rates of interest charged. Some funeral homes will also charge a convenience fee.
Savings.com.au's two cents
Funerals are one of those things none of us like to think about, but it's important not to bury your head in the sand. Writing a will which outlines your funeral wishes, as well as giving some thought as to how your funeral will be paid for can save your family a lot of stress.
Of course, if money is very tight you certainly don't have to have a funeral service. There are no rules around funeral services: for example, you could opt for cremation and have a private ceremony with friends and family scattering the ashes at sea. You don't need to have a priest or celebrant.
However, there are laws around what must happen when someone dies, such as registering the death and obtaining a death certificate - a lot of paperwork and legalities that many people are willing to pay a funeral director to take care of so they don't have to give it any more thought.
A good place to start is by asking funeral companies for their cheapest option and getting an itemised quote. Remember you don't have to go with the first funeral company you see - ring around and compare your options.
---
Photo by Rhodi Lopez on Unsplash